From strength to strength – The Levante fairy tale continues
Updated: 31 October, 2012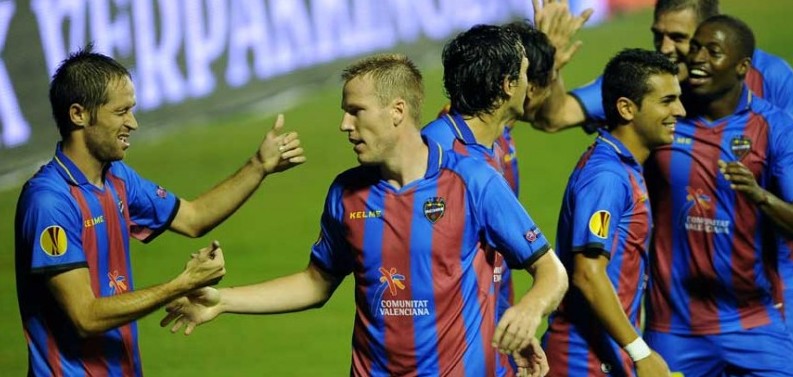 They defied the odds last season. In the earlier part of the campaign, the simply defied belief. As Halloween approached and as the cold winter temperatures slowly blew in, Levante were sitting very prettily in third spot in La Liga, just two points behind league leaders Barcelona and one point behind Real Madrid – the team they toppled in round four.
They also managed to defeat Real Betis and Malaga and it took almost three months of league action until they were succumbed to their own defeat.
It was a remarkable tale, by all accounts. But, one that no one ever expected to continue. Yet, it did. Up until nine rounds still to play in the season, Los Granotes were still in the Champions League places. They were in with a real chance of making the biggest stage of all in club football. Ultimately, they fell short but only just. They still finished in a highly commendable sixth place, granting them qualification into Europe for the first time ever in their history.
No one would have ever dared that a repeat would be on the cards this season, especially with the added burden of midweek matches in any one place throughout the continent. Surely, for a squad that can be best described as a motley crew of has-beens and never-has-beens who are not getting any younger – one time last season they fielded the oldest team in La Liga history and this season they remain the oldest squad on average – playing almost three times a week would be too much, wouldn't it?
Well, apparently not. Juan Ignacio Martinez's side continue to punch well above their weight. They are sitting pretty still; in equal fifth place and just one point behind the reigning champions. Again this season, their strength has been their home record. They have won seven on the trot at Ciutat de València across all competitions; only Atletico Madrid have done better.
They have won their last four games home and away, including their derby victory of their more fancied rivals, Valencia. In the Europa League, they are well on course to progress to the next round after only having failed to win once in their five matches played – including the play-offs. Not too bad for first-timers.
As it was last season, it has not been attractive. But, given that the net value of this team is around €40m, no one would ever expect it to be. In fact, perhaps more so than last term, it has been a real grind, a true backs-to-wall struggle and some statistics tell the story.
Los Granotes hold the unenviable record of having committed more fouls per game than any other side. Conversely, they have averaged the least amount of ball possession, the worst passing success rate, the lowest average for shots on goal and on target and have completed the lowest number of short passes. In addition, only Espanyol – currently in twelve places below them in second-last spot – have scored more on the counter attack.
The statistics are damming. They almost make it hard to comprehend Levante's continuing flirtation with the big time. The only conclusion one can draw for their success is that it must come from what cannot be measured in tables and graphs – those uncountable and more intangible attributes. Technically, they are a limited bunch of players – as the stats suggest clearly and is generally known – yet what they lack in ability and skill they must be more than making up for it in terms of their mental strength, character and self-belief.
Though, perhaps one key – and countable – factor that can help elucidate Levante's early season success has been the goals of Obafemi Martins. For fans of Italian football, the Nigerian seems to have been around forever after bursting onto the scene ten years ago with Inter Milan.
Still only 28, the journeyman made his way to the warmth of Valencia over the summer and his four goals since arriving have been crucial.Defensive midfield lynchpin, Pape Diop, and his presence in the top ten for both tackles and interceptions made may also help.
Last season, as the likes of Real Madrid, Barcelona and Valencia finally hit their stride, Martinez's men slowly faded away from the headlines, despite still finishing in their highest ever position in their history. Few would have expected them to keep up the good fight up until the end, but, even fewer will dare to make the same mistake again.
It may only be their seventh campaign in the top-flight, but, Levante have certainly made their point that this is where they now belong, as the fairy-tale continues.
Follow @icentrocampista