High fives for the big two but Athletic lurch towards the abyss: Spanish football around the web
Updated: 1 November, 2012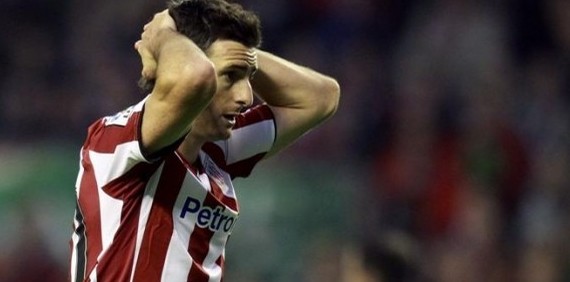 The big stories last weekend were the 5-0 wins for both Barcelona and Real Madrid. While Jose Mourinho's side dispatched Mallorca  at Son Moix on Sunday, I watched Rayo Vallecanotake on  Barcelona on Saturday evening in Vallecas.  David Villa opened the scoring for the visitors and after a tightly contest affair of about an hour, Barca took absolute control, eventually firing five past their shell shocked opponents.
After falling behind, the hosts responded by pushing forward which left them more and more exposed.  Despite admiring the fact that Rayo did go for it – ultimately it was all for naught and proved somewhat naive.  Leo Baptistao was starved of service and I didn't see much in the attack.
As for FCB, I am really starting to wonder about Song and Sanchez.  Song was moved into central midfield to support Cesc and Xavi and seemed to be well placed but I don't know.  Something is still missing.  As for Sanchez, he is channeling his inner Bojan and trying so hard and not getting the results.  On as a sub to grab an easy goal or two and build his confidence, he went the other direction, making things worse, constantly straying offside and usually picking the wrong pass or not delivering the correct one.  Aggravating to watch.
Kxevin of Barcelona Football Blog is seeing a different squad emerging this season: Those days (tiki taka and endless possession) are gone, replaced by a different kind of match control, in which brilliant players crawl through a sliver that someone leaves, and put the knife in.  He focused on Fabregas, noting his passing, runs and energy but is reserving judgment to see if he can do it the whole season.   In the end, Rayo ran out of steam and were put to the sword.  It happens.
What happened to Los Leones?  Sid Lowe asked that question for his weekly column in the Guardian.  He correctly states that: "There is little of the intensity, the sense of mission, that there was last season.  In its place a soap opera: "First there was the fight. Then came the failed escape bid, Martínez going to Germany, Fernando Llorente failing to go to Italy. Then the break in. And then the worst part of all: the secret recordings."
Athletic could be following the Yellow Submarine into the Segunda.  Sitting just above the relegation zone, everyone keeps waiting for the run that will take them to safety so the club can rebuild for next season.  It never came for Villarreal. It may not come for Athletic.
Kieran Canning, writing for Football Espana, brought me up to speed on Levante.  After a slow start in the league Los Granotes have won five in a row and have climbed up to sixth, plus they have six points in the Europa League.  Obafemi Martins is scoring for fun right now and maybe the Nigerian has finally found a home.
Madridista Mac examined a possible plan B for Real Madrid.  With a rash of injuries in the defense combined with the loss of Khedira, Mourinho rolled out a variation of the formation he has built in this time there.  Problem: Madrid's injury problem at fullback created a two-fold problem: less dynamism on attack in the flanks and lack of depth in the midfield muscle department. Solution: put CR7 and Di Maria on their natural sides and put creative, technical players in the middle.  With the wingers stretching the play wide rather drifting centrally, the dynamic players had time and space in the middle to exploit.  As Mac rightly says, The true test will be if we can play such a system successfully against a team with a very good #10 or with the meanest, baddest, nastiest combo of physical midfield destroyers.
Finally, Phil Ball paid homage to the grizzly old veterans bringing their experience to teams around La Liga.  I remember Juanfran and Valeron from my early days watching the league and here they are still getting a game.  Great column for its personal insight and brief history lesson
Follow @icentrocampista