Red is the colour as La Liga continues to serve up its weekly course of entertainment
Updated: 27 October, 2012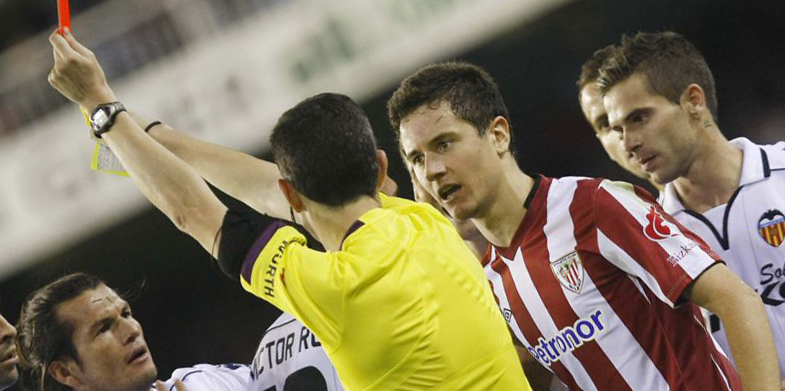 Going into its ninth round of games, the Spanish top flight has a distinct coloring of red to it. This is not simply because joint league leaders Barcelona and Atletico Madrid both feature the colour on their shirt, the plethora of red cards that have been seen since mid August also adds a significant shade of la roja to proceedings.
Including the six red cards handed out last weekend, 36 players have receive their marching orders in la liga this season. On average, we are talking around 40 red cards more than last season. However, this wasn't the only interesting aspect that came to mind following the last round of games.
Week eight was also marked by the difference in ineffectiveness between the teams in La Liga. For example, Barcelona needed only 10 shots to score five goals against Deportivo, who at the same time managed a surprising four goals with only 13 total shots – with only eight shots on target. In fact Tito Vilanova's side scored on all but one of their efforts on target.
Athletic, meanwhile, scored twice with only seven shots and three on target. Topping them all, however, was Mallorca's performance. The islanders netted twice from a total of three shots – scoring every time they shot on target.
On the other side of the equation, Valencia needed 28 shots to beat Athletic – scoring three goals in the process. Getafe didn't score at all, despite their 18 efforts and Real Sociedad  didn't trouble the scorer – despite their 15 shots. At the Bernabeu, Real Madrid scored just twice from a total of 24 efforts on target.
A significant contrasting factor between la liga teams  last weekend, was the lack of efforts on target. From Valencia's 28 efforts, just12 were on target, la Real shot on target just three times and Getafe only six. Interestingly, Jose Mourinho's Madrid had a terrible percentage of shots on target, shooting only 12,5% of the time to the net.
It is glaringly obvious that a team cannot win games without scoring goals and is virtually impossible to score goals if you don't hit the target. Therefore, with the importance of effectiveness; is not a surprise that Deportivo, with 41,10%, is the only team in the bottom part of the table who have a percentage of shots on target that stands over 40%, while only two teams in the top part of the table have a percentage under 35% – these being Levante with 28,9% and Valencia, who have 31,9%.
Valencia are also the only team of the top 10 who average over 10 shots per goal, scoring every 10,82 shots. Three teams in the lower half average less than 10 shots per goal – Deportive 6,92, Espanyol 8,45, Athletic 8,73. It is also no coincidence that the two best sides in this category are Barcelona and Atlético. The Catalans average a goal every 4,88 shots while los colchoneros score every 6,11 attempts.
Barça also lead the league in shots on target, with an impressive 51,3%. Atleti are third in this category with 51 shots on target out of 116 efforts.
Other interesting highlights from week eight
In every La Liga game that Lionel Messi has scored in so far this season, the Argentine star has struck twice or more. His hat-trick against Deportivo was his first of the season, also coming in a game that saw him score at  least one goal and pick up one assist. Last year, Messi lead La Liga in this category.
Among Messi's teammates, Cesc Fabregas delivered a hat-trick of assists – something  only six players have managed to do this year, and no one did it twice in the same season.
Elsewhere, goalkeeper Andres Palop had a night to forget against Mallorca, conceding two goals from three shots, while failing to record a save. He also made a mistake that allowed one of the goals. Giovani Dos Santos made his La Liga debut for Mallorca with two assists in that game – becoming the 10th player this season to record at least two assists in one game.
Dani Hernández became the first Venezuelan goalkeeper to ever play in Spanish First Division last Saturday against Málaga. Espanyol and Levante both scored winning goal in the last five minutes of their respective games -coincidently, both goals were assisted and scored by a player coming from the bench.
_____________________________________
For more stats and facts from Spain's La Liga, follow Javier on Twitter at @javierjotah
Follow @icentrocampista