Inspired Malaga continue to light up La Liga after summer of strife
Updated: 27 November, 2012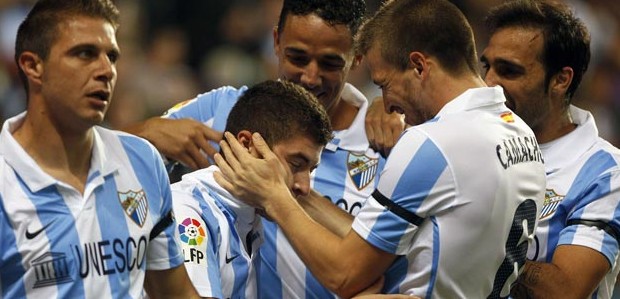 With Barcelona and Real Madrid so dominant in La Liga, the rest of the field find themselves entering the season knowing that realistically, they are competing in an 18 horse race for Champions League qualification. Two teams who were fancied to challenge for the remaining qualification spaces were Malaga and Valencia, and they faced off on Saturday in Andalucía.
The match itself was a very one-sided encounter, Malaga emerged 4-0 winners and in truth it could have been more. The experienced Pellegrini definitely had the upper hand over the fresh faced Pellegrino as Malaga recorded yet another brilliant result in a season that just gets better and better. After taking the lead early through Portillo, Malaga went on to squander a hatful of chances before the interval, but managed to see the job out professionally in the second half.
The game was a stark contrast to the last time the teams met, roughly seven months ago. Again Malaga were victorious, but on that occasion it was a scrappy 1-0 win between two evenly matched, battling sides. Much has changed for both squads in the intervening period, a perfect example of the ups and downs that happen so frequently in football.
Last year Valencia were very much the 3rd best team in La Liga. A great start to the season saw them topping La Liga early on before they experienced a slight blip in October However they rebounded to 3rd and set about making it their own. A poor run-in saw a vast points lead dwindle to just three by the final game of the season, too tight for comfort and a factor in the departure of Unai Emery. Malaga jumped up and down the table throughout the season, never able to really put together a sequence of results. But since then the roles have reversed, Valencia are far more inconsistent whereas Malaga have become experts at grinding out results.
A massive overhaul was conducted at Malaga over the summer, necessitated by financial insecurity. Out went young exciting stars like Cazorla and Rondon, in came war horses and battered veterans like Saviola and Santa Cruz.
At times the club was in such dire straits that fans feared for their existence. But the team hung on, funds were found, changes were made and Pellegrini managed to pull together a squad to compete in La Liga. Their prospects were grim, the squad barely had enough players to complete the substitute's bench and youth players were thrown in where needed. It looked impossible that they would be able to be as competitive as the previous campaign, yet miracles happen, and what has transpired in Southern Spain is special.
The Champions League debutants have taken the competition by storm and by all accounts seem to have found it relatively easy. Even seven times European Champions AC Milan couldn't stop them as they won their group with a game to spare. Their league form remains good, despite a recent slump, leaving them currently occupying fourth spot, seven places above Valencia.
There was also a lot of transfer activity at Valencia over the off season.  New manager Mauricio Pellegrino, perhaps looking to stamp his authority on the squad, oversaw the departures of a lot of the senior, but fringe, players. That as well as the high-profile departure of Jordi Alba to Barcelona meant that the Valencia idol had some money to spend which he used to bring in seven new arrivals (including the completion of the Canales deal and the arrival of Nelson Valdez on loan).
Valencia have also done well in Europe. Like Malaga they found themselves in a tough group and yet have managed to qualify, and, with 1 match to go, could qualify as group winners. For both teams the money garnered from remaining in the competition is vital, but with years of European experience behind them Valencia should be looking to at least advance another round.
That seven place gap is not that crucial. The La Liga table is as tight as ever, with just 11 points separating Champions League and relegation. Before the game on Saturday just one point separated Valencia and Malaga, it's going to be as tight a race as last year between them.
The difference, and problem, this year is another club, Atletico Madrid. Since Diego Simeone became manager the team have been seemingly unstoppable. Barcelona have had a sensational start to the season, but Atletico are just three points behind them. It is still unrealistic to suggest they could challenge for the title, but if their form has shown no sign of letting up and it leaves Malaga and Valencia seemingly in a fight for the remaining Champions League place, something extremely significant to both clubs in a financial sense and with regards to attracting better players.
Valencia have to be disappointed with their season so far. It has not been bad but in direct comparison to Malaga they have to feel they have fallen behind los boquerones. This in spite of the fact Malaga have taken significant steps back off the pitch, their squad is weaker than last season and they have had to balance league football with European football, something they were not used to.
The gulf between the clubs is not as wide as Saturdays result would suggest, but there has certainly been a change in the hierarchy. Last season Valencia were far stronger than Malaga, they only had themselves to blame for letting the race for 3rd be so close as they threw away points against lesser oppositions.
This season it is clear that Valencia have slipped back, but that is understandable, a new manager and plenty of new faces in the dressing room. What is important is too try and put a really solid run together between now and the knockout stages of the Champions League. Pellegrino doesn't need of have the headache of worrying about league form and trying to compete on the biggest stage. A good run should see them break away from the midfield battle and grab a bit of breathing room.
Both teams need to knuckle down and attempt to close the gap to Atletico. Valencia need to bounce back from this crushing defeat and not let it linger in the system. Malaga need to ensure that this win is the catalyst for a return to form after their recent slump.
Follow @icentrocampista