Disney, tennis and bad refereeing – Jose Mourinho has a week to forget
Updated: 26 November, 2012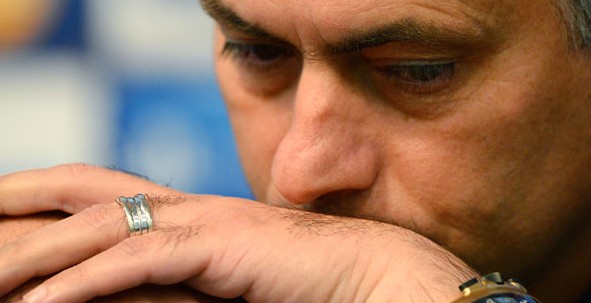 The last five days will not go down as the happiest in Jose Mourinho's managerial reign, and as a result the vultures are circling again. The events of Wednesday night in Manchester and Amsterdam mean that they are now unlikely to top their Champions League group, and then on Saturday night they conspired to lose for a second time this season in Seville after an insipid display against Betis.
Many neutrals will have long since tired of 'The Special One's' constant complaints about officials and the scheduling of his club's fixtures, but to be fair he had more grounds than on some other occasions to feel peeved about both issues. The Champions League penalty awarded against Alvaro Arbeloa and subsequent red card was hardly clear cut, and handed Manchester City a lifeline in a game of which los merengue were well in control of.
Just 72 hours later a third La Liga defeat of the season might not have materialised had an assistant's offside flag not wrongly denied Karim Benzema an equaliser after Beñat's early opener for the home side, and had referee Gil Manzano awarded a penalty in the dying seconds for what some saw as a handball by verdiblanco midfielder Nosa.
However the grim reality for Madrid fans is that they wake up this morning with their side eleven points behind their bitter rivals, and thus the chances of their team retaining their La Liga crown as good as over with barely a third of the campaign completed. Add that to the fact that they will also certainly now be facing a group winner in the last sixteen of the Champions League, and it is not easy to see why the natives are again restless.
Arbeloa's reaction to this renewed criticism verged on the bizarre yesterday, when he evoked the spirit of Disney Pixar film Ratatouille in his response, comparing the press and fans to the ever critical restaurant reviewer Anton Ego. Meanwhile AS offered their own cinematic take on Mourinho's position, digging up a Woody Allen quote to try and make the point that maybe his effect on the players was beginning to wear off after three years.
As followers of the Premier League have witnessed this week, when things go wrong it is very rarely the players that are held to account, and thus it may well be that Mourinho is just a Champions League defeat against Dortmund away from the exit door. However there are few obvious candidates to take his place, especially with long time target Rafa Benitez now in work again.
What is clear is that if these are to be his final days in charge, as always he will go down fighting. In Saturday night's press conference his assertion that 'when we win, we all win, when we lose, it's the coach who loses' was followed by a reference to himself as 'the baddie in the film'.
And although he was happy to refer to perceived refereeing and scheduling injustices beyond the club's control, he refused to use fatigue as an excuse for his side's tepid showing saying:  "When I watch a 34-year-old like Stepanek play three Davis Cup matches and sweat blood for his country………..a 23 or 24-year-old should be able to handle two games in four days".
Sadly this kind of refreshing honesty is likely only to hasten his alienation from the players, and thus accelerate his departure.
Follow @icentrocampista