Real Oviedo – How to Win Friends and Influence People
Updated: 11 November, 2012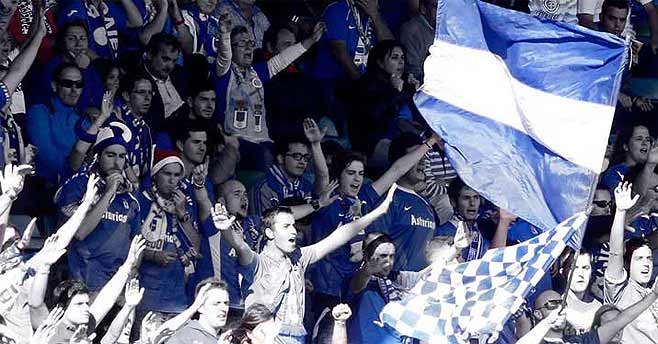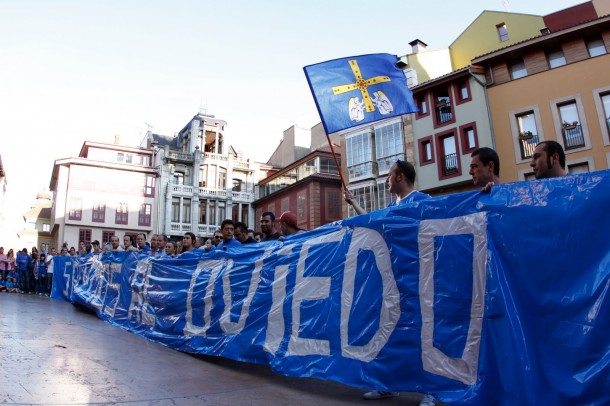 As you will have no doubt read elsewhere, grand old Spanish football club Real Oviedo are in desperate financial straits at the moment. Since the last time they graced the giddy heights of La Liga, the club have endured a decade of financial mismanagement and survived numerous relegations, both for on-field results and also by the league's administration, thanks to Oviedo being unable to pay their players.
The club was founded back in 1926 and was the first team from the principality of Asturias to feature in La Liga, in 1933. Their early teams featured a group of players called "the electric forwards" whose pace of feet and passing caused many problems for opposing teams. Following two third-place finishes and scoring for fun, they might have been on the cusp of a league title win were the country not torn apart by civil war in 1936.
They now find themselves in the position where, following a period in which their own website says they have been "forsaken by local and regional governments, looted by former owners and mocked by rivals," they cannot continue to run as a going concern.Yet their socios have remained loyal and fought to do what they can to try and keep the club alive – they now need to raise 1.9million euros by 17th November, or the club will fold.
The way that the club and its supporters have rallied to do this has been incredible. The internet has been a fantastic tool for them to use. A share issue is taking place, where you can buy a share in the club for around 10euros.
Guardian journalist Sid Lowe, who studied in Oviedo and came to love the club in his time there has been a great ambassador for the scheme. His drive to mobilise efforts on twitter has had impressive results so far. The supporters have been joined by an army of football fans from outside Spain, with no connection to the team, club or city – happily buying shares through paypal to help the club and imploring their friends to do the same.
Timing is also a reason why the campaign seems to be going well – recent players who have come through the "cantera" at the club include English Premier League stars such as Santi Cazorla, Michu and Juan Mata. The fact that these three players have contributed some excellent moments in the league this season cannot have harmed – particularly in the minds of the Arsenal, Swansea and Chelsea fans.
Even MOTD2 presenter Colin Murray joined the throng with an article in the Metro newspaper, suggesting that it would be a great idea for a lads holiday in northern Spain, to go to a match at the club they co-own.
Chasing the dream of keeping up with (or just staying in the same division as) the likes of Real Madrid or Barcelona in La Liga was the beginning of Real Oviedo's decline. We have seen similar scenarios in England with the likes of Portsmouth in particular, Leeds United and further down the leagues Darlington, Port Vale and many others.
In Scotland, Rangers suffered administration and relegation and Hearts are facing being wound up for failure to pay a tax bill. The Edinburgh club could be playing its last game on 17th November – the same date that Real Oviedo's destiny could be decided.
Not everyone is happy at the idea of so many British fans dashing to the aid of a foreign club many had probably not even heard of. Certainly not when local teams such as those mentioned above are struggling. Many complain of bandwagon-jumping and trends – particularly in the light of Spanish football's current high reputation. The question is asked of where all these fans were when clubs at home needed them?
Football is tribal, though. There is an aura of the exotic about Spain still, and nobody this side of the Bay of Biscay has an axe to grind with Real Oviedo. Not in the way that a Southampton fan might with Portsmouth, for instance. Also, many English fans will be happy to help by way of gratitude, giving a nod to the academy system that helped educate such talents as Cazorla, Mata and Michu on the way to their current clubs.
But maybe it is because of the excellent promotional skills of those involved and the ease in which shares can be bought. Football supporters do not want to see any club's demise – surely that is the symptom of a sickness in the sport. People do care about football, they just need to.know how they can help.
Perhaps all football clubs could take heart from the Oviedo experiment and the overwhelming response from the public and take inspiration from the well-orchestrated campaign to save the club and utilise similar skills.
Football is at a crossroads. Fan-ownership or co-ownership such as that which has been successful at AFC Wimbledon, FC United of Manchester, Exeter City, Chester City, Swansea and a growing number of teams – including some in Spain, like CAP Ciudad de Murcia and UC Ceares – are great examples of how clubs can exist outside of the "superclubs."
Real Oviedo could become another pioneer in the supporter-owned revolution. Once the club is saved, the harder work of finding a larger investor to take the club forward will begin. A tricky task when looking at past owners – however, with a few extra thousand voices being heard the AGMs, at least we know that the views of the supporters will be considered when making any decisions.
____________________________
More info on supporter-ownership: http://www.supporters-direct.org/
More info on the scheme to save Real Oviedo: http://www.realoviedo.es/yosoyelrealoviedo/ingles/index.html
More from Sid Lowe on "the Inside Left" : http://theinsideleft.com/real-oviedo-sos/
Follow @icentrocampista