Arise Thibaut Courtois and make La Liga unpredictable once more
Updated: 16 December, 2012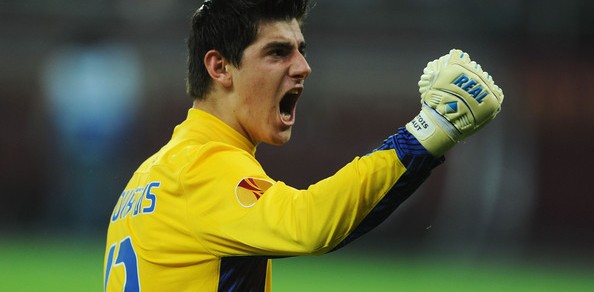 There are many things that can be said about meetings between Barcelona and Atletico Madrid, but boring isn't one of them. Whether looking back on Lionel Messi's improvised genius from a free kick last February, or Fernando Torres tormenting Victor Valdes in an inimitable manner, it's easy to recall moments of genuine surprise from when these two great sides meet.
That's in stark comparison to Atletico's confrontations with their biggest city rivals, and for the neutral the clash between the sides led by Diego Simeone and Tito Vilanova tends to be the more entertaining of the two encounters. It certainly should be this season, considering the atrocity passed off as football which took place in the most recent Madrid derby
If trying to predict the outcome of encounters between these side is a dangerous game, then attempts to reduce Sunday's meeting between Barcelona and Atletico to no more than an individual battle between Radamel Falcao and Messi runs a similar risk of falling wide of the mark. Tito Vilanova certainly knows that, noting in his pre-match press conference that the Madrid side are a sum of their parts rather than simply a product of the Colombian's brilliance
That's not to play down Falcao's danger, nor how likely he is to cause Barcelona problems. Given the Colombian has already scored in his only encounter against Barça since Simeone took over at Atletico, and given that Barcelona still continue to leak goals as a consequence of their more open nature this season, it would be foolish to suggest he isn't a major concern for Vilanova's side, nor one of Simeone's prized jewells for the tie.
If the Argentine coach is looking to single out one man in particular who could clinch his team the points during this Sunday's encounter however, he may find he's at the other end of the pitch
The only thing more remarkable than Atletico's position in the La Liga table this season is how quickly Diego Simeone has converted one of the most woeful backlines I've ever been unfortunate enough to witness into one of the tightest ships in the league. Defensive discipline and organisation in Atleti's back four are certainly a part of that, but a huge chunk of the credit has to go to the brilliance of Thibaut Courtois
More vocal than his predecessor David de Gea, the Belgian leads by example, providing a reassuring presence in the last line of defence for his side. The sense of relief when Atletico managed to extend his loan spell at the club last summer speaks volumes, as there's little chance they would be able to find another keeper of his quality. In fact, Chelsea may arguably have been too generous to Atleti, as there are some who believe Courtois is now the equal of Petr Cech, and he's still only 20-years-old.
A towering 6ft 6in, Courtois is surprisingly agile for his stature, and will be looking to add Barcelona's attackers to a growing list of scalps including Roberto Soldado an Ruud van Nistelrooy against whom he has kept clean sheets. Those two trophies in particular came last season, when, between January 7th and February 11th, Courtois became the first Atletico keeper since the 1990/91 campaign to keep five clean sheets in a row. He then went one better and made it six. Falcao isn't the only player at the Calderon writing his name into Atletico's history, it's just that, while El Tigre roars, Courtois is happy to set his own benchmarks out of the limelight.
Barcelona have scored in every single one of their La Liga games this season to date, so Courtois certainly has a mammoth task on his hands, but Barcelona had also scored in every league encounter last season, until they met Sevilla on October 22nd. Then Javi Varas went and spoiled the party, allowing the Andalucians to leave the Camp Nou with a point, arguably tipping the first dominoe in a chain reation which would eventually see Barcelona concede the league title
With all due respect to Varas, any tools that the former Sevilla stopper has in his arsenal are certainly available to someone of the talent possessed by Courtois, and if the Belgian can reproduce one his better displays, of which there have been many, then it could go a long way towards helping Atletico in their cause. If that happens, then neutrals will all have much to thank him for, not least for making La Liga genuinely unpredictable once more. It would be fitting for such a change to occur in this most unpredictable of ties.
Follow @icentrocampista