Bielsa and Bilbao – Masters of their own Downfall?
Updated: 11 December, 2012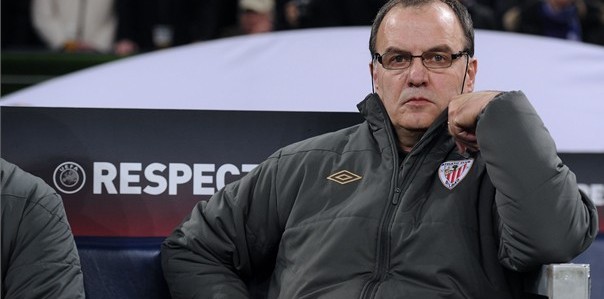 Just nine months ago Marcelo Bielsa and his Athletic Bilbao side were being hailed as the next big thing to come out of Spain's La Liga. Going great guns in the league and blazing a trail across the continent, there was a growing sense the Basque outfit were on the cusp of something special. Something huge in fact.
Heading into the winter break, however, and Los Leones are already out of Europe and sit just a couple of places above the drop zone in La Liga. A 1-0 victory over newly-promoted Celta gave them some respite at the weekend, however, many have been left baffled as to how a side that were so good last season, can be so bad this time around.
It wasn't supposed to be this way of course. The man the call el Loco arrived at San Mames last summer as the number one choice of new President Josu Urrutia. Bielsa was a popular choice among fans as the Argentine promised to revolutionise a club that had, in truth, been restricted by their  reluctance to deviate from tried and tested tactics. Outgoing coach Joaquin Capparros had just guided Athletic to a respectable sixth placed finish and European football, however, the former Sevilla boss was never a favourite with the San Mames faithful and his preference for route one football often made for less than invigorating viewing.
Bielsa's appointment was a breath of fresh air and marked a turning point for the club. While the Argentine retained a direct approach, Athletic's football now became something of beauty. The ball was brought back to the ground and they began to play real football – high-tempo, aggressive football. Bielsa demanded ball retention, yet when Athletic lost possession – they also worked just as hard to get it back.
It took time for the side to adapt to the Bielsa philosophy, but when they did, it was often mesmeric to watch. Athletic's two-legged Europa League triumph over Manchester United in March was arguably their most impressive performance of the season and left Sir Alex Ferguson almost lost for words in the post-match press conference.
Old Trafford had rarely seen a team arrive with so much attacking verve and it was only by good fortune that United managed to finish the game with the score just 2-3 to Bielsa's side. There were few in attendence who would argue the defeat should not have been much heavier. As if to consolidate their dominance over the reigning Premier League champions, Athletic again outclassed United in the return leg at San Mames.
With Athletic well-placed to challenge for a Champions League spot in La Liga and blazing a trail across Europe that ultimately took them to the final in Bucharest, fans could have been forgiven for believing here was a  side that could finally challenge the stranglehold enjoyed by Barcelona and Real Madrid in the Spanish game.
Unfortunately it soon went wrong. Spectacularly wrong. The heavy fixture schedule and the intensity of Bielsa's training began to take its toll on a squad that was already working under the constraints of Athletic's famed cantera policy. Progression to the final of the Copa del Rey added to the strain and they hit a dreadful patch of league form that saw them plummet down the table.
Hopes of securing a once-realistic place in the top four evaporated – leaving all eyes on their Europa League final clash against Atletico Madrid and the Spanish Cup final encounter against Pep Guardiola's Barcelona.
Rumours of discontent began to appear in the Spanish press and it soon became apparent all was not well up in the Basque Country. Despite the negativity however, Bielsa's men still had the opportunity to lift Athletic's first piece of silverware since the double-winning season of 1984.
They blew it in spectacular fashion however. Two insipid performances saw Athletic lose first  the Europa League final to Atletico Madrid and then the Copa del Rey to Barca – both by a fairly comprehensive 3-0. The team were shell shocked and many were left wondering how a team that had been impressive in previous months could implode to dramatically.
In truth, a number of players were running on empty and it was subsequently revealed the likes of Ander Herrera and Fernando Llorente had only been able to take to the field after receiving pain-killing injections.
Things came to ahead in the aftermath of the demoralising defeats and an incensed Bielsa is said to have confronted his most senior players to question their commitment – further implying thay had let the Athletic fans down with the lacklustre performances.
Llorente and Javi Martinez are understood to have taken  particular umbridge at what they perceived to be unjust criticism – further adding to speculation that Bielsa had lost the support of a number of players in the dressing room.
It proved a difficult summer for both the Basque club and their coach as some of Europe's top clubs looked to capitalise on player unrest . Javi Martinez was linked with a move to Premier League champions Manchester City, Juventus were said to be plotting a move for Llorente and Iker Muniain was reported to be a target for at least half a dozen clubs around Europe.
As it transpired, Martinez did eventually leave after Bayern Munich paid a German record €40 million for his services, however, it was a player who didn't leave that has arguably caused the biggest damage to the club. Fernando Llorente announced he wanted to leave the club he has been at since childhood, yet Athletic stood firm – refusing to let him go for anything less than the reported €35 million buy-out clause in his contract.
Llorente's agent has confirmed the player will not be signing a new deal during the summer, leaving Athletic to face the prospect of seeing their best player leave the club for nothing. Italian giants Juventus appear to be the likely destination.
Bielsa himself also added to the melodrama ahead of the new campaign when he handed in his resignation following an incident at the club's Lezama training ground. The Argentine felt he was given little support by the club following a confrontation with the building site manager, although clear-the-air talks soon led to Bielsa retracting his letter of resignation.
Nevertheless, the drama has left a bitter taste in the month, and the team have looked a shadow of the side that earned so much adulation last season. Athletic have looked shoddy in defence – missing the calming influence and leadership of Javi Martinez, and impotent in attack.
Despite fans reacting furiously to Fernando Llorente current stance to leave the club, many have also questioned the logic of leaving their most influential player on the bench. The arrival of Aritz Aduriz has lessened the impact of Llorente's enforced exile of course, especially as he has netted 10 times already this season, however, the continued absence of el Rey Lion has left a gaping hole in the team.
Bielsa is certainly a man of principles and anyone who has sat through one of his press conferences will have seen an intensity that can be stifling on occasion, however, he is also a brilliant tactician. When Athletic were at the height of their powers last season, when everything seemed harmonious,  they were as close to perfection as one could hope to see.
However, Bielsa's system is one which demands 100% commitment and 100% concentration. Training is undertaken with an intensity that pushes players to their limits of endurance and leaves little room for lee-way.
Ironically, it is this constant demand for complete acquiescence that could prove Bielsa's downfall in Bilbao. Athletic's much-vaunted selection policy traditionally leaves them at a disadvantage and injuries can a have far greater impact at the club than other sides in Spain. Bielsa's reluctance to rotate what he perceives to be his strongest line-up, also puts increased strain on players who are already asked to perform beyond their physical capabilities.
When players are fit, when players are happy, Marcelo Bielsa and Athletic Bilbao are a match made in heaven. When they are not, the results can be spectacularly bad – just ask all those fans who made the trip to Bucharest in May.
Follow @icentrocampista