Valverde hits the ground running in Pamplona – Osasuna 0-1 Valencia: Tactical Analysis
Updated: 11 December, 2012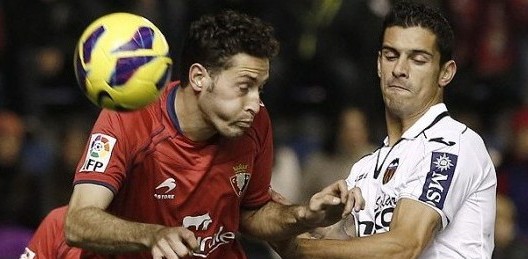 The reign of Ernesto Valverde at the Mestalla, for however long that may be, commenced with a hard fought 1-0 away victory in Pamplona against Osasuna. This was a poor quality game were determination, character and strength were valued more highly than any technical quality or skill.
Both Valverde and Mendilibar made numerous changes to their starting line ups from their previous games. Osasuna had four changes from the side that had defeated Rayo 1-0 at home providing their fifth consecutive clean sheet in all competitions during which time they had recorded two wins and two draws in the league to lift them outwith the relegation zone.
Valverde made six changes to the Valencia team that crashed 2-5 at home to La Real in a game which marked the end of Mauricio Pellgrino's short stint in charge of Los Che. Amidst the changes due to injury and suspension, the most interesting alteration was the inclusion of Albelda who was recalled in place of Fernando Gago.
Low Quality
The quality on show during this match is aptly demonstrated by the very poor pass completion rates. Valencia completed just 265 passes from their total of 394 attempted (a success rate of 67%). The hosts fared much worse with a pass completion rate of just 59% as only 204 passes from 344 attempted found a team mate.
Too often passes went astray or were mis-controlled and the opposition gathered possession. With both teams pressing, short accurate passing was limited with long balls being more prevalent. Osasuna are a side who are aggressive, play a high defensive line and press the opponent.
You don't expect them to have much in the way of possession or a high degree of accuracy as they look to play a quick, direct game. Following a summer of key departures, Osasuna need to fight for every point and rely heavily upon their home form. With players of a lesser ability in their team, they need to force opponents to play the game at their level and they achieved this during this match.
Valencia are still searching for a personality this season but there were signs from the outset that Valverde wants them to adopt a patient style with attacks being constructed from the back. Against such a spiky opponent, it was perhaps wrong to try and instigate such a change in style. The side never looked comfortable when Alves went short to instigate moves.
Goalmouth incident was also at a premium in this game. From a total of 21 shots at goal from both sides, just six hit the target. Neither team had the ability to craft out chances with limited action in either goal mouth area as can be seen from the two heat map graphics below:-
What must concern Valverde, even this early, is the need to link the midfield and attack to prevent Soldado being isolated. Banega cannot play too high, he needs to be on the ball in the midfield area. Either Jonas must start, when he is not suspended, or the wingers must become more inverted and reach Soldado quicker to offer support.
Osasuna Approach
Osasuna tried to move in behind Guardado at left back. As a converted winger, Guardado is more comfortable moving forward and sought to do so as often as possible with the result that Osasuna hit more long balls into the channel behind him for Lamah to try chase.
On the occasions that the pass was productive and Guardado was caught higher upfield, Albelda offered excellent defensive cover. Although he is firmly in the veteran stage of his career, the midfielder still has qualities which can be useful in games such as these. Albelda is not one to pull out from a tackle.
The high defensive line that Osasuna employs requires their keeper to be comfortable moving off the goal line as and when required to clear balls over the top. Twice Andres Fernandez was called into action, leaving his penalty area to clear the ball. The graphic below shows this and also how he often brought the ball out from his area before launching a long ball forward.
Fernandez played just one short pass to a team mate in the entire game. Although Fernandez may concede possession as often as Osasuna retain it with his long kick outs, Osasuna will compete for the second ball as they push up and squeeze their opponents. Territorial gain is greater than possession for Mendilibar.
Valencia Set Up
Valverde retained the 4-2-3-1 style formation which Valencia have used this season but it was noticeable how the team lined up when keeper Alves had possession. Both centre backs were splitting and Albelda was dropping deep, not quite between them but sufficiently positioned to act as as auxiliary centre back. The full backs pushed very high to form a line of four across midfield with Fehgouli and Piatti flanking Roberto Soldado in attack.
The approach gradually fizzled out as Osasuna repeatedly pressed high forcing more longer passing from Valencia and partly due to the positioning of Valencia being correct but not compact enough. The team needs to be positioned to allow shorter passing if they are to build from the back and must offer greater movement. If Rami or Ricardo Costa received the ball in this game, only Albelda was relatively close.
Does Valverde have the players at his disposal to implement the system that he wishes to use?
The only goal of the game was scored by Soldado and, in some respects, the goal was fitting of such a poor game. Piatti made a good run down the left but is cross was poor and was moving away from the waiting Soldado before it struck the inside of the post and rebounded out to Soldado who blasted home from a few yards out.
Soldado struck the target with three of his four shots but as highlighted above, he is often isolated and left to cut a forlorn figure in the Valencia attack. Someone has to break from the midfield to support him.
Valverde achieved in his first game, that which had eluded Pellgrino all season; an elusive away league win. The manner in which it was achieved was not particularly stylish or even enjoyable but it's three points on the road.
Mendilibar and Osasuna will likely feel harshly treated. There was little between the sides and a draw would have been fair. The issue from Osasuna is scoring goals. With the departure of four of their five top scorers from last season, the men from Pamplona need to begin scoring and quickly.
The veteran striker Joseba Llorente is probably not the answer but Mendilibar has few alternatives. Just 12 goals scored from 15 league games tells the story. Defensively they are quite sound as they have conceded just 16 goals. As is so often the case, for Osasuna, the first goal in a game is completely crucial.
_______________________
For more analysis and tactical insight on the Spanish game, visit the excellent Chalk on the Boots
Follow @icentrocampista