Ronaldo and Mou take centre stage as the soap opera continues
Updated: 10 December, 2012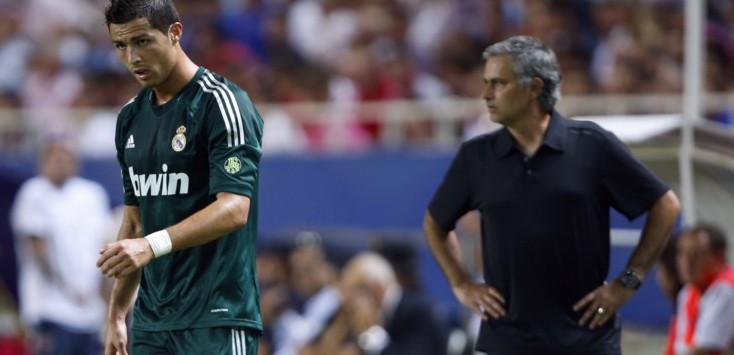 Is he now staying and is he definitely still going? With the league seemingly all but lost and Champions League qualification assured even before the visit of Ajax to the Bernabeu last Tuesday, on field happenings have again taken a back seat this week in the wild and ever changing world of Madrid's sports dailies.
Of course there were the usual complaints about the refereeing (this time it was Pepe and Sergio Ramos railing about the injustice of a disallowed goal against Valladolid by the latter, although to be fair they had a point), and this weekend it was Mesut Ozil's turn to earn widespread acclaim for a stunning performance and two goals, following on from Cristiano Ronaldo's equally pivotal role in their derby success.
However the main focus of the week has been the uncertain futures of the two men who continue to have a ridiculous number of column inches devoted to them, and who will no doubt continue to do so until their time at the Bernabeu finally comes to an end. Having declared that Jose Mourinho would definitely be leaving the club next summer, 'Marca' brought us news this week from Portugal which suggested entirely the opposite, with 'A Bola' claiming that Florentino Perez was determined to stick with the Special One until the end of his contract in 2016.
Suddenly there was a need for a softening of the tone just in case, and thus in the aftermath of the Valladolid victory, the very same paper that had been ushering Mou to the exit door waxed lyrical about his 'courageous' tactical decisions in trying four different centre back pairings during the ninety minutes to try and secure his below par side the three points.
There was so much else to talk about this week, what with Michael Essien and Marcelo nearing a first team return, Gonzalo Higuain's setback in his recovery from an injury which has sidelined for eight games, Nacho's long-awaited breakthrough into the first team and Kaka's impressive performance against Ajax, which should at least push his price up when the January bidding begins.
Even another debate about 'los merengue's seemingly endless defensive susceptibility at set pieces would have been nice, if a little bit repetitive. However unsurprisingly the most read article on 'Marca' over the last seven days was about CR7, and had nothing to do with either of his performances against either Ajax or Valldolid. Never one to shy away from bringing us a 'sensational exclusive', they offered us an insight into 'that conversation' between Florentino Perez and Ronaldo, one which happened over three months ago, and which basically went like this:
Ronaldo: "Presi, I have to tell you something. I am not happy here and I want to leave."
Perez: "If you want to go, bring me enough money so that I can sign Messi."
Ronaldo: "If it is a question of money, I'll bring you 100 million euros tomorrow."
Perez: "It's not 100 I would want, your contract release clause is 1,000…"
Riveting stuff. For all that there are many who are clearly captivated by the endless soap opera surrounding these two Portuguese gentlemen, there must surely be many more Madrid fans who would not mind seeing the back of both of them so that everyone could get back to talking about the football…….
Follow @icentrocampista