The battle for Madrid – by numbers
Updated: 1 December, 2012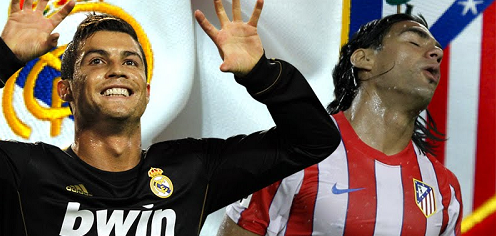 Real Madrid host neighbours Atlético tonight at the Santiago Bernabéu in what is expect to be one of the most evenly matched derbies in recent history. The visitors go into the game ahead of their bitter rivals in the table and a look at the statistics from both sides suggests the encounter could be one of the best for a number of years.
La Liga success so far this term
Atleti have the upper hand in this one. They are second on the league table, an impressive  eight points ahead of Jose Mourinho's men, and are cruising their way through Europe . In fact, los Colchoneros have suffered just one defeat so far this season and for the first time since 1999, they are ahead of Madrid going into a derby.
Madrid meanwhile, suffered a  painful defeat against Betis last weekend and have seen their chances of retaining the league crown they won last season diminish at an alarming rate. True, Los Blancos are through to the next round of the Champions League however, they will finish second in their group behind Borussia Dortmund.  They have also lost 13 points in this league already this term compared to 14 in the whole of last season.
Diego Simeone's sidehave scored in six of their seven away league matches this campaign and have kept three clean sheets so far. They also have the second best away record in Spain so far and are displaying their best football in recent years.
Madrid actually have a great home record so far this season and only Atleti have picked more points a home than Mourinho's men. They also have the best home defence – conceding just three goals so far.
Strongest point
Atleti's strongest point going in to this match could actually be their defence. They have conceded two or more goals only twice this season, and have lost only one game so far. They have kept six La Liga clean sheets in 13 matches and haven't conceded a goal in the last three games.
In fact, Simeone's side have conceded just  two La Liga goals in November (four in all competitions) and hope to start December in the same way. Their back four have looked solid so far this campaign, but importantly, they have also produce offensively. Former Madridista  Juanfran leads the team in assists with three and is sure to give Fabio Coentrao some problems going forward tonight.
Having begun the season in frustrating fashion, Mourinho's side biggest attribute going into the game is the dominance they have enjoyed over their neighbours in the history of these games.
Not only have Atlético won just 12 of 96 their league visits to the Bernabeu, they haven't won a single game against Madrid during this millennium. No matter how good they look on paper, true to their history, Atlético seem to fall apart during every derby. Madrid fans will be hoping to see more of the same this time around. On top of that Madrid haven't lost a point at the Bernabéu since week one and the last two times they conceded a goal, they scored five.
The stars
Falcao will finally face Madrid on the road while Cristiano Ronaldo will be hopeful of breaking his off streak against a team that were punished last season.
The Colombian is having his best year ever and started the season with an impressive 10 goals. Falcao has taken 44 shots with 20 on target, and has scored 10 times. That is a percentage of a goal every 4,40 shots and every two shots on target – that is among the best in the league. He has scored 34 goals in his first 46 Liga games and he is sureto be hungry for more.
Ronaldo is having  another great season in Spain. Lionel Messi's stats may seem to be a bit beyond his reach at the moment, in truth, only the Argentinean have scored more goals than him in this league and he is also second best in goals plus assists with 13.
The Portuguese ace's conversion ratio is his worst stat as his averaging a goal every 7,67 shots and every 3,6 shots on target. Last year he scored every 5,74 shots and every 2,2 shots on target.
Curiously enough, both Falcao and Ronaldo are currently having a somewhat barren patch and have scored only once in their last four La Liga matches.
Some stats and numbers
Madrid 32 goals, Atlético 29. Atlético 11 goals conceded, Madrid 10. Madrid 254 shots, Atlético 193. Madrid 104 shots on target, Atlético 79. Percentage of shots on target: both are tie at 40,9%. Shots of target or block: Madrid 150, Atlético 114. Assists: both are tie at 17. Fouls: Atlético 190, Madrid 157. Atlético 29 yellow cards, Madrid 25. Clean sheets: Atlético 6, Madrid 5. Saves: Atlético 23, Madrid 21. Tackles: Atlético 291, Madrid 242. Interceptions: Atlético 205. Madrid: 180. Madrid 191 passes that lead to a shot, Atlético 150. Dispossesed: Madrid 186, Atlético 133. Turnovers: Atlético 147, Madrid 145.
_______________________
For more statistical analysis, follow Javier on Twitter at @JavierJotah
Follow @icentrocampista