Bielsea outsmarts Simeone to leave San Mames rocking – Athletic Club 3-0 Atletico Madrid: Tactical Analysis
Updated: 30 January, 2013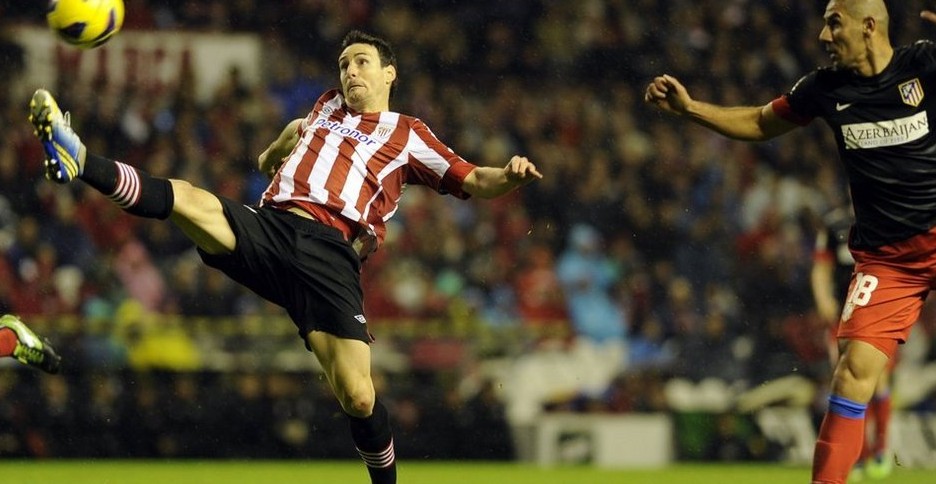 After suffering heavy defeats at the hands of los Rojiblancos over the last year, most notably the 3-0 loss in the Europa League final, Athletic finally got the better of Atleti last night in a comprehensive 3-0 win. This will be scant consolation for the loss in the final but coming amidst a run of poor form for los leones , it's a very welcome victory and lifts the Basques up the relative security of 12th place in the league.
The game is also notable for the clash of styles it brings. The pro-active football of Bielsa against the reactive football of Simeone.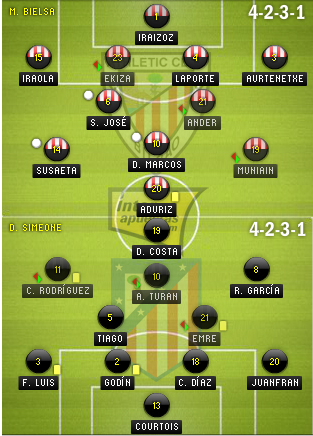 Line Ups
With Llorente signing for Juventus on a pre-contract, he was omitted from the squad along with Amorebieta who is also involved in a contract dispute with the club.
Simeone had to contend without Falcao following his injury during the home win over Levante last week. Simeone highlighted the fact that this Atleti team could cope without their top scorer. In the eleven games they have played without him, Atleti have scored 16 goals and lost just twice.
The loss of Falcao was not the problem for Atleti. The real issue was further back. With club captain Gabi suspended and Mario on the bench, the double pivot that has proven so successful to date was broken up to be replaced by Tiago and Emre.
Recent Form
With 25 points separating the teams, both sides entered the game with contrasting recent form. Athletic had drawn once and lost three times in their last four games whilst Atletico have the reverse record; three wins and one draw.
Still in the Europa League and the Copa del Rey, it's now becoming a balancing act for Simeone. Carefully rotate his squad to ensure all members get game time and rest when required.
For Athletic, there are no such concerns. Their run to last season's Europa League final is now a distant memory with elimination at the group phase. The Copa del Rey likewise, lower league Eibar removing any hopes they had there.
With a side low on confidence such as Athletic, the question will be raised why Simeone adopted such a conservative game plan from the outset, only really altering it from midway in the second half.
Athletic made 428 successful passes from 512 attempted (accuracy of 84%) giving them 60% possession. It's not the least bit unsurprising for Atleti to have less possession than their opponent and having just 40% possession would not have been an immediate concern for Simeone. Atleti made just 249 successful passes from 329 attempted passes (76%accuracy). The Argentinean coach prefers to have possession to achieve an objective rather than passive possession. The low accuracy may be a different matter. With less possession, when you have the ball you cannot afford to be wasteful
Athletic – Pressing and Passing
With Athletic under Bielsa, you know exactly what sort of team you will face. One that seeks to press you aggressively high up the pitch, short passing and a team that will seek to overload you on the flanks.
Too often this season Athletic have been a pale imitation of the side that performed so admirably last season. The league table does not lie and Athletic find themselves perilously close to the relegation zone. The loss of Llorente is seen as a central tenet of their decline this season yet Aduriz has a better scoring record than his predecessor. The issues which Athletic must confront are in a defence which has conceded an average of 2 goals per game.
Last night, Laporte again demonstrated why he is so highly rated at centre back but it was the work of Herrara in midfield, linking play and providing the main creative outlet that was also impressive. With an assist for Susaeta, Herrara produced a good display in a season marked by injury and suspension.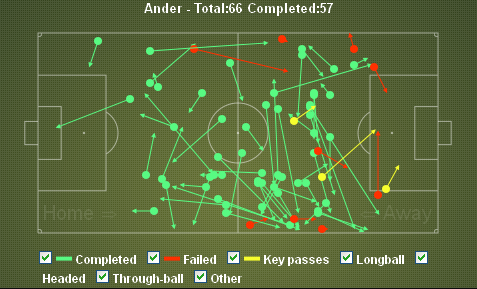 The graphic above shows the range of passes made by Herrara across the pitch mainly seeking out the flanks to help Athletic build attacks. Herrara made no failed passes in his own half of the pitch. A testament to his quality but also Atleti's meek approach.
Atletico – Too Deep and Passive
Atleti were positioned too deep for much of this game. Whilst the away game is not as solid as their fantastic record at the Vicente Calderon, Atleti were still too cautious in their approach and allowed Athletic to dictate.
The absence of Gabi and Mario was particularly key for Atleti. They reverted to a 4-1-4-1 formation with Tiago being the deepest midfielder with Raul Garcia and Emre ahead of him. Garcia is better in a more advanced position whilst Emre is still adapting to life in the Spanish top flight.
In addition to their deep positioning, Atleti were too slow to engage their opponents. Atleti made just 12 successful tackles from 17 attempted as the graphic below outlines. This contrasts with the hosts making 20 tackles from their 24 attempted.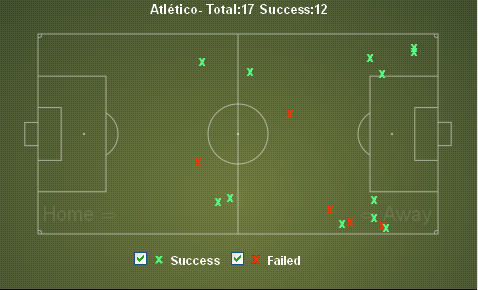 Atleti were allowing their opponents to move too high up the pitch and not controlling space effectively. The high number of tackles on the Atleti left shows just how effective Athletic were at linking play between Iraola, Susaeta and De Marcos on the right.
Athletic were able to move into the Atleti half before coming under any pressure. With sharp passing, they were able to evade opponents and hit a number of balls into the Atleti penalty area although these led to few opportunities.
Atleti Attack
THe deep positioning of Atleti also had repercussions when they moved into an attacking phase. Diego Costa was left alone and unsupported too often.
The graphic below shows the Atleti shots at goal during the game. Despite having 17 attempts, too often these were long range efforts or were blocked. Just six attempts were from within the Athletic penalty area.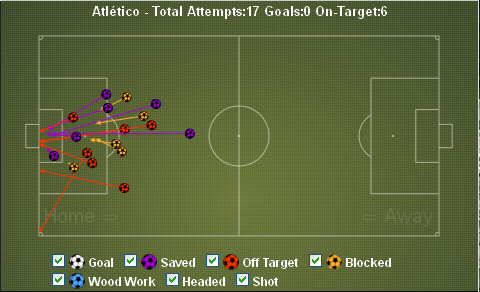 Diego Costa had no attempts at goal in the game and whilst some may comment on this as proof of his unsuitability to deputise for Falcao,the fact that he was so isolated for much of the game did not help the Brazilian.
Both Arda and Rodriguez struggled to have any bearing on the game and were too deep to assist their frontman. When Atleti did push forward, Juanfran and Filipe seldom joined in the attack leaving the men from Madrid very narrow.
Emre should have scored just before half time but Iraizoz saved from close range. This was Atleti's best chance in the game.
The Goals
The opening goal was very soft from the perspective of los rojiblancos. A corner into the box and San Jose ran off Godin for a free header.
In recent meetings, Atleti has picked off Athletic on the counter attack yet last night saw a reverse. Athletic were still the dominant team but twice they picked off Atleti with swift counter attacking moves.
As the game entered the final 20 minutes it became stretched and open, not a situation which Atleti are comfortable with or enjoy. The element of control is removed from their game. Unable to regroup quickly, they conceded two lovely goals during quick transitions to Susaeta and De Marcos.
Conclusions
A huge win for Athletic and one which supporters will hope can push the team on, first towards safety and then, with a little luck, perhaps towards the fringes of a Europa League place. As ridiculous as it sounds, it is possible with the side just nine points adrift of Rayo in sixth place.
A substantial loss for Atleti and just Simeone's 11th defeat in 65 games in charge. There will be plenty of discussion around how this is a one man team etc and the loss of Falcao is too great to overcome. Such comments are wrong and fail to see the bigger picture. Even with Falcao, Atleti would still have left the San Mames pointless last night.
_______________________
For more analysis and tactical insight on the Spanish game, visit the excellent Chalk on the Boots
Follow @icentrocampista