What next in the magnificent rise of Thibaut Courtois?
Updated: 1 February, 2013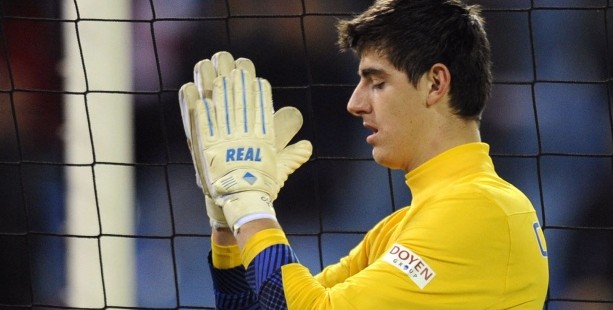 As those players voted into FIFA's Pro World XI posed with their awards, one man stood out from the rest. An all-La Liga line up, was dominated by players from Real Madrid and Barcelona yet the only inductee from neither team drew the majority of attention.
Voted in by fellow professionals as the world's best centre forward alongside Cristiano Ronaldo and Lionel Messi, the plaudits received by Radamel Falcao are very well justified, the criticism of his team however, is not. It would be irresponsible to label Atletico Madrid a one man team despite the Colombian's performances – displays which consistently take the headlines with the quantity and sheer quality of his goals.
Contributions flood in from the whole team masterminded by coach Diego Simeone, only 26% of Atleti's match winning goals in all competitions have been scored by Falcao this season, with his six only one more than Diego Costa's five.
It is very possible to argue that the biggest and most underrated players in Atletico's march to second place are their phenomenal defence, featuring Spanish international Juanfran Torres, the criminally underappreciated Felipe Luis, the uber-mobile Miranda and the supremely intelligent Diego Godin. However, backstopping Atletico's continued success is one of Europe's prized young assets.
As striking enough as Thibaut Courtois 18 clean sheets are, the statistics don't do justice to the performances of the 20 year old. Despite slight of build Courtois commands his area with authority and intelligence, his technique is hard to fault particularly in one on one situations, quick footwork and athletic ability allow the Belgian to excel when shot stopping whether it be long range efforts, or extraordinary reaction saves that can swing the momentum of a game.
Courtois' performances have been so strong that David De Gea's departure has made little to no impact on Atletico Madrid, except for on their bank balance. The fact of the matter is; you'd be hard pressed to find a more complete goalkeeper at this age during the history of a sport where keepers are expected to excel in the very late stages of their career, in this new generation of Belgian superstars, Courtois arguably heading the pack.
Atletico Madrid's skill in goalkeeper turnaround is to be admired but it's caveated with the important factor that the player is on loan from Chelsea, and a decision will soon need to be made on his future. Chelsea were gracious enough to extend the loan deal by a further year to keep the youngster in Spain this season, but his impressive performances over the past couple of years look set to make it very difficult for a more prolonged loan spell in Madrid.
The London club now have a decision to make, and one made extremely difficult by Petr Cech's match winning performances on course to FA Cup and UEFA Champions League trophies; at the age of 30 Cech still has many years left in him at the top level, do Chelsea increase competition on their number one but risk hampering Courtois' development? Or following a summer of extravagant spending do they consider selling the young Belgian to help balance the books?
The first of those scenarios is complicated by Chelsea's interest in Stoke City number one Asmir Begovic; the London club were also strongly linked with England youth keeper Jack Butland before his deadline day move to Stoke, both seen as competition for Cech, rather than waiting for the summer to recall Courtois.
The second of the scenarios is a distinct possibility given the quality of Courtois displays; Chelsea would have little trouble finding a buyer, with Barcelona registering interest following the discovery of Victor Valdez' desire to leave. Atletico Madrid would also no doubt want to make the move permanent, now integral to Diego Simeone's side; it would certainly be discussed by the clubs if Chelsea were to move for striker Radamel Falcao in the summer.
Added income from a return to the Champions League and the likely sale of Falcao would make Atletico strong contenders for the Belgian's long term services, but whatever the outcome, whoever secures Thibaut Courtois' long term signature has a ready made world class number one for decades to come.
Follow @icentrocampista