Johan Cruyff bows out of football as Catalunya draw with Nigeria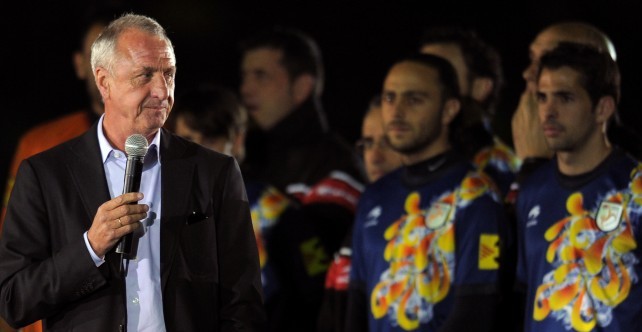 Johan Cruyff oversaw what is likely to be his last match as a coach last night, with the Dutchman at the helm of the Catalan national team in a draw with Nigeria that was at times marked with style but suffered from the berth of changes customary of these games. Cruyff, who has been in charge of the team since 2009, will now step down as coach of the side, and has insinuated that it will also be his final spell in management.
For a side who only play one game a year, comprised of players who only this morning took part in their first training session since the winter break , in the first half Catalunya produced some admirably silky football. In particular, the quartet of Espanyol's Sergio Garcia and Joan Verdu, Milan's Bojan Krkic and Xavi Hernandez of FC Barcelona combined in some smart interchanges which left the largely second string Nigeria side looking outclassed.
Cruyff will no doubt have approved of the one touch play on display between the four, as well as the brash determination to use skill to better the Nigerian opponents and put on a show for those in attendance at Cornella el Prat. Likewise, the presence of Gerard Pique, dribbling from box to box was typical of the role loosely defined as 'defender' for the Dutchman.
Equally fitting was the abundance of players from the academy Cruyff helped revolutionise into arguably the greatest in the world, spanning generation to generation across three decades. From Xavi Hernandez, Sergio Garcia and Carles Puyol to Sergi Roberto and Martin Montoya via Gerard Pique and Jordi Alba, Cruyff can look upon his work and be pleased at the mark he has left on not only a football club that has become a home away from home, but a footballing nation away from the land of his birth.
In truth, Cruyff remains a divisive figure among Catalans.  Though unable to play competitive fixtures, those who attend Catalunya's yearly friendly ties take the games highly seriously, and there are those who think rightly or wrongly that the former Barça coach shouldn't even have been in charge of the national team in the first place. His failure to acknowledge some of the bright young Catalan players at the top of Spain's second division in particular certainly didn't help in that regard, nor his inability with the Catalan language.
Few would deny however that Cruyff has played as great a role as anybody in putting the small corner of the Iberian peninsula on the map as a force in football despite their lack of recognition as an official team – and is that in itself not enough to merit his place at the helm?  I suspect Catalunya will learn to miss Johan Cruyff.
Follow @icentrocampista