What would Catalan independence mean for Spain and La Liga? – Part Two – Part One
Updated: 26 January, 2013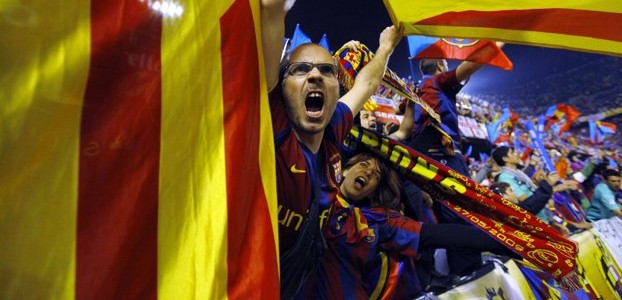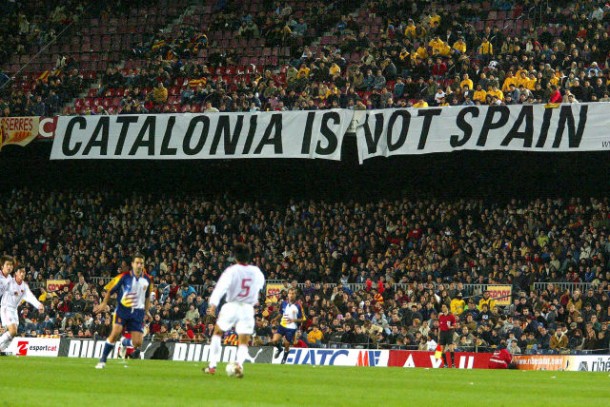 Ask any football fan what they believe symbolizes football in the Spanish autonomous region of Catalonia, and their is little doubt the name of 21-time La Liga champions Futbol Club Barcelona would be top of the list.
The club has come to signify Catalan identity itself and  has found itself  grinding ever-onward in a monumental struggle with their bitter enemies from the Spanish capital, Real Madrid.
However, antagonism between Catalonia and Madrid extends much further than the football.  There has been no compromise in politics as much as there has been no love lost on the football pitch.
Discontent with the way Spain had seemingly dismissed Catalonia and its financial crisis, an unprecedented protest where over one and a half million Catalans took to the streets was staged.
Re-inforced by Convergence and Union (CiU) leader Artur Mas, who diligently stated that if demands were not met, Spain would face a break-up and that they were ready to hold a plebiscite even without the support of the central Spain.
Nationalist sentiment is as strong in Catalonia as it has ever been, so the protest was seen as a huge step towards achieving recognition in Madrid.
However, conservative president Mariano Rajoy waved off the protest as nothing more than a distraction whilst Spanish Army Colonel Francisco Alaman held nothing back by remarking that independence for Catalonia would be realised over 'his dead body' and those of many soldiers."
Such belligerence would only add fuel to the fire raging in Catalonia for independence.
Despite the Spanish constitution dictating a referendum is technically illegal, one cannot help but assume that if tensions continue to rise, and more Catalans join the cause for independence, the balance may well tip in favour of a split from Spain.
Interestingly, the Catalan government this week declared the region to be an sovereign entity, paving the way for a referendum on independence.
The problem will then cease to be whether a split is unconstitutional or not, but how Spain and the EU deal with the issue on a wider scale.
Worryingly for Catalonia, the EU does not permit the break up of a member state and furthermore, any new prospective member has to go through an application process whereby just one veto of an EU state will completely block entry.
This has the decision split within Catalonia, just over 50% want independence whilst the rest wait cautiously by to see what happens next as the previously mentioned point of re-submission into the EU provides opponents of an independent Catalan state with a crucial argument.
The promise of a referendum in 2014 for Catalonia has inspired the next autonomous region of Spain to seek independence in the from of a similar referendum is the Basque Country where the Basque Nationalist Party won overall majority in the regional election.
Two regions synonymous with breeding football stars are the aforementioned Catalonia and Basque country, their ability to pick their youth and transform them into global super stars is almost unrivalled in Spanish football.  However, due to Spanish and EU legislation, the teams playing in these regions, in short, may have to stick to these regions.
This could see FC Barcelona and Espanyol most noticeably being forced to ply their trade in a local Catalonian league instead of La Liga. This would mean no more el Clasico.
Of course there are instances where teams are competing in foreign leagues for example, Swansea City in the Barclays Premier League. A team from and based in South Wales crossing the boarder most weeks to compete against England's best. Whilst Cardiff City, from the Welsh capital, operate under the same premise but one league below Swansea City in the Championship.
It is difficult to accurately compare this example with any future proposition that would see Barcelona remain in La Liga, as Wales as a country has not had to undergo any sort of ridiculed independence from England or the United Kingdom to the extent where political parties are at each others throats much like the shameful scene in Spain.
The future of these Spanish teams is vital to La Liga and to Spanish football. It's difficult to imagine that the youth brought through the ranks at Athleti, Barcelona, Espanyol or Real Sociedad would stay at these clubs if they were not to play against the best in Spain. ]
Rather than letting their education stagnate in the lower local leagues of their regions, they would understandably seek pastures new in order to further themselves and their careers.
Something that would perhaps serve as a detriment to what Spain's national team have accomplished over the past four to five years.
The future of Catalonia is ambiguous at best and inevitably hangs a question mark over arguably the greatest football team ever.
At a time when football and politics finds itself embroiled in a virtual tug of war its important to remind ourselves of that motto one more time, FC Barcelona is 'more than a club', and as such the future of Catalonia looks not just towards footballing greatness but towards greatness in general.
___________________________________
Part Two tomorrow: The future is bright, the future is la Roja
Follow @icentrocampista