What would Catalan independence mean for Spain and La Liga? – Part Two
Updated: 27 January, 2013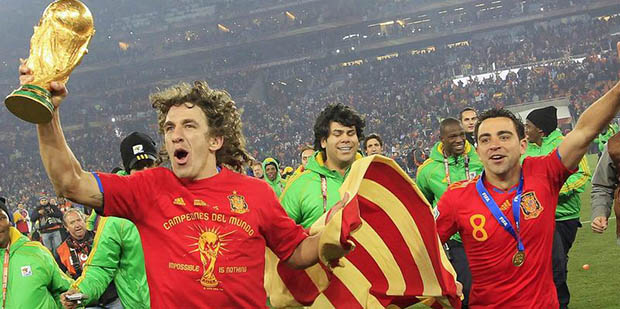 Following up from our recent look at Catalan independence and football in Catalonia as a whole, we now focus on what independence for the region could mean to the future of the country's national team, better known as La Furia Roja.

The Spanish senior side, now arguably the greatest to have played the game after suffering decades of  underachievement, are currently building up towards the World Cup 2014 to be held in Brazil. Vicent Del Bosque's  side go into the tournament as reigning champions and a successful defence of the crown they won in South Africa three years ago would hand them an unprecedented fourth consecutive international title.
The team oozes quality, personifies perfect football and inspires a nation, but that nation now poses a problem. There exists a strong emotion in a part of Spain, the North East to be precise, that feels the term should be nations, plural. This is due to Catalonia currently paving the way for Independence, despite all the political and European hurdles that may stand in their way. Independence is now no longer a pipe dream but rather a possibility.
This possibility brings about some potentially serious ramifications to the longevity and success of Spain's national football team. Catalonia already has a 'national team' that has competed against some of the game's best sides since their debut against France in 1912, and have a proven track record in their own right.
If Catalonia were to get its wish of independence then many players could have a tricky choice to make, La Roja or Seleccio Catalana. For players such as Xavi Hernandez, Carles Puyol and Joan Capdevila, the decision has come too late as ageing bodies edge them towards retirement, however, for the likes of Gerard Pique, Bojan Krkic and Jordi Alba – the choice could prove a very real one.
In reality, it could obviously be an inherently easy one, all born and bred in Catalonia and groomed through FC Barcelona's conveyor belt of talent, La Masia. However under FIFA and UEFA rules, if Catalonia were to become independent players born in the region would be able to choose for themselves.
Let us not forget the current crop of youngsters appearing from La Masia would, once matured, waltz their way into a Catalonia kit. This would see an exceptional element of La Roja disappear to a newly formed rival across a small border to the north east.
Let us not mourn Spain's loss however. Their team would still boast an embarrassment of riches in terms of talent, even without the Catalan contingent. Players such as Juan Mata, Santi Cazorla and David Silva who have been in  imperious form in the Premier League, would feature more prominently. Hardly poor replacements.
Realistically, such changes to Spain's squad would not take place for a few years, but past their possible or inevitable success in Brazil 2014, could we see a decline in Spanish football? The Spanish football team has taken to supremacy much like a duck to water, with effortless precision and concise knowledge of their endless ability.
Many have looked for the underlying reasons behind Spain's dominance; Phil Ball's book  Morbo brilliantly encapsulates what gives Spanish football its flavour and in essence how or why Spain have only recently kick-started
their success, yet it still doesn't answer the the question completely. Then again, how can you expect to quantify Spanish success, their accomplishments are so staggering that they almost defy belief.
Parallels can be drawn between Barcelona and Spanish success of course, though those in Madrid may protest. The last truly successful crop of players to graduate through La Masia feature Fabregas, Pique, Iniesta, Busquets and co who coincidentally combine to make up some of the key components of Spain's National football team.
Another instance of Barca and Spain mirroring techniques came in the form of Del Bosque's implementation of the false number nine. Cesc Fabregas started as a striker during one game at the recent European Championships, a formation and style of play not too dissimilar to Barcelona when considering the Catalan giants also removed the conventional number nine role under first Pep Guardiola, and now Tito Vilanova.
Which brings us back to the original point, if Catalonia gains independence, these players would be expected to join the Catalan team due to their relationship with the region and FC Barcelona.
One aspect to note is that should the unlikely ever happen and Barcelona fail to continue to compete in La Liga, for what ever political reason that may stipulate such a travesty, then perhaps bitterness may play a part in the players minds and subsequent decisions. Sounds petty, but from what we have witnessed within Spanish football's political tension, to expect anything but would be naive.
For those of you that are yet to understand the concept, imagine Mum and Dad split up. You had the decision to live with either Mum or Dad, would you choose the sterner, less finesse approach of your Dad (Spain) or the entity that brought you into the world and nurtured you i.e Mum (Catalonia/ La Masia). This admittedly is a twisted metaphor for the type of decision many players could face.
Barcelona's contribution to Spanish football can not be overstated, they are the pulse of Spanish football. The tiki-taka style they have made their own would see Spain continue to compete at the highest level even without their Catalan contingent, but would they still have the winning edge?
One thing is for certain, Vicent Del Bosque will be watching through his hands come independence day.
Follow @icentrocampista