Liverpool learn their lessons as gifted Coutinho heads into town
Updated: 29 January, 2013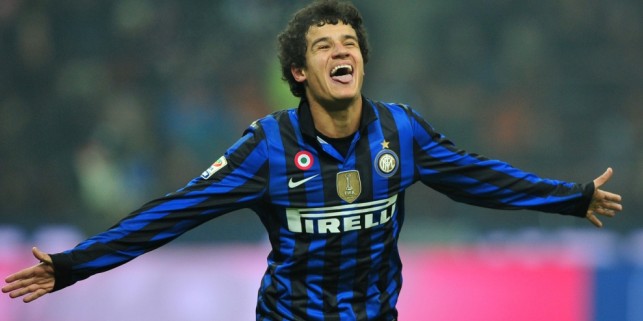 Liverpool Football Club have had a mixed bag when it comes to South American signings. Fabio Aurelio became the first player from the continent to sign for the club when he breezed into Anfield on a free transfer from Spanish side Valencia in 2006. He then breezed out again last year after six injury-ravaged years on Merseyside.
Then there is Javier Mascherano. The world class talent who went from hero to zero after forcing Liverpool to sell him to Catalan giants Barcelona following just three seasons at the club.
One of Liverpool's most successful imports from South America, Lucas Leiva, had an decidedly underwhelming start to life in England – despite now holding the distinction of being the third most popular name on supporters shirts at the club shop.
Between Lucas and skipper Steven Gerrard at the top of the popularity list is a certain Luis Suarez – now arguably the club`s greatest ever South American import.
And that brings us on to Philippe Coutinho. Just 20-years-old and reportedly now in London having a medical ahead of a £8.5 million deal that will take him from Italian giants Inter to Brendan Rodgers' Liverpool.
Relatively unknown in Britain, Coutinho has played just 28 games for the Serie A side and has spent much of his time on the peripherals at the Giuseppe Meazza – seemingly surplus to requirements. His most productive spell coming when he was sent out on loan to La Liga outfit Espanyol last term.
The fact that Inter are willing to sell the youngster also suggests he has failed to meet the huge expectations laid at his feet following his arrival from Vasco da Gama less than two years ago.
Inter have invested some time in Coutinho as well. The Rio-born playmaker was actually signed as a 16-year-old but was allowed to remain at Vasco as Italian laws stipulate foreign footballers must be 18 or over to play in the country.
With that in mind, there have been questions raised this week on the logic of spending the considerable sum of £8.5 million on a player that has, so far, failed to make the grade in his short career. Interestingly, there is also still some uncertainty of what is the players best position
Yet for those who monitored Coutinho's time in Spain last term, there is a general feeling Liverpool may just have pulled off something of a coup. Sent to La Liga last January, the youngster became an instant hit in a modest Espanyol side and struck five goals in 16 games – the most memorable being a sublime strike against Racing Santander in mid-March last year.
Coutinho's impact on Mauricio Pochettino's side was considerable and Espanyol momentarily threatened to launch an assault on the European places before tailling off to finish in 14th place. The player's departure has hit the club hard and with financial constraints pulling ever tighter, Espanyol now sit perilously close to La Liga's relegation trap door.
So what will Liverpool get? Well it is obvious Coutinho is not yet the finished article. Aged just 20, the midfielder still has his formative years ahead of him. However, in the pressure cooker environment of Italian football, time is a luxury young players seldom have.
Italian journalist Andrea Ramazzotti has watched Coutinho since his debut for the Nerazzurri and believes the Brazilian has not fulfilled his potential atInter. Ramazzotti also believes Coutinho may not be suited to the English game, saying: "I fear the way of playing in England, which can be very physical, will not suit him, because he has a slight frame."
That may be true of those of lesser ability than Coutinho, however, the Brazilian certainly held his own in some physical La Liga encounters last season. Let us also remember slight of frame has not hindered the likes of David Silva thus far in the Premier League.
Former Liverpool boss Rafa Benitez, who gave Coutinho his debut at Inter, is still a huge fan of the Brazilian and urged Liverpool to inquire about his availability during the summer. The Reds former Director of Football Damien Comolli is said to have received short shrift when doing so however, and Coutinho returned to Milan – going on to featured in 15 games so far this campaign.
The fact the new Southampton boss Mauricio Pochettino is said to have wanted Coutinho at St Mary's also tells its own story. The Argentine was regarded as one of the best young coaches in La Liga before being unceremoniously dumped by Espanyol before Christmas , and is certainly more than aware of Coutinho's precocious talent.
Yet it is Brendan Rodgers and Liverpool who have seemingly won the race for the midfielder. Many may see it as a gamble,  but when you consider the big-money recently spent on players such as Charlie Adam and Stuart Downing, it is clear the philosophy is changing in the corridors at Anfield. Over-inflated British players are seemingly no longer on the menu.
Whether the hugely gifted youngster will make an immediate bow at Anfield is unclear. The club have also learnt from past mistakes – most notably the over-reliance on Fernando Torres which ultimately ended in burn-out and injury. In Brendan Rogers, the club also have one of the best young man managers in the game.
Nevertheless, Coutinho will soon get his chance to show fans in the Premier League just what he has to offer. His time at Inter may not have hit the heights his prodigious talent once suggested, but fans of the Spanish game will surely vouch that in Phillip Coutinho, Liverpool may just have a player who can stand above the rest.
Follow @icentrocampista