Project Mourinho nears its conclusion
Updated: 2 February, 2013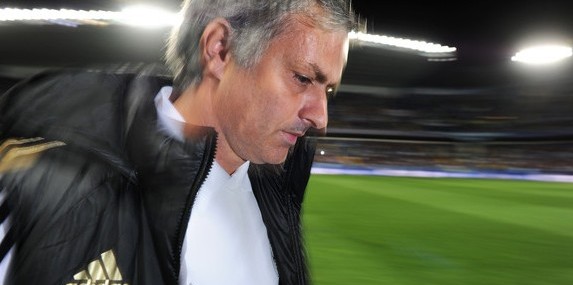 He will be gone in the summer. That is as sure as taxes are a certainty of life.
The Special One, otherwise more humbly known as Jose Mourinho will depart the Esatdio Santiago Bernabeu at the end of the season. the Portuguese tactician turned 50 last week amidst a swirling storm of players demanding his sack and after he himself conceeded the La Liga title to bitter rivals, Barcelona
Since jetting in to the Bernabeu from Italian giants Inter in the summer of 2010, Mourinho's penchant to always be on the lookout for the next job has never abated. Since arriving at the helm of a club that most coaches would see as the pinnacle of their career, Mourinho has maintained his hunger of being the biggest star at any club he coaches.
Which was never going to be the easiest of tasks. At a club famous for its Galacticos tendencies, Real Madrid is nothing without its superstar players. The era of the David Beckhams, Zinedine Zidane and Luis Figos may have long since past, however the current cast of Iker Casillas, Sergio Ramos and of course the brilliant Cristiano Ronaldo are superstars in their own rights.
The original cast Galacticos were tutored by one of the most-humble coaches in the business, current Spanish national team boss Vincente Del Bosque – which one way or the other, contributed to that side's  runaway success. This time around, the chemistry was never going to be repeated.
Because egos don't come larger in football than in the persona of Jose Mario dos Santos Felix Mourinho. Blessed with good looks along with the trademark designer stubble; gifted with a sharp tongue; multilingual; stubborn; radical in approach; outspoken; brave; hugely successful at all the clubs he has coached; winner of league titles in four different countries, including the respected Spanish, Italian and English leagues; and winner of two Champions League titles.
It was probably for the last reason that civil engineer and Real Madrid president, the softly-spoken but ruthlessly hard-nosed Florentino Perez  moved mountains  to bring him to the Bernabeu in June 2010. Madrid had failed to add to their record nine Champions League titles since 2002 and the legacy of the Galacticos had long receded into history. More crucially, Barcelona, perennial rivals and bête noire, were steadily but surely supplanting them on the field of play.
It is debatable if Mourinho's tenure since arriving at the Bernabeu in 2010 has been a success. Yes, he won the La Liga at a canter last year and has also added a Copa Del Rey title. Those two titles apart, everything else, especially the Holy Grail of the Champions League has been annexed by Barcelona. To rub salt into the whole thing, Barcelona achieved their glories with a home-grown coach, Pep Guardiola, who is everything Mourinho is not.
Although Pep Guardiola may have now departed, his philosophy continues through the work of friend new coach Tito Vilanova. Just when it seemed Barca's dominance may be waning – having lost both their league title and record-breaking coach, Vilanova's Barcelona had all-but regained their crown by Christmas. Runaway leaders and a massive 15 points ahead of Mourinho's Madrid.
Naturally for an establishment team enjoying huge patronage and support from the aristocracy, Madrid's inability to significantly dent Barcelona's stranglehold on La Liga has hurt deeply. Tensions have emerged in the team.
Mourinho, ever controversial and forever immersed in personal civil wars, has even pointed to the existence of "moles" or spies in his team. He had successfully won a power struggle with Jorge Valdano over selection issues and if he could only deliver on the pitch, everyone at Madrid would be eating out of his hand.
But it has not gone to plan. Last season's magnificent title charge has long since gone. Average results this term have allowed Barcelona to accelerate so far ahead that talk of title challenges have long since gone in the corridors of the Bernabeu. Instead key players have been dropped, recalled, and shuffled around in an attempt to re-discover a winning formula.
The nigh-on untouchable Iker Casillas has even felt the wrath of Mou – experiencing the ignominy of watching from the bench before picking up an injury which will keep him out for a number of months.
The Spanish stopper and club captain, was clearly not banished to the bench for footballing reasons, with both fans and players alike outraged at his treatment – made even worse as replacement Antonio Adan blundered his way through the four games he started.
In his quest for power and desperation for success, Jose Mourinho has surely stepped over the mark this time. Any salvation may now only come with Champions League success – something which would give  Perez the excuse to forgive and forget all.
Nonetheless, with a reported divided house, bitter players, unrest in the team, and Mourinho himself casting admiring glances at new challenges such as Russian moneybags Anzhi Makhachkala, the time has come to draw a line under Project Mourinho, shake hands and depart amicably.
It was fun while it lasted.
Follow @icentrocampista