The best playmakers in La Liga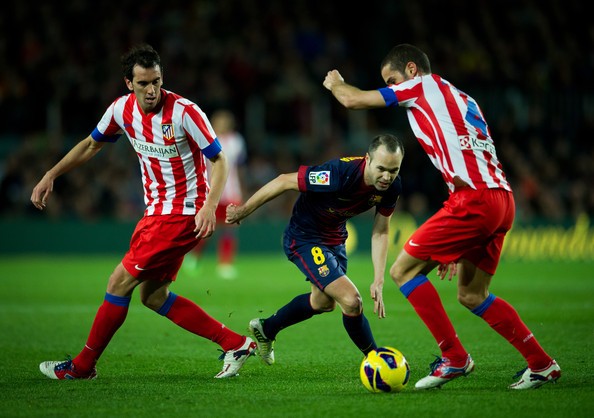 Spanish football is full with stars and major playmakers that can lead and carry a team to victory. Playmakers that can make a pass through the narrows of windows, playmakers that can get an assists with exquisite through balls, but which one in La Liga is the best?
To help solve that conundrum, we here at El Centrocampista have put together a little graph to answer that very same question.
We have taken into consideration the top leaders in assists this season, comparing his stats regarding key passes and the amount of key passes they "need" to make an assist. For reference purposes, a key pass is every pass made by a player that leads to a shot.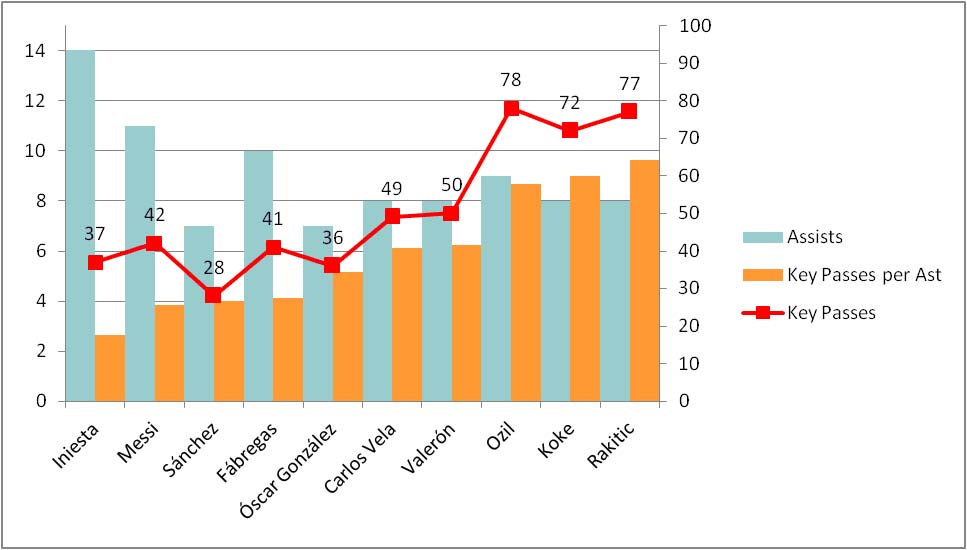 Perhaps is not surprising at all that the first four players on this list, taking into consideration the fewer amount of passes per every assists, are from Barcelona, the teams that leads La Liga in assists and are famous for their tiki-taka football style.
Iniesta clearly stands head and shoulders above the rest. The 'Manchego' not only leads La Liga in assists with 14, he also has made only 37 key passes , giving him an impressive average of one assist every 2.64 key passes.
Another Barça player to highlight is the Chilean Alexis Sánchez. Sanchez has been criticized for his patchy form this season, but is still part of the top 10 with seven assists, the same amount as Óscar Gónzalez, Beñat, Ronaldo and Ibai Gómez – who all just failed to make the list because their key passes per assist ratio was higher than the other two.
Alexis has managed seven assists with just 28 key passes, giving him average of an assist every four passes.
Some will argue that having Messi on the team certainly makes assists an easier task and no doubt, they have a point But funnily enough is the Argentinean who has the second best averages of assists per pass and number of assists; producing an assist every 3.82 passes.
Another player to score highly on this list is the German Mesut Ozil. The Real Madrid player leads La Liga in key passes with 78 but still manages a decent average of an assist every 8.67 key passes, thanks to his nine assists.
This is a better ratio than cross city rival Koke for Atletico Madrid and Sevilla's Ivan Rakitic who average an assist every 9.00 passes and every 9.63 passes respectively.
It is also interesting to note, that apart from Barcelona with four players to make the list, no other team has two playmakers in the top ten and only Cristiano Ronaldo with the same numbers of assists than Alexis Sanchez could have potentially joined a teammate on this list.
Betis defender Nacho also deserves a mention despite not appearing in the graph above. The fullback has made six assists with only 22 key passes.
It perhaps isn't surprising that there is a lack of strikers on the list, with only Messi and Sanchez to feature and neither of them you would describe as a typical centre forward.
Nationalities are also an interesting point of view as Spaniard tie with the foreigners in La Liga.
And age doesn't seem to be an issue as 21 year old Koke is joined by 37 year old Valerón.
Follow @icentrocampista