Ancelotti Era Begins At The Bernabéu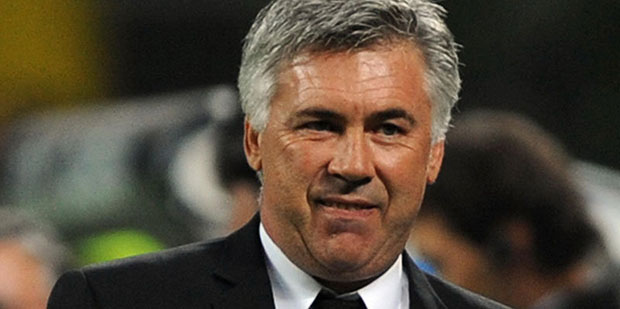 After a season of disappointment and an acrimonious split from Jose Mourinho, Real Madrid begin preparations for the coming 2013-14 season welcoming another stellar name to their fabled managerial hot seat; Carlo Ancelotti.
Ancelotti arrives at the Bernabéu with a distinguished reputation among the European football fraternity, he is a man with a history of success at the very highest level of club football in Europe, yet his task at Real Madrid will represent the greatest challenge of his long career.
Ancelotti arrives at a club steeped in history yet marred by a season of infighting and underachievement. The manager's brief will undoubtedly begin with addressing the internal disputes among players and establishing an authority which brings the players together rather than dividing them.
Club president Pérez will surely be confident that in Ancelotti he now has a man with the pedigree to deliver the success the fans crave, minus the tendency to court controversy, which was common during his predecessor's tenure.
While Ancelotti favours a more complaisant approach as a manager, even recently – and very pointedly – referring to himself as a coach and "nothing more", Mourinho's approach was much more autocratic.
The self proclaimed 'Special One' is renowned for creating a siege mentality among his players, fostering a culture of 'us against the world', playing the figurehead, inviting the criticism upon himself while drawing it from his players – taking the flank but also the glory. This approach had proven itself fruitful at every club under Mourinho's tutelage prior to his arrival at the Bernabéu, at Real Madrid however, this approach proved incompatible with a club seen as a Spanish institution.
While Mourinho's psychological and often abrasive approach to inspiring his players did grant Los Blancos with their first league title in 5 years in the 2011-12 season, it came at a cost. The following season it unravelled, reports were rife that the Spanish continent among the playing staff resented the hostility and ill-feeling Mourinho encouraged between Real Madrid and their great rivals; FC Barcelona.
In spite of the differing allegiances at club level, the Spanish players at the two respective Liga BBVA giants represent Spain's golden generation, having achieved unrivalled success on the international stage, their respect for one another was critical to their success on the international stage and wouldn't be undermined by the volatility of a manager on the club stage.
This proved to be Mourinho's greatest error in his time at Madrid, instead of uniting and inspiring his players, he divided them. Casillas, the club captain and longest serving player, was dropped for being critical of Mourinho's methods. By Christmas the league was effectively conceded to Barcelona. Shortly after the winter break the Spanish press led with a sensational story of a training ground confrontation between Mourinho and Sergio Ramos following a defeat to Barcelona. The cat was out of the proverbial bag, and it seemed it would just be a question of when, not if, Mourinho left.
Real Madrid did proceed to reach the last 8 of the Champions League, only to be emphatically beaten 4-1 by an inspired Borussia Dortmund in the first leg, to eventually exit the competition with an aggregate loss of 3-4 after a second leg fight back at the Bernabéu – and that was that, the season was effectively over for the Madridistas; that was until a Copa Del Rey final against city rivals Atletico Madrid represented a final reprieve for Real.
Atletico came out as victors after extra time, defeating Los Blancos for the first time in 13 years.
The season ended in abject defeat. Mourinho openly spoke of a desire to return to England, Pérez gave him his wish, and the chapter closed on Mourinho's Madrid
Enter Carlo Ancelotti.
A man of esteemed reputation, he arrives inheriting Mourinho's brief to secure Real Madrid their 10th European Championship. Having twice led AC Milan to Champions League glory this is a task that shall not dwarf Ancelotti, as while the Italian appears the antithesis to the often prickly Mourinho, he is a manager of great distinction in his own right.
Ancelotti arrives at the Bernabéu from Paris having guided Paris Saint-Germain to the Champions League quarter-finals, narrowly missing out on a place in the semi-final after a 3-3 aggregate loss on away goals to Barcelona. Most significantly however, Ancelotti leaves France having earned the Parisian's their first league title in 19 years.
Upon his recent unveiling at the Bernabéu, Ancelotti immediately stated his attacking ambition, demonstrating a desire to live up to Real's footballing heritage.
"The challenge is very clear," he said, "the most prestigious club in the world obliges us to try to win playing spectacular football."
Such comments will prove music to the ears of all Madridistas, particularly as Mourinho's Madrid was widely deemed to play a style of football unbefitting of Los Blancos' heritage. While Mourinho favours a pragmatic caution, Ancelotti's sides tend to favour a ceaseless dominance over the opposition with the same primary goal of victory, but while entertaining in the process.
Mourinho's Chelsea were renowned for being difficult to beat, they were strong and physical with their distinguishing feature being a formidable defence – to be used as a platform to dominate the opposition.
Ancelotti's Chelsea were renowned for free-following football and an almost imperious dominance in possession, in Chelsea's 2009-10 title winning season they scored 103 goals – a Premier League record.
Ancelotti's sides tend to adopt a 4-3-2-1 or 4-3-3 formation, with a strong emphasis on controlling possession in midfield and creating the necessary width with overlapping fullbacks. In PSG's recent Champions League quarter-final ties with Barcelona, Ancelotti adopted a 4-4-1-1, demonstrating his ability to adapt to the opposition.
It will be intriguing to see how Ancelotti adapts the wealth of talent at the Bernabéu to a side in his image. With the recent acquisitions the highly thought of Isco and Illarramendi, it creates an intriguing selection headache for Ancelotti. Both players played starring roles in this summer's European Under-21 Championship, in which the youngsters helped Spain successfully defend the crown they won in 2011, winning every game they played in this year's tournament.
Illarramendi is a player that many expect to be a successor to Xabi Alonso, however this season he will likely have to remain patient and seek playing time via rotation. Isco meanwhile is deemed to be ready to transition immediately into Los Blancos' first XI, as Ancelotti's new assistant manager Zinedine Zidane demonstrated with his personal intervention in persuading the youngster that the Bernabéu is the right move for his career, allaying the player's fears over a potential lack of playing time.
Isco's favoured position for Malaga was to play wide left, enabling him to come inside on his favoured right foot, a role which Ronaldo fulfils to spectacular efficiency at Real. Should there be no further major signings this summer, with Cavani PSG bound and Bale seemingly set to stay at Tottenham, Ancelotti may seek to use Xabi Alonso as his anchor in midfield, much in the way he made use of Pirlo during his time at San Siro, while Modric could potentially pair Ozil centrally allowing Isco to play on the right with Ronaldo opposite.
While there are question marks as to the personnel Ancelotti will chose to make up his first XI come the beginning of the coming season, all Madridistas can be assured that as Real Madrid enter the new season they shall see a manager keen to remove the acrimony of the past, and with Zinedine Zidane as his assistant, Ancelotti and Los Blancos shall enter the season with a fresh sense of urgency to secure the elusive 10th European Cup.
Follow @icentrocampista