Ronaldo v Bale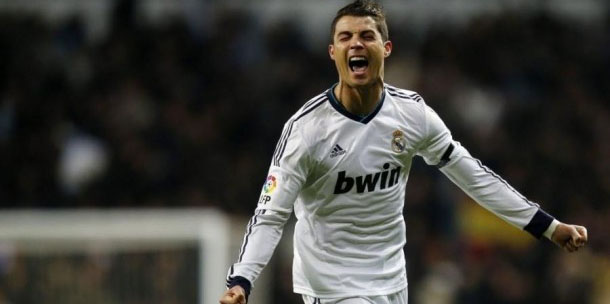 According to various Spanish and English media sources, Gareth Bale will indeed be on his way to Spanish giants Real Madrid in a world record transfer, if not this summer then certainly next.
The Welsh wizard took the Premier League by storm last season, netting the player of the year award and earning previously farfetched comparisons to EPL legend and current Galacticos Cristiano Ronaldo.
The Portugese forward, moved to the Bernabeu in 2009 for a staggering £80million, thereby becoming the most expensive player in history, but it appears likely that the fee required to prize Bale away from Tottenham will exceed even that.
Does this indicate that Madrid value the ex-Southampton full back higher than Cristiano? Not likely, but it does imply that they are looking to Bale as the next instalment of Ronaldo, and rate him on par with the Portuguese magician. Comparing stats doesn't always show the full story between players as other factors also play a part.
In this instance, Ronaldo played for a far better team with Manchester United and was playing Champions League football every year. Also Bale began his career as a full back, only beginning to fully develop his attacking instincts when Harry Redknapp saw potential as a forward.
From a statistical point of view, the comparison will tell a completely one sided story. If we look at Bale's last 3 seasons with Ronaldo's final 3 in England, there is a huge gulf in effectiveness; Bale 49 goals and 27 assists in 127 games, Ronaldo 91 in 155, with 36 assists.
Oh and in that same period factor in to the equation that, Ronaldo won the League every year, as well as collecting a  Champions League.
Ronaldo won the 'Players Player of the Year' award in both 2006/07 and 2007/08; Bale won the same award in both 2010/11 and 2012/13.
Last season in particular, Bale's game couldn't help but be admired in the same way Ronaldo's was at Old Trafford. He scored 26 goals, many of them in the mould of his counterpart with devastating freekicks, long rage rockets as well as displaying composed finishing at times. More importantly Bale developed the same thing that Ronaldo did in 2007/08, the ability to single-handedly win games when the team is struggling. Watching the Spurs starlet towards the end of last season was almost like watching Ronaldo's second coming, with winning goal after winning goal, all in breath taking fashion.
It's important to remember too that whilst Ronaldo scored many more goals and played on the most exclusive stage, Bale didn't have players such as Wayne Rooney, Paul Scholes, Carlos Tevez to link up with.
The stats will tell you that by 24, Ronaldo had won 3 Premier League titles, a Champions League, F.A Cup, 2 League Cups and a Fifa Club World Cup as well as a Balon D'or. Bale can't claim such a collection, but who's to say that had Ferguson convinced the young Welshmen to sign for United back in 2007, he wouldn't have a similar trophy haul?
I'm not claiming that Bale is as good as Ronaldo was by 24, my main argument being that Ronaldo consistently performed against any team, particularly in Europe.
While Bale has shown in his only Champions League campaign to date that he too can terrorize Europe's best, just ask Maicon, he has not had the opportunity to completely prove himself in the Champions League to date.
I do however think that Gareth Bale can be a player who is one day regarded in the same breath as the ex-Man United star, particularly if he continues developing at his current rate.
If he does go to Madrid to join his idol, then there is a big, big expectation to follow.
Ronaldo's form in the Spanish capital has been simply sensational, netting 201 times in 199 appearances and if Bale recreates anywhere near that kind of form, he'll be a huge hit with the Galacticos faithful.
To see Bale in the same team as the master Cristiano has me, as a fan of football, salivating at the sides.
Follow @icentrocampista