Can Kaka reign again?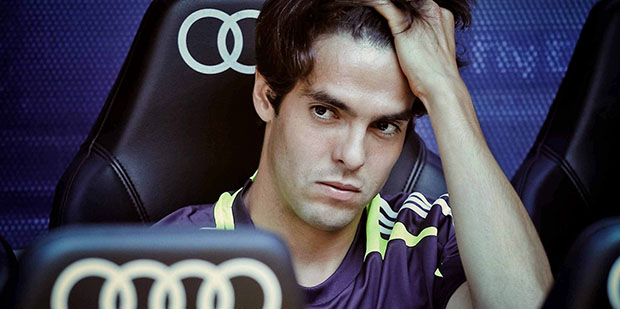 Seven years is a long time, even more so if your name is Ricardo Izecson dos Santos Leite, the man otherwise known as Kaka.
Seven years ago the Brazilian was widely regarded as the finest football player in the world. He won the Champions League in 2006, scoring 10 goals to lead AC Milan to their 7th Champions League title, on his way to scooping up the 2007 Ballon d'Or.
A €68.5 million move to Spanish Giants Real Madrid followed in 2009 and it was believed that in a team of stars including Cristiano Ronaldo, Kaka would run riot.
However, Since the Brazilian's move to the Bernabeu which still stands as the second highest transfer fee paid for a player, the former World Player of the Year has, in most eyes, not represented a good piece of business.
Florentino Perez was delighted to bring the midfielder to Madrid, however, 29 goals in only 122 appearances for Los Blancos in the years that have followed, signifies somewhat of a disappointment for all parties involved.
Despite showing glimpses of brilliance, a breath taking performance against Ajax in the Champions League last season for example, Kaka has, in the main, frustrated the Madrid staff and fans alike. The form that made him such a force at Milan has seemingly deserted him, which has led to constant rumours about where his future lies.
These rumours came to an abrupt halt when Jose Mourinho's replacement was named. Carlo Ancelotti has taken over the reins and as the man who brought Kaka to prominence at Milan, is being charged with the task of returning Kaka to his glory days.
It is believed, that after 4 years apart, that the Italian can still get the best out of 31 year old.
Not only would Madrid benefit from having Kaka back to his best, but the Selecao could also benefit from this. Kaka has been in and out of the national side since his move to Spain and with the 2014 World Cup back in his homeland, he and Brazil will be hoping the player can rediscover some kind of form.
If Ancelotti can help him do so, he certainly would endear himself to club president Perez – who spent over €60 million to sign him. But many believe it is a case of 'too little, too late' and that the player Kaka was, is long gone.
The World Cup winner's eye for goal and touch are still in tune, however old father time mixed with injuries have seen Kaka lose that extra yard of pace which always enabled him to be one step ahead of opposing players, an attribute that was key in his style of play.
Ancelotti has put Kaka on a special training regime this summer in the hope that a fully fit Kaka can start the new season firing on all cylinders. However, Kaka's average form in previous seasons is not the only problem for him at Madrid.
Madrid have invested heavily in Spanish sensation Isco who's form at Malaga demonstrated that he is more than capable of making an impact at the Santi Bernabeu. Add to the mix the improving Luka Modric, Mesut Ozil, Angel Di Maria, Cristiano Ronaldo and the potential signing of Tottenham's Gareth Bale and Kaka's chances in the first team this season could be few and far between.
This season is essential to Kaka's future as a marquee player. The arrival of long term friend Carlo Ancelotti will have given Kaka renewed confidence that his standing at the club will be much improved this season. Conversely, with the talent already at the club and with new signings on the horizon, it is difficult to see a way back for the Brazilian.
Another season like last would see Kaka cast aside, his membership to football's elite annulled.
Follow @icentrocampista