Gerard Deulofeu – the case of an unknown quality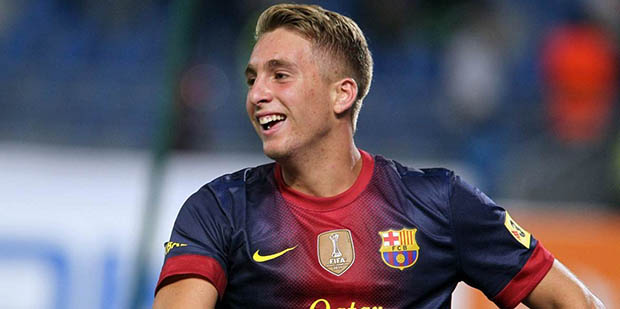 When Everton agreed a loan deal for Spanish youth star Gerard Deulofeu last month, barely anyone in England batted an eyelid. Whether this is because people simply don't know him, as probably most don't, or his name has never been mentioned much outside of his parent club. What people don't realise however is what kind of a talent Roberto Martinez has on his books this coming season.
The 19 year old Barcelona forward is a strange choice for a traditionally physical side such as Everton, but factor in that he'll be working under  Martinez – renowned for his Spanish style of football –  it could become a very good signing. The youngster has been with the Catalans since 2003 when he was just 8 years old and has represented every side at the club, as well as starring for every youth team for the national side. Deulofeu is a winger/forward with an eye for goal and a knack for beating his man with ease. In the Premier League, beating a man one on one is a skill revered and promoted by fans, teams and players, so Deulofeu may find himself naturally fitted to the EPL.
Whilst these comparisons are often too many, his all round game resembles a certain Leo Messi. A small glimpse at some of Gerard's highlights will show you this – pace, abundant skills, goals, sound passing and creativity. He has been a part of two Spain under-19 sides that won consecutive European Championships in 2011 and 2012 and in the latter, was named the tournament's Golden player. Last season for Barcelona B, the winger netted 18 goals in 33 matches to finish 4th in the scoring charts as the Catalan's finished just outside the play-offs.
Roberto Martinez this week called for patience from the Everton fans, a sentiment that can really help a young player out. He told his new fans not to expect miracles for the first few months as a player of such a young age and raw talent may not find his feet in a new country so easily. He also warned that Deulofeu has an incredible talent, one that can shine through in the EPL once he finds his feet.
Whether the Spanish teenager can take Merseyside by storm remains to be seen, but it's very exciting to see one of La Liga's highest rated youngsters with a chance to shine in another country. Given two or three years, we may well be comparing the lad to Barca legend Messi, but there's a long road ahead and a lot of football to be played between then and now.
Follow @icentrocampista