Tito time: The secrets of Barca's success under Vilanova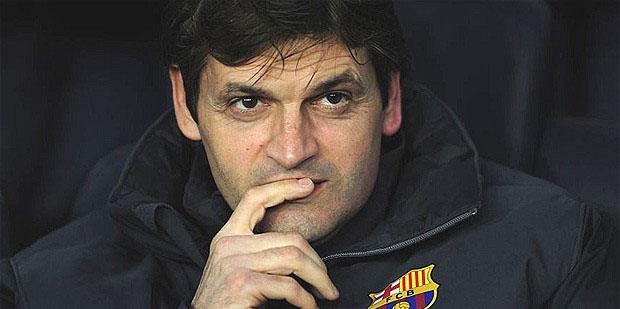 With the managerial merry-go-round in full flow during these summer months, it is easy for football clubs to move swiftly from one employee to another with little regard to the past and an intense focus on the present and the future.
Therefore, it is worth noting the ill-fated case of Barcelona and Tito Vilanova, who recently parted company due to the 44-year-old's fight with parotid cancer – a resignation which has demonstrated the Catalan giants' empathetic ability to live up to their mantra as mes que un club.
Since stepping down from his position as First Team Coach on 19 July, Vilanova's twitter feed has been clogged up with numerous messages of support from former players and members of his coaching staff, sparking the online trend of #animsTito.
Meanwhile, at a press conference last week, club captain Carles Puyol said: "Tito is very much the present for us. He has asked us to give everything to the club, which would be the best way to help him. We want to send him our power."
Nevertheless, the "best team in the world", according to Tito himself, cannot afford to stand still and has since recruited Argentine Gerardo Martino to fill the void left by Vilanova.
But what can Martino learn from his predecessor's time in charge at the Nou Camp? And can Vilanova's reign even be considered a success at all?
On 27 April 2012, after three years as Pep Guardiola's assistant, Tito Vilanova replaced his old boss and treble-winning friend as First Team Coach of Barcelona.
The honeymoon period began in glorious fashion at the start of last season. The Blaugrana won their first four league games and had opened up an eight-point gap over arch rivals Real Madrid before the end of September.
On 19 December 2012, with Barcelona nine points clear at the top of the table having scored a devastating 54 goals in 16 games, the club announced that Vilanova's cancer had returned and that he would not be attending games for the foreseeable future. Jordi Roura was to play the role of caretaker manager whilst his colleague began six weeks of chemotherapy treatment.
By February 2013, the Nou Camp was praying for a miraculous recovery and the return of their manager. A draw in the Copa Del Rey was followed by dropped points in La Liga and a miserable first half display against Valencia at the Mestalla. Roura had dispelled the widely-held belief that anyone can manage a team as good as Barcelona.
With Vilanova's return in late March came the toughest test of the season: a Champions League semi-final tie with Bayern Munich. The previous seven months of scintillating league form was instantly forgotten. The "best team in the world" had just crashed out of Europe's major tournament, losing 7-0 on aggregate and having witnessed a newly evolved version of the beautiful game which made their own 'tiki taka' style appear outdated.
Whilst Barca's new manager will find it difficult to review his team's demolition at the hands of the Bayern, there are lessons to be learnt from the last 12 months.
What Barcelona missed most during Vilanova's absence was his ability to influence games with appropriate decision making from the touchline. For instance, a 3-2 against Sevilla looked certain to end in a draw until Vilanova's introduction of David Villa resulted in a last gasp winner for his team. Had Roura made the same substitution in Barca's draw against Valencia, Barca would have reached a record-breaking 102 points last season.
Vilanova can also be praised for getting the best out of Cesc, something Martino must also try to achieve. The loss of Thiago Alcantara to Bayern has made Fabregas even more pivotal to the future of Barcelona's famous midfield. In his short spell in charge, Vilanova used a system whereby a deeper-lying Andres Iniesta allowed the former Arsenal man to flourish.
However, to avoid the early-season criticism aimed at Vilanova, Martino should spend big on a central defender. Thiago Silva, David Luiz and Daniel Agger have all been linked with moves to the Nou Camp and could all provide adequate cover for an aging Puyol and injury-prone Pique.
Finally, mix up the range of passing that was present during the Guardiola and Vilanova years. Whilst Guardiola epitomised 'tiki taka' play, Vilanova's teams could get the ball wide and back into the box very quickly. A blend of these two styles proved successful for Bayern last season and would improve the Blaugrana's chances should they meet German opposition this time round.
Here's hoping that Barcelona are not involved in next season's managerial merry-go-round, with sustained success in the future for Gerardo Martino and a hopeful recovery for Tito Vilanova.  #animsTito.
Follow @icentrocampista