World Cup Year: A Selecao in La Liga
Updated: 3 September, 2013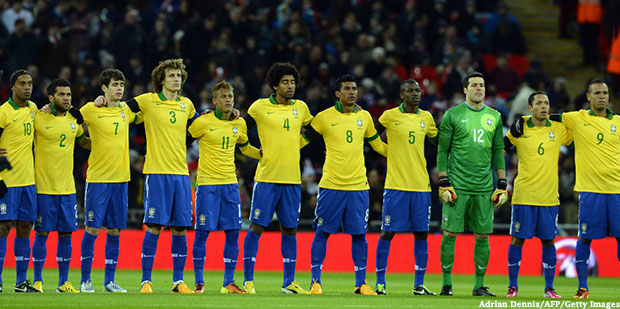 The season prior to a World Cup takes on extra significance for any professional hoping to represent their national side on the grandest stage of them all. But what if next summer's tournament is set to take place in your own back yard and you're from the most football-mad country on the planet?
El Centrocampista takes a look at the samba stars who will be lighting up La Liga this season.
Neymar
Before a ball has even been kicked, the Brazilian press have already branded World Cup 2014 as Neymar's tournament.
As the poster boy for the whole campaign, the 21-year-old will be the first name on Luiz Felipe Scolari's team sheet. But the season ahead still poses a huge challenge to the young superstar.
A big money move to Barcelona was advised on the grounds that European football would hone Neymar's skills before the big kick-off. Yet the two don't seem a natural fit.
Neymar thrives on one-on-one situations where he has vast amounts of space to beat his man on the counter attack and slalom towards goal. At Barca he will have to break down defences camped within their own penalty area.
Add to that the Messi conundrum. Upon being presented to the Nou Camp faithful, Neymar was wise to state: "I am here to help Messi carry on being the best player in the world." The Catalonian crowd lapped it up. Yet the pair are yet to connect on the pitch. It's still early days, but there fears of competitiveness and rivalry between the two superstars are already growing.
One thing is for sure: with the World Cup just around the corner, Neymar will not be willing to let anyone stand in his way.
Diego Costa
With Radamel Falcao departing from Athletico Madrid earlier this summer, feisty forward Diego Costa should relish the role of top dog at the Vincente Calderon.
Yet to dismiss Costa as a bit-part player up until now would be a gross misjudgment of a striker who tallied 20 goals last campaign and boasts a chance conversion rate of better than one-in-three.
Such stats have raised eyebrows across Europe and a supposed €29m bid from Liverpool has elevated Costa to international status.
However, Big Phil will be wary of the 24-year-old's aggressive temperament. Costa committed 63 fouls last season, earning 14 yellow cards and 1 red.
With Hulk growing increasingly frustrated at Zenit St Petersburg and 32-year-old Luis Fabiano seemingly past his best, could Diego Costa be the man to fill the yellow number-nine shirt in Rio?
Interestingly, despite playing two friendlies for Brazil, Costa can still play for Spain, having obtaining Spanish citizenship earlier this year. Watch this space, Vincente Del Bosque.
Filipe Luis
A team-mate of Costa's, Filipe Luis worked alongside fellow countryman Miranda to form the meanest defence in La Liga last season.
Diego Simeone's success with the Rojiblancos has been built around defensive organisation and an astute ability to counter attack. But whilst the rest of Simeone's men can be accused of indiscipline, Luis has remained a cool head at the back. En route to Copa Del Rey victory Luis played six games and scored two goals without committing a single foul in the entire competition.
With Thiago Silva and David Luiz performing brilliantly for Brazil in the 3-0 win over Spain in the Confederations Cup final, it is unlikely that Luis will be in Scolari's first team plans for next summer. Nevertheless, the 28-year-old is certainly one to watch in World Cup year.
Kaka
Cast into the shadows of the Bernabeu and branded as over-priced and injury-prone by the Madrid media, could Kaka shine once more now that he's been re-united with Carlo Ancelotti?
Now 31, Kaka's best years were previously under Ancelotti whilst at AC Milan. The midfielder won the UEFA Champions League and FIFA Ballon d'Or in 2007 and will be hoping to replicate even a fraction of that sort of form this season.
Kaka is still adored in his homeland, where many believe the former golden boy's experience is vital to the success of the host nation's 2014 campaign. Juca Kfouri, one of Brazil's most respected columnists, wrote earlier this year "Lucas, Oscar and Neymar are all 20 or 21. That is why someone like Kaka could be important to pay the leadership role for the national side."
Kaka performed well against Ajax in the Champions League last season and has already featured for Real in La Liga this term, but the former great needs more playing time. The addition of Isco to Real's already star-studded front line may mean Kaka will have to look elsewhere if he is to fulfill his World Cup dream.
Thirsty for more World Cup rumblings in La Liga?  Check back with us next week, when Ethan Tellett takes a look at what the World Cup means to La Roja hopefuls.
Follow @icentrocampista