Barca – Direct not dead!
Updated: 11 November, 2013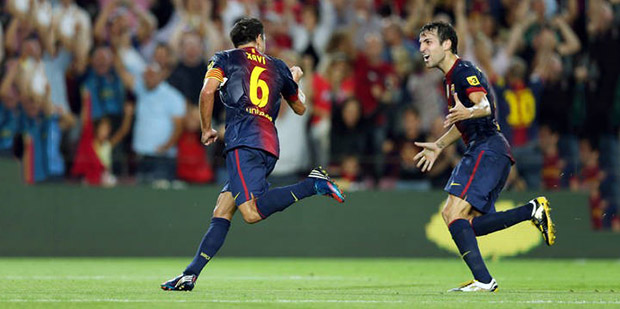 The total football of Barcelona may have disappeared, but has there been a conscious change in style? Not according to Jorge Pautasso, Tata Martino's right hand man. He claimed in a recent press conference that "we will not make any changes" to Barca's style. Following that statement, the match that had been preceded by that press conference was a fixture against Rayo Vallecano. That night, for the first time in three years, Barca had less possession than an opponent in the league. They'd gone 136 games dominating possession. Jorge was wrong. They had changed things. There was a visible change in formation and more importantly, choice of pass.
In 2010-2011, at the peak of their powers, Barca used the same formation as today, but their tactics have changed. They had an actual centre forward in David Villa and played a narrow four-three-three. You might think not much has changed as they set up as a four-three-three this season but it's a different machine compared to 2010 and 2011. Messi always plays central, and Neymar, Pedro and Alexis are drilled to stick to the wings to create space centrally. Dani Alves marauds forward into that wide right role just as before, but thanks to Cesc Fabregas, who breaks into the box–a tactic not seen enough before his arrival–opposing players are dragged centrally leaving the cross field switch of play as an option.
Against United in the Champions League final of 2011, Villa played through the middle switching with Messi and Pedro from the flanks.  As a result, United couldn't live with the movement, and they were comfortably dismantled. Earlier in that season, Barca took apart Mourinho's Madrid in the Camp Nou 5-0 on 29 November. The movement of Messi embarrassed Madrid, almost playing as a number 10 behind Villa that night, but importantly, no ball was played more than twenty feet. Tiki-taka was at its purest, and Barcelona looked unbeatable.
Compare the line-ups of those stand-out performances from the Guardiola era to that of Tata Martino's team. Tata's Barca have only dropped two points in 10 games in La Liga, and they were comfortable against Madrid last week. They had near identical line-ups between Madrid 2010 and United 2011 with Puyol and Mascherano switching places in what was a team of Valdes, Alves, Pique, Abidal, Busquets, Xavi, Iniesta, Villa, Messi and Pedro. Two weeks ago, against Madrid, only three changes from that Champions League final of 2011. Abidal, Villa and Pedro replaced by Adriano, Neymar and Fabregas.
The latter two of those changes are the most significant. Watching Neymar in Brazil, it was easy to think he was greedy, but he was in a team that wasn't on his level. He took the ball wide on the left wing and went on to beat three or four players with ease, four or five times in a game. Many thought he would take more time to adapt to Barca's style and become more selfless, but he seems to get better with each passing game, the match against Madrid was arguably his best performance in Blaugrana.
And then we have Cesc, one of the best midfielders of his generation who was constantly written off in his first two seasons back at the Camp Nou. The La Masia graduate has really grown into his role in this team. Some say his football, the direct path, inherited from his time with Arsenal, will replace Xavi's tiki-taka. But what we see now is a combination of the two.
Against Madrid, Cesc and co pulled opposing players into two of them just like Xavi and co did two or three years earlier, but all of a sudden, the ball would be switched to Alves or Neymar on opposing flanks who found themselves in acres of space. A 50 or 60-yard ball opened the pitch up, and crossed into the box, something rarely seen under Guardiola. Valdes was not playing short passes from the back, as there were not as many risks taken at the back, and Tata has definitely changed that.
Question marks remain over Barca, and rightly so. Guardiola once said they couldn't afford to not have the ball because they were poor in defence. Many still believe Bayern Munich would tear them to pieces like they did last term but they'll win the league again barring a minor miracle. If they can somehow find a way to press with 100% intensity as oppose to the 70% they do now, they may find a way to win it all again. And while we are all still hanging on to Guardiola's Barca, we will only know how far they come if they meet Guardiola's Munich. They have to stick to the new philosophy of direct or they will be killed, perhaps fittingly, by Pep.
Follow @icentrocampista