Carlo Ancelotti vs Jose Mourinho: A world of difference at Real Madrid
Updated: 13 December, 2013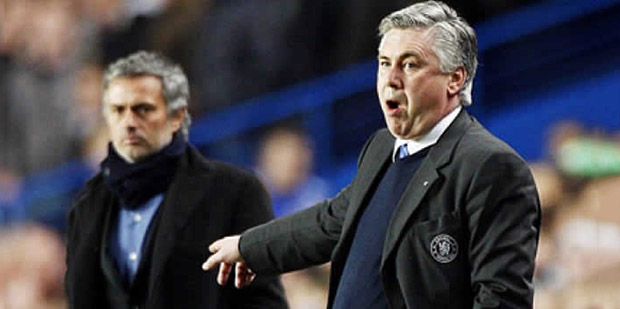 With only two games left before the Christmas break, Real Madrid find themselves trailing Barcelona by just three points in La Liga and unbeaten in the Champions League. That is indeed a very different situation from one year ago, when Jose Mourinho's side had practically given up in the domestic tournament and put in some poor performances against Borussia Dortmund in the group stage of the Europe's top club competition.
After just five months in the job, Carlo Ancelotti seems to have got off to a better start that Mourinho did, as most of the fans are confident Real can win the treble this season. However, comparing Mourinho with Ancelotti seems a bit unfair taking into account that the Portuguese spent three years at the Santiago Bernabeu and the Italian hasn't reached the midseason mark yet.
Let's analyze the differences more deeply between both teams to have a better picture of the overall situation.
Mourinho built his team based on a solid defense, favoring the counterattacks and a high-speed football when in control of the possession. His side stood out for conceding very few goals, while Ancelotti's men have seriously struggled in that aspect, especially at the start of the season.
Ancelotti, on the other hand, seeks a more possession-based style, giving the players more freedom in attack and demanding a quick passing tempo to break down opposition defenses. Proof of that is that the Italian has frequently lined-up Luka Modric alongside Xabi Alonso as centre midfielder, while Mourinho did that on very few occasions, as he used to display at least two holding players.
Ancelotti's Real risk more in the pressure, trying to steal the ball even when the opponent's defenders have the possession. Meanwhile, Mourinho only opted for that aggressive tactic in certain matches, such as the Clasicos against Barcelona.
The Italian coach has been able to gain Karim Benzema's commitment to participate more frequently in that task, possibly thanks to the way he showed his trust in him when the player was booed by Real's fans. Madrid's number nine never had Mourinho's total confidence, as he was never a guaranteed starter and shared the striker spot with Gonzalo Higuain.
The main doubt over Ancelotti's Madrid was whether he would be able to find a solid defensive system that would adapt to his style of play. With Xabi Alonso's return, things have been easier. Ancelotti has tried various defensive systems and line ups on the training ground, which can be noted during the matches Real have played.
With Daniel Carvajal in the squad, Ancelotti's Madrid also have more offensive options. During Mourinho's era, it was easier for the rivals to defend, since putting their efforts in stopping Marcelo and Cristiano Ronaldo on the left was usually enough. Now, the right side, with Carvajal and Gareth Bale, is almost as dangerous, making it tougher for the opponents' managers to find an adequate defensive strategy.
That said, it would seem Ancelotti's style has considerably improved that of Mourinho. Last year at this point of the season, Los Blancos trailed Barcelona by 11 points in La Liga and had qualified for the last-16 round of the Champios League in the second spot of their group after losing to Borussia Dortmund.
This season, Los Merengues have five more points in the league and have finished the Champions League group stage unbeaten, with five victories and one draw.
However, that is still not good enough to beat Mourinho's second season at the Santiago Bernabeu. In 2011-12, when the Portuguese boss' side won La Liga with a record 100 points, Los Blancos had earned three more points in the league by this date and had sealed their Champions League group round with an all-win record.
Ancelotti's style seems to please the fans more than Mourinho's, but it is still yet to prove if it's as effective. The Portuguese won one league, one Copa del Rey and reached three Champions League semifinals. The Italian still needs time to show what he can achieve.
Alejandro Gonzalez is the co-founder of Real Madrid News
Follow @icentrocampista