Suarez to Madrid? I've got a better idea
Updated: 12 December, 2013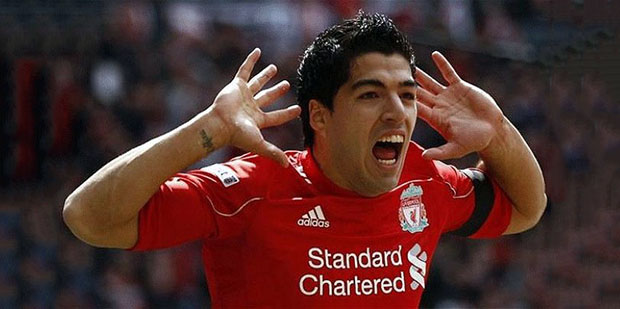 Day by day speculation is mounting that the enigmatic Liverpool forward will become the latest of Florentino Perez's galactico's at Real Madrid.  But is he really the best option?
There can be little doubt that Suarez is an exceptionally talented player. He is one of the most prominent, in-form players in world football, with an astounding goals-per-game record this season (11 games – 15 goals); but there are huge doubts over both his character and  temperament.  Doubts which have thus far managed to curtail a transfer to one of Football's superpowers .
Could Suarez really be relied on to keep a cool-head in the increasingly volatile atmosphere of a classico for example? Remember, this is a man who has recently returned from a 9 game ban for BITING an opponent! His second biting offence!
Far from this being a piece on Suarez's questionable morals (something we are all too tired of talking about), I would instead prefer to suggest a better fit for los blancos.
Atlético Madrid's Diego Costa is one of 2013's huge success stories. With 15 league goals to his name this season (in only 15 games) and 19 in all competitions, he has been in sensational form for Los Rojiblancos. An integral part of their success in the last two years under Diego Simeone.
Only 18 months before today, Costa was in the midst of his fourth loan deal since signing for Atlético in 2006 – this time at Rayo Vallecano. He had scored regularly for Rayo since his return from a serious knee injury, and on his return to Atlético he scored 20 goals in a trophy-laden 2012/13 season for the club.
Costa has gone from strength to strength this season.  Most notably he has taken the unprecedented step of rejecting his native Brazil in favour of his adopted Spain; to immense disappointment from the Brazilian nation. This is a player who is clearly confident both in his ability, and in his potential to go on to even greater success. A debut with world champions Spain has been delayed only due to injury.
Now I appreciate that Costa does not have an immaculate disciplinary record himself, his clashes with Sergio Ramos and Pepe in a Madrid derby last season were unsavoury to say the least; but in the face of extreme provocation (spitting) he did remarkably well to keep his cool. It also seems these on-field theatrics are quickly forgotten when the game is over (ever noticed how Xavi, Pique, Iniesta, Arbeloa, Ramos etc  demonstrate bitter hatred towards each other during classicos? And then all is forgiven when they meet in the Spain squad?). At least we can say with little doubt that Costa is something of an angel when stood next to Suarez.
In terms of the system that Real play I would suggest that Costa's technical characteristics are better suited to the central strikers role at Madrid than Suarez's. Costa is more of a physical presence, a powerful runner, who can drift wide or play with his back to goal. Suarez is very skilful in possession, but has a preference towards picking the ball up deep and carrying it forward. Real Madrid already have Ronaldo and Bale, two players with a combined value of over £160m who are extremely proficient in this area. They are unlikely to be demoted; at least not under the leadership of Perez.
Costa has the potential to be one of the world's most significant strikers. He is equally adept at holding the ball up to engage teammates in the attack, as he is making strong runs into the channels. He is stylish in possession, and composed in front of goal – with the special ability to score truly spectacular goals (see overhead kick vs Getafe, Nov 13).
Now it is clear that many of these characteristics are shared with Suarez, and it is likely that the Uruguayan is currently a better player;  but would he fit into the Real Madrid system as well as Costa? Does he represent more of a disciplinary risk than Costa? Is he 15 months older than Costa? Would he cost £30m more than Costa?…….
Follow @icentrocampista