The return of 4-4-2 pays dividends for Atletico
Updated: 18 December, 2013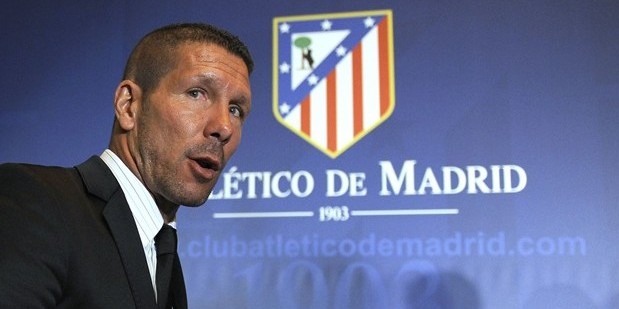 The prominent clubs and their respective Managers in La Liga have been primarily responsible for the evolution of formations/tactics in the modern game.  Pep Guardiola introduced a high-pressing, patient Barcelona in 2008 (which later included the false 9), and  José Mourinho countered this with a deep-lying, fast breaking, powerful Real Madrid in 2010. Both side's respective tactical approaches were, and often still are, constantly adapted and evolved to counter their rival's strengths;  adjusting to their opponents weaknesses whilst also making best possible use of their own players' attributes.
But have Real and Barcelona been so preoccupied in their tactical obsession with each other, that they have been caught out by the forward thinking of Diego Simeone?
We can agree that all formations are constantly adopting different shapes throughout various phases of the game, depending on a number of variables such as: possession, opponent's shape, area of the field in play, minute of the game, scoreline etc.
In this sense they are fluid and constantly changing; a common example being the change from a  4-2-3-1 in possession to a 4-4-1-1 in defence. The transitional phase of the game then becomes the most important, and how quickly a team can react to these constant changes will determine how successful the formation becomes.
Atletico have successfully countered the modern 4-2-3-1 approach of a majority of sides by often adopting a more traditional 4-4-2 variation. Manuel Pellegrini's Manchester City have achieved similar success in the Premier League this term by also returning to the 4-4-2. So how has an approach once deemed too rigid and easily countered made such a successful return to prominence?
Manchester City have often come up  against a 4-2-3-1 this season, and have managed some outstanding results (6-0 vs Tottenham, 6-3 vs Arsenal, 4-1 vs Manchester Unitedl) by utilizing the 4-4-2. Now this approach asks a lot of the 2 central midfielders, as they are dealing with a numerical disadvantage, but in Toure and Fernandinho they have energetic, tireless players with a strong work ethic. Their ability to manage the central area then enables teammates to benefit from their own likely numerical advantages in wide/forward areas.
Atletico's success has been achieved with the same formation, but in a different way; by the utilisation of their 2 strikers dropping deep and creating a 4-6-0 when not in possession. This ensures they are very compact and difficult to break down, and allows a fast break across all midfield areas.
This trend back towards 4-4-2 suggests that modern football tactics have become cyclical, and that the first teams to break from the norm are one step ahead of the game, forcing their opponents to react to their ingenuity. It has also shown us some interesting tactical variations of what could be regarded as a disciplined or restrictive formation.
The success of both Atletico and City this season could be attributed to the 4-4-2 approach, however it is reasonable to suggest that through their originality they are likely to become the architects of their own demise. Can Toure & Fernandinho keep this work-rate up for 50-60 games? At least they have the benefit of rotation, something Villa and Costa are not as likely to in Madrid.
I think where Pellegrini and Simeone have started, others are likely to follow. Their respective 4-4-2 methodologies have become modern takes on an old favourite, but as likely as they are to succeed at present, they must continue to evolve to avoid being caught by the pack.
Follow @icentrocampista