"I'm back" – Simeone returns to the San Siro
Updated: 19 February, 2014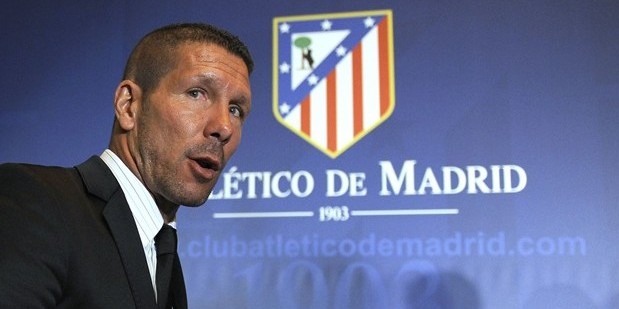 "One day I will be back", he said just eleven months ago. Who knows if Diego Pablo Simeone imagined that that day would be so soon.
Tonight the doors of the Giuseppe Meazza in San Siro will open before him to host his team for the first leg of the Champions League round-of-16 against AC Milan. His team, however, isn't Inter, the side he promised he would be back to coach one day, its Atletico Madrid.
Los Colchoneros have been thriving for years, despite Real Madrid's and Barcelona's attempts to turn La Liga into a duopoly. Atlético have been the "odd team out", the annoying mother-in-law meddling with the two squabbling spouses, who have been feeding off of each other's hate forever.
Since Simeone joined the Rojiblancos in 2011, he has won a UEFA Europe League and a UEFA Supercup beating the European Champions Chelsea 4-1. Last year, they won the Copa del Rey at the Bernabeu against the Mourinho's Real Madrid, and finished thirdin the league, behind, guess who? Husband and wife…
The true miracle, however, is what the Argentine trainer is doing this season, making his team a true, credible contender to the Liga title.
Yet, those of you who saw him play will not be surprised, as his team simply resembles the player he used to be. A player who grew up between Argentina, Italy and Spain, and who always left his (positive) mark, wherever he went.
From a technical standpoint, Simeone was a gritty defensive midfielder, with good technical skills and a great ability to score important goals, thanks to his perfect timing and strength. In a Q&A session with FIFA.com, he defined himself as "perseverant", and believed that his biggest asset was that of "being aware of his strengths and weaknesses, so as to show the former and conceal and improve the latter." What made him stand out of the bunch, though, was his mental toughness. His charisma together with his leadership skills, allowed him to have an unusually fast transition from player to coach.
"He was already a coach during his playing career", said Gigi Simoni, his former coach at Inter. "It was fairly easy to foresee a successful managing career for Diego. He had charisma both on the pitch and in the dressing room."
The beginnings
A 17-year-old Simeone started off his career at Velez Sarsfield, one of the many local teams of Buenos Aires, his hometown. His parents did what they could to allow their son to express his talents in sports: his dad was a door-to-door sales representative for a heaters company, whilst his mom was a hairdresser.
If these seems like the typical story of a humble family, raising a champion who will change the fate of his folks forever. Well, it is.
His talent was crystal clear since day one, as well as his hunger for success. After only a couple of years in professional football, he receives the "once in a lifetime call", that would change his life, as well as his career.
He was in his agent's office, when, "Riiiing, riiiiing". Silence. His agent picks up. "Quien es"?, who was it, asks Simeone. "Italy. They want you at Pisa. Wanna go? You have 40 minutes to decide."
In less than half the time of a football game, young Simeone has to answer a "Who wants to be a Millionaire" kind of question, only he had no help option from home.
He was walking nervously around the apartment, when he found the answer he was looking for. He stares at the wall and spots a picture of Claudio Caniggia, wearing two colors Diego would soon fall in love with: the black and blue striped jersey of Atalanta, the same colors of Pisa.
Whether this was just a coincidence, who knows and who cares, Diego Simeone was off to Italy, to start his career in European football.
20 years old, no family, no friends, just hope and determination. And a piece of paper with a message, given to him by his mentor: "When you arrive in Pisa, there's going to be the press. Lots of people! Remember these words: 'Sono molto contento, grazie a tutti. Grazie a tutti, sono molto commosso.' This is what you are going to say. Nothing less, nothing more."
After his first PR lesson, Simeone is ready for Serie A – well almost, as "nobody told me that the Argentine winter corresponded to the Italian summer!", so he landed with a wool jumper, jacket and scarf under a 30°C sun. It was the first and the last time that Simeone would be unprepared in his career.
Facing relegation
His first season was unlucky, as the Tuscans were relegated, and after failing to go back up, Simeone was sold to Sevilla in Spain, despite 55 games and 6 goals between Serie A and Serie B. But at that point, his career had already taken off for good.
The Andalusian club was just an intermediate stage that brought him to Atlético Madrid as a player in 1994, for three successful seasons, in which he would start planting the seeds of his future comeback as a coach. In 1995-96, in fact, he led his team to an unprecedented national double, including a league victory in a 22-team Liga tournament, beating Valencia's dream team. It was Simeone's most prolific season: 12 goals in 37 matches, numbers worthy of a decent striker.
Back in Nerazzurro
At the time though, La Liga wasn't the best league a player could dream of. Serie A was, and Simeone accepted Massimo Moratti's offer to become the leader of Inter's midfield, and wear the most noble nerazzurri colors. He joined a team that was a mix of old foxes- Bergomi, Pagliuca, Berti-, great players at their peak- Djorkaeff, Zamorano, Moriero, Winter-, and young, rising stars- Zanetti, Kanu, Recoba-, built around the brightest stars of all: Ronaldo, il fenomeno.
But it would be precisely the relationship with Ronaldo that was to hinder Simeone's career at the San Siro. The two strong, opposite personalities clashed, forcing Inter's management to choose between Ronaldo's easygoing, fun-first, "football is just a game" and "I don't need to train like my teammates"attitude, and Simeone's always give 100%" mentality
In Milan, Simeone feels the pressure of playing in a club with high expectations, which hasn't won a title in nine years. But he had won with Atletico after a 19 years drought, so he knows what he's doing. After a slow start and a few boos from the stands, he has his breakout game in the Milan derby where together with Ronaldo he leads the team to a 2-2 draw.
After a successful first campaign, the second year was disastrous. The team wasn't performing at all, despite Roberto Baggio's addition. And the first problems between Simeone and the club arose. It all happened amid a void of power in the team, since three different coaches Simoni, Lucescu and Castellini were sacked by the impatient owner, before the fourth, Roy Hodgson, managed the team untill the end of the season.
Given this lack of authority, players felt the right to express their view on the club and the season that had just ended. It was Ivan Zamorano to who added fuel to the Simeone/Ronaldo captaincy debate by saying "With all due respect towards Ronaldo, who is a fine kid, Simeone is more of a leader and should have been named captain of the team."
Overall, in two years at Inter Milan he won a UEFA Cup and lost a Serie A title in 1998 against Luciano Moggi's Juve. He left the Milanese club in 1999, as part of the record-breaking deal between Lazio and Inter for Christian "Bobo" Vieri. He would join Lazio, much to the disguntlement of many Inter fans who had seen him fight for the colors in an unprecedented way.
When he lands in Rome, Lazio had just lost the Scudetto despite once having an eight point lead over AC Milan. It would have been the first Scudetto since 1973-74. Instead of breaking down, however, the team reacts and thanks to Simeone's winning header in the clash with Juventus , Lazio manage to win their second Serie A title in their history.
As he did with Atlético, Simeone would complete the national double by winning the Coppa Italia against Inter, in the game that made the headlines due to Ronaldo's tears after his first terrible knee injury.
After succes with Lazio, Diego Simeone  would end his career with a second spell in Madrid and then in Argentina, for Racing de Avellaneda, where he would start his training career immediately after he hang up his boots.
Simeone's football life revolved around just a few important clubs and colors, and there's not a single one of his former fans who wouldn't dedicate a standing ovation to him if they were to meet him as an opponent. This is probably the best indicator of the type of player he once was, and the man he still is: loved by many, respected by all.
If Velez represented the beginning, the ones with Atlético and Lazio were his longest and most successful stories. During an interview, los rojiblancos and the biancocelesti were defined by the reporter as "the teams of his heart." Simeone stopped him and said, "Don't forget Inter!". The truth is, the nerazzurri represent an unfinished business to Simeone: two years weren't enough, and that's why he is to be believed if he says he will be back.
In the meantime, Simeone, welcome back home and enjoy your derby.
By John Cavenaghi
SerieAddicted.com is a website dedicated to Serie A lovers with news, analysis and memorabilia. You can find them also on Twitter (@serieaddicted11) and Facebook (https://www.facebook.com/serieAddicted).
Follow @icentrocampista