Diego Costa and the real secret to Atletico's success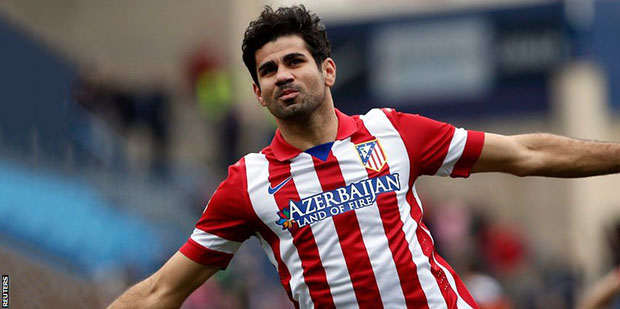 Diego Costa's ever expanding plethora of talents is incredible. Like the villain in a sci-fi movie, every time the opposition has him figured, he comes up with a new skill, a new attribute, which makes putting the ball in the net once again in his hands. He has an outrageous first touch, can outwork any defender in any battle, his ability to pick the right side when shooting is uncanny, and his newest found talent, volleyed finishes, are to be admired.
But what makes Diego Costa most valuable to Atletico Madrid is his ability to overshadow their astonishing defence.
Center half's Diego Godin and Miranda are 28 and 29 respectively, which likely plays a part in the little attention they're given by wealthy clubs scouts and transfer committees, but it only takes a quick browse around the patchy defences of some of Europe's top dogs to make you wonder why even the richest clubs seem obsessed with age and value rather than quality and guaranteed success.
Fullbacks are universally impossible to find, in particular on the left side hence the extraordinary prices you see quoted for players such as Southampton's Luke Shaw on a single season's evidence. Atleti's Felipe Luis however, has gradually crafted himself an impressive career and is quickly emerging as one of the best left backs in the game, as with Miranda, coach Diego Simione will be continually delighted that Luiz Filipe Scolari has set his starting eleven long before this year's World Cup, so neither Brazilian will get the exposure they deserve. On the right, Juanfran remains a consistent performer and is becoming a fixture in the Spain squad, but much like his fellow back four members being in the 28+ age range plays in Atletico's favour immensely.
The only player in Atletico's defence who has age on his side and should really be wielding record breaking offers is goalkeeper Thibaut Courtois. In a position that requires age and experience more than any other, the 21 year old has a rounded game that defies belief and he has taken only the last two seasons to place himself right in the midst of conversations regarding the game's best shot stoppers. The Belgian's loan situation, whilst in the long term will have to be tackled, gives Atleti short term stability as he's essentially untouchable as long as Chelsea are happy to keep him there, meaning for now, and the immediate future, Atleti's back five is not only exceptionally talented, but uniquely stable.
And that exceptional talent is one of the main reasons Atletico could be on course for their first league title in nearly 20 years. The simplest demonstration of which can be seen in the goal difference column; despite having scored 21 less goals than Barcelona, they've conceded the least number in the league, along with the crucial boast of the most clean sheets in Spain. Winning nine games by a one goal margin is no mean feat, and another sign of a defence giving forwards such as Diego Costa the opportunity to go forth and win every game.
It's far from a criticism of Diego Costa and his exceptional play, as even with world class defending you still need someone to go up the other end of the pitch in order to exploit it, which he does to a remarkable extent. But this is an historical trend at the Calderon; Torres was replaced by Aguero, who was replaced by Falcao, who was replaced by Costa, the difference being in this circumstance is
Atleti have gone from Copa del Rey winners to title contenders with the margin of quality in striking personnel only experiencing minor fluctuation.
The likelihood remains that Costa will depart in return for a hefty sum this summer, and as long as Atletico reinvest wisely by continuing to compliment the most underrated defence in Europe, they'll be keeping the true secret to their success well under wraps.
Follow @icentrocampista