Why Puyol's retirement proves Barca to be Mes Que Un Club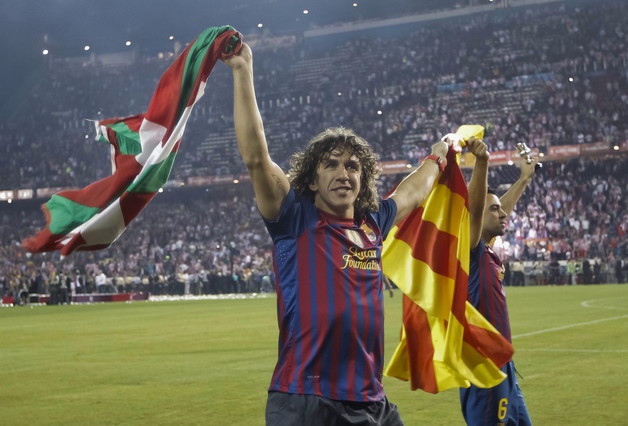 The end of an era. El Centrocampista analyses the Puyol-Barca relationship and what lies ahead for both club and captain.
After 19 years of wearing his heart on the sleeve of his Blaugrana shirt, Carles Puyol was more pragmatic when announcing his retirement to a huddle of journalists inside the Nou Camp last week:
 "The reason I have called you here is because I want to announce my retirement at the end of this season. The club knows and we agree on the terms. We will end my contract and cancel the two years I have left."
Swift, sharp and to the point – like a trademark Puyol slide-tackle. There was no need for fanfare as the football world accepted it was bidding farewell to a legend of the game.
Three Champions Leagues, two FIFA Club World Cups, six La Liga titles and two Copa Del Reys make Puyol the most decorated Barcelona captain of all time.
Yet it is his work-ethic, commitment and understanding of the club's core values that many believe make 'Puyi' irreplaceable.
Following last week's press conference, Gerard Pique sent a heartfelt letter to his defensive partner in which he wrote: "I laugh when people talk of signing 'a new Puyol'.  They'll be looking for a while, because they'll never find him."
In an interview with France's So Foot magazine, Puyol once said of himself:
"I don't have Romario's technique, Overmars' pace or Kluivert's strength. But I work harder than the others. I am like the student who is not as clever but revises for his exams and does OK in the end."
An "OK" defender, the curly-haired colossus also lists two European Championships and a World Cup as part of an illustrious CV that has had Thierry Henry already jumping at the chance to invite his former team-mate to join him in the MLS.
Puyol, however, needs rest.
His 593 appearances for Barca since joining La Masia in 1995 have taken their toll, resulting in two unsuccessful knee operations. And the 35-year-old admits he is not sure what he will do beyond the end of the season.
The doom-mongers would have you believe that Puyol's uncertainty over his future is being echoed throughout his boyhood club; that the departure of such a pivotal figure will inevitably lead to a steady decline in standards at the Nou Camp.
First in the ice bath, as David Villa recalls.  "An eternal captain" says Cesc. "Legendary" adds Iniesta. Puyol clearly led by example on a daily basis and so will be sorely missed by his colleagues.
A true captain, he has a knack of scoring vital goals for his team – see World Cup semi-final bullet-header against Germany.
He also possesses an air of total professionalism, and is adverse to any display of over-exuberance or showboating – see his reaction to Thiago and Alves' samba-inspired celebration following the former's first senior goal against Rayo.
It has often been said that whilst Xavi is the mind of Barcelona, Puyol is the heart.
So how will a 'heartless' Barca cope? Will Pique suffer in the absence of his "guardian angel"? Is this the end of an era of unprecedented success for the Blaugrana?
Rumour has it that Puyol was tempted to leave Barca three years ago, but was persuaded by national team Coach Vincente Del Bosque to stay in Spain and help his club through the Vilanova crisis.
The current feeling within Catalonia is that Barca are yet to fully recover from this transitional period, and will now have to survive without a major dressing room presence.
Puyol's retirement also adds to the underlying unease amongst Cules that, in passing the baton from Catalans Guardiola and Puyol onto foreigners Martino and Messi, Barca is losing it's identity.
Meanwhile, on the pitch there are concerns over Pique's form, Mascherano's credentials as a centre-half and Marc Bartra's ability to become a first-team regular.
But isn't all this missing the point?
In a sport now dominated by business decisions, this footballing super-power chose to do the sporting thing: to scrap the remaining two-years on Puyol's contract and uphold a gentleman's agreement that would grant a loyal servant his parting wish.
The way in which the club have handled their captain's decision to retire serves as a statement to its students at La Masia: "We look after our players."
Surely those youngsters listening will return the favour in the same vein as the club's current crop of superstars, Puyol included.
Thus proving Barca to be Mes Que Un Club.
Follow @icentrocampista