Why isn't Diego Lopez going to Brazil?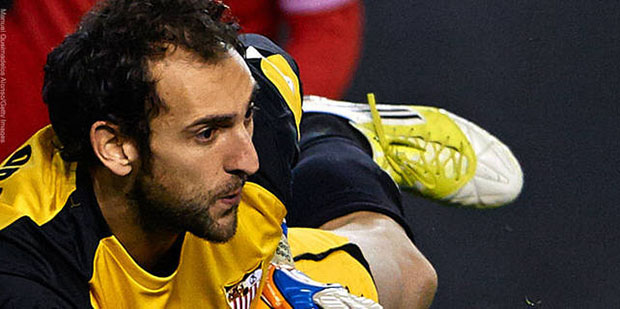 Of all the Spanish footballers smarting over their non-inclusion in Vicente Del Bosque's World Cup squad, nobody has more reason to complain more than 32-year old goalkeeper Diego Lopez. As La Roja prepare to defend their crown, Captain Iker Casillas must be thanking his lucky stars that Del Bosque isn't another one of his managers to bench him in favour of the Lugo-born stopper. Why? Because it's Diego Lopez who should be boarding that flight to Brazil.
Iker Casillas is the Spanish captain and has been capped 153 times, so I am not for one minute suggesting that he shouldn't be going at all, far from it. However, watching him rush out rashly in the Champion's League final only to see Diego Godin's header fly over him, I had to ask myself whether or not he is match fit. Diego Lopez, originally a Madrid youth team player, was bought back to the squad by the much maligned Jose Mourinho while Casillas was injured. The Portuguese manager saw fit to stick with Lopez, making him public enemy number one in Madrid and pretty much throughout Spain, as the nation saw their captain watching on from the bench. Casillas and Mourinho clearly didn't see eye to eye, but it's a crying shame that very few people actually recognise the quality he exuded during his time in goal for Real Madrid. You only have to look at his performance at Old Trafford in the Champion's League as an example. When Mourinho left, Casillas must have breathed a huge sigh of life, knowing that the next manager coming in would pick him ahead of Lopez.
Surely? How wrong could we have been? Incoming manager Carlo Ancelotti saw fit to stick with Lopez for the league campaign. Iker Casillas would once again watch on for most of the season but end up lifting both the Copa Del Rey final and the much coveted La Decima, Real Madrid's tenth Champion's League title. On the back of this, Casillas will now keep goal in Brazil while Lopez will watch on from Spain, most likely wondering what he has done wrong.
David De Gea has a bright future as Casillas' successor to the number one jersey for Spain, there's no doubt about that. He should be in Brazil; the experience of a major tournament will be a key player in his development. It's that simple for him.
But then why has Diego Lopez been overlooked in favour of another player who has warmed the bench for most of the season? The goalkeeper to whom I refer is Pepe Reina. Having fallen out of favour at Italian club Napoli, his inclusion in the tournament squad has to be questioned. The squad smacks of Del Bosque picking the name, rather than picking the form player, and let's not even start on the inclusion of Torres ahead of Alvaro Negredo. The three Spanish goalkeepers tasked with keeping the world's best at bay exude quality, but I remain convinced that Diego Lopez should be boarding the flight to South America and that it should be a just reward for his fine performances at Real Madrid.
Club politics and divisions aside, Diego Lopez has only represented Spain once. It's a great disappointment that he isn't featuring in what could have been his one and only major tournament appearance for Spain.
Follow @icentrocampista