JUAN OF THE FAMILY – Mata returns to the Mestalla
Updated: 27 September, 2011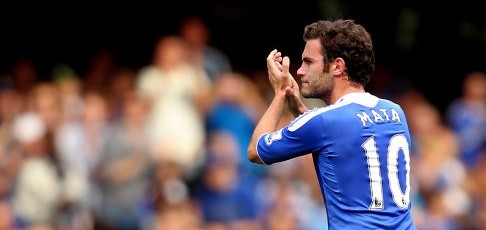 "I don't have words to describe what I feel when I think about the fans at Valencia."
Juan Mata on his departure, 2011
It seems loyalty is a rare trait indeed in the world of football today. A world of multi-million pound transfer fees and astronomical wages. A world were players seldom stay at their home-town club for the entirety of their careers.
The local hero still exists however, the boyhood supporter, but often if the player's ability outgrows that of the clubs a move is inevitable.
Fernando Torres' move from Atletico Madrid is a perfect example.
El Niño loved the club and had been there since an early age, but it was understood that he would have to depart – Liverpool was just too good an opportunity to ignore.
His former club received a substantial amount of money for the switch which helped ease the pain. Loyalty works both ways it seems.
Sergio Aguero's move to Manchester City is almost the polar opposite.
He was idolised by the Atletico supporters who rightly feel betrayed by the way he orchestrated his departure. He will never be welcomed back at the Vicente Calderon, in fact he was publicly wished dead in the very next Atleti home game after he had up sticks to Manchester.
There are not many players out there who can expect a warm welcome when returning to their former teams. Boos and jeers are common and it is a sad sight for any player to be treated with such acrimony.
However the return of Juan Mata to Valencia tonight night bucks the current trend.
Chelsea's new star will walk out at the Mestalla for the first time as an opposition player.
It is barely a month since Mata joined Chelsea but he has already impressed, netting two goals in five games, and becoming an integral part of a reforming team.
Mata spent four years in Valencia, a period which saw him grow and mature as a player and put him on the watch list of Europe's elite clubs.
Prior to him signing for Valencia he had been on Real Madrid's books, but had failed to break through.
Valencia saw something in him and the move was perfect. Injuries to Vicente meant he was soon involved in first team action and he thrived in it.
Memorable performances throughout the season culminated in a sensational brace against Barcelona to put Valencia into their first Copa del Rey final since 1999.
The final would see him score the opener in a 3-1 win over Getafe.
Playing in a team with David Villa and David Silva meant he would never be the star but he continued to impress.
His second season saw him net 11goals and create 13, an amazing return.
The assists record that season was only bettered by Xavi, and there are a few players around who could compete with the mecurial metronomic Catalan when it comes to creating chances.
Now an integral part of the team Mata continued to mature. At the end of his second season he represented Spain for the first time, he would travel to the Confederations Cup and make 2appearances.
The departures of Villa and Silva left many Valencia fans fearing what the future held, but the ship was steadied.
Players were brought in and with Mata at the helm Valencia again secured third place in La Liga.
Mata had established himself as one of the brightest talents in World football. Inevitably clubs were interested in signing him, but he rebuffed them.
But when Chelsea came calling it was different, this was his chance to play at one of the top five biggest clubs in Europe.
In his final press conference to announce his departure, he was visibly moved.
The club played a huge part in his development as a player as well as being a huge part of his life.
As he walks out of the all too familiar tunnel tonight, he is sure to receive an emotional reception.
The fans show their love for someone they regard as one of their own.
Follow @icentrocampista