WHAT NOW? – Where do Rosell, Guardiola and Laporta go from here?
Updated: 28 September, 2011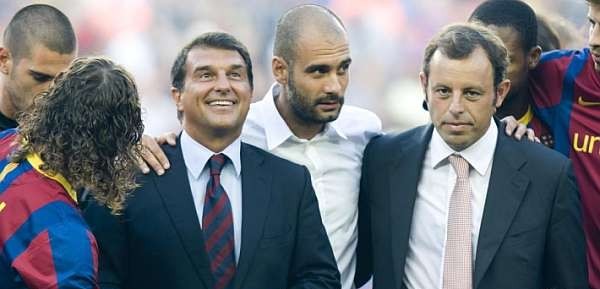 The proverbial storm clouds have been brewing over the Catalan coastline in recent months, reaching gale force levels following Joan Laporta's stinging attack on Sandro Rosell and his team at FC Barcelona last week. 
It went a notch further during Saturday night's post-match press conference when Pep Guardiola was bombarded with questions about his take on the current situation involving the man who gave him the coaches job at the club, Laporta, and his present boss, Rosell.
In a moment of unexpected openness the normally candid coach spoke of his 'great affection for the previous board' and went on to heap high praise on Laporta and his team.
You could almost here the jaws of Rosell et al dropping from the UK.
To all intents and purposes, Guardiola's response placed him firmly in the Laporta camp and made for uncomfortable listening for many currently involved behind the scenes at the club.
The Catalan press have been having a field day with the current legal situation surrounding Barça, and the complicated situation only seems to be intensifying into a bitter tit-for-tat fight to the death (politically definitely – literally? maybe not quite..).
For those unaware of what has led to this amazing situation, I'll quickly go over the main points;
The drama began during 2010 when Rosell took over the reins as the 39th club president of the football club.
The former running mate of Laporta, who helped the latter to his landslide presidential victory of 2003, had already been embroiled in a lengthy series of claims and counter-claims with the man he had served under as vice-president.
This role ended abruptly when Rosell resigned in 2005 and he later caused a storm by releasing a book in which he heaped heavy criticism on the-then club hierarchy.
Rosell claimed the reason behind his decision to stand against Laporta were because he was 'not independent nor transparent nor democratic'.
On taking over at the club on 1 July 2010, the legal team of Rosell claimed there were major discrepancies in the amount of annual losses posted by Laporta's men.
There have since been accusations that Laporta's claim of financial profit during the year were, in reality masking losses of almost 80 million euros.
The controversy grew and ultimately led to once soci (member) of the club seeking legal action against the former president and his team for breaching club statutes.
Rosell put this notion to the club membership and they voted (marginally it must be noted) to proceed with a claim that would see Laporta and seven members of his team pay almost 25 million euros back to the club and it's members.
The situation was given legal approval earlier this year and the accused have until Friday of this week to pay the full amount to the Spanish football federation.
Failure to do so could lead to assets being taken from the personal accounts of each man and their families.
There is no doubt this is a nasty predicament the club finds itself in, one that can only tarnish the reputation of the European champions, but where does it leave the team and, in particular it's coach, Pep Guardiola?
That he seems to place himself firmly behind Laporta is no surprise, after all it was the latter who was instrumental in promoting him from the B side to replace Frank Rijkaard, however Guardiola is a clever man and does not speak out without careful consideration first.
Rosell knows there is only one winner if it came to a Mexican stand-off between himself and his coach – Pep is idolised by both player and fan alike, meaning any criticism or action taken against Guardiola would make Rosell's role as president untenable.
Guardiola would very likely walk away from the club if faced with any public condemnation from the board – leaving Rosell to go down in history as 'the president who lost Barca's greatest coach ever'.
It would seem to many that Sandro Rosell is very closed to being bent over the proverbial barrel, and faces a major decision as to where he goes from here.
His political future could depend on it.
There are bound to be more claims and counter claims before the end of this week – especially as Laporta has finally retorted to the criticism and personal attacks he has endured over the past 12 months, however Rosell may just have seen his position eased slightly during yesterday's press conference with Guardiola.
The coach, although seemingly upholding his support for Laporta, clarified that this should, in no way been taken as a sign of dislike for the current president.
Speaking on the controversy surrounding Saturday's press conference, the coach said: "I didn't explain myself well. I'm not talking about Laporta and Rosell, I'm talking about eight families [Laporta's and his board's] that could be punished, and that's hard"
Guardiola again reiterated this point: "I'm only saying that, the 15 days of [legal] action have been tough for those eight families. "
"It's a fantastic club because all the socis have the same rights, one soci made a demand…. I'm just saying that all the boards have done good things, bad things and, these 15 days of legal action will not change that."
"I've spent time with both of them."
How significant this statement is, time will tell, the Catalan daily SPORT's headline of 'Now, peace' may be a little optimistic.
However it seems Guardiola, like many supporters of Barça feel this situation has got out of hand and can only have a hugely negative effect on the club.
What happens next is anyones guess, but you can be sure the newspaper editors will already have their headlines ready and waiting.
Follow @icentrocampista