LIFE'S GOLDEN FOR BARCELONA STAR
Updated: 28 November, 2011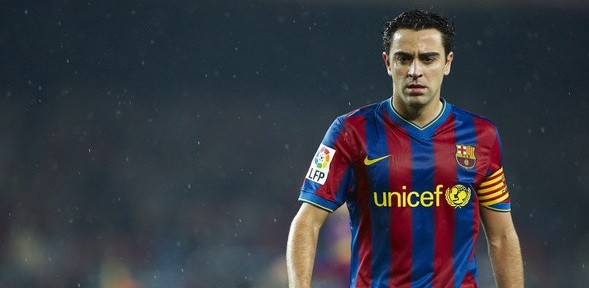 As the announcement of the winner of the 2011 Ballon d'Or draws nearer, there's one man who will be experiencing a familiar feeling.
No, he isn't Argentinean, nor Portuguese, he's Xavi Hernandez. The thinking man's player, Xavi has been one of, if not the best midfielders in the world for over half a decade. Whilst previously overlooked by the media, he has only recently began to receive a fraction of the plaudits he rightly deserves, yet is still often ignored in favour of more explosive or direct players. This is no more evident than his situation in regards to the Ballon d'Or.
The three finalists for last year's award caused a divide amongst opinion, not least because they all hailed from the same team. Lionel Messi's achievements are well documented, and in the season preceding his second Ballon d'Or victory, his record-breaking performances were an obvious indicator of his continued growth as a player, often defying belief.
Andres Iniesta, despite suffering from an injury laden club season, went on to produce stellar performances in the World Cup and, vitally, to score the most important goal in Spain's history during the dying minutes of the World Cup final. Again, his accolades were plentiful as a result, and his name will never be forgotten amongst the Spanish football faithful.
Xavi Hernandez didn't score more league goals than anyone else, nor did he secure Spain's first ever World Cup by bursting the net. As such, it's easy to think that he therefore didn't deserve to win the award, and was instead justified in placing third behind his countryman and the Argentinean.
Yet read between the lines and Xavi's case becomes a lot stronger. At the heart of Messi's incredible season was Xavi, who produced more assists than any other player in La Liga that year with 14. If assists are Xavi's specialty, then passes are his bread and butter, and it's of little surprise to see that he also led the "passes complete" stat with and incredible 2,600 or one every 71 seconds. His closest rival, Xabi Alonso, was miles away, with over 400 good passes less than the Catalan.
Andres Iniesta's league statistics were relatively poor by comparison, largely due to his extended absence through injury. In the World Cup, where Iniesta would go on to star however, Xavi's stats are still superior. Whilst only placing second this time in the assist rankings with two (along with a host of others, it must be said), Xavi's passing was, as usual, a cut above the rest.
The midfielder completed an awe inspiring 669 good passes, at an 81% or 89% completion rate over the whole tournament (depending on who you ask, OPTA and FIFA seem to disagree over this particular figure). His closest rival this time was Bastian Schweinsteiger, with 565 good passes, or a 76% completion rate. Close, but no cigar.
Andres Iniesta, despite his much-increased number of minutes on the pitch compared to his club season, only totalled 382 good passes, at a 73% completion rate. Iniesta was so far away from Xavi in this area he finished behind the equally overlooked Sergio Busquets (third in the ranking), Xabi Alonso, and even defenders Gerard Pique, Joan Capdevilla and Sergio Ramos.
Whilst it could be argued that Iniesta plays a more direct and advanced role for Spain than Xavi, as a midfielder in a team that relies so heavily on possession, his main duty is still to complete successful passes without losing the ball. As such, Iniesta was clearly inferior to Xavi in this area, and let's face it, if you're going to finish behind someone in the passing stats, Xavi Hernandez is likely to be that man.
Why all of this statistical rambling, you ask? Well, what I'm trying to illustrate is that the unifying factor in a career-defining year in two different competitions for both Lionel Messi and Andres Iniesta, was Xavi Hernandez. Xavi is the one constant in two different trajectories of success, if you will, and yet he was relegated to third in the Ballon d'Or, despite many a justified cry for him to be placed first.
The problem is, Xavi is never the obvious choice. He doesn't complete Messi's awe-inspiring dribbles, nor have Iniesta's knack for scoring important goals (and yet, he can do both to the highest level, see Barcelona's game against Milan last week for evidence).
Xavi's work is silent amongst a sea of supporters who want to see goals, tricks and dribbles, and in fact, he does it so well that is has now become largely taken for granted. On the rare occasion that he loses the ball (and indeed, it is so rare that when it does happen you can guarantee it will be mentioned by commentators) he works exceptionally hard to win it back, punishing himself to such a degree that it's unlikely to happen again for an eternity.
The ball is Xavi's friend, and if you receive it from him, it's only because he knows you're the right person at that moment in time to do so. Xavi constructs everything that is good about Barcelona and Spain's football, and without him, both teams look instantly less effective.
That is why Barcelona was so desperate to promote Thiago Alcantara and to sign Cesc Fabregas. It is also why Vicente Del Bosque is hurrying to blood players like Santi Cazorla, or even alter his team's shape to become more reliant on a false number nine in the form of David Silva. In a similar way, it is why Argentina are still struggling to find someone who can supply Messi in a way that is even close to how Xavi has done so successfully at a club level.
The unfortunate reality is that Xavi is slowly but surely winding his career down. And the future after Xavi is, to be frank, absolutely terrifying for both Del Bosque and Guardiola. On a Chess board, Xavi isn't the Queen, the piece with the largest variety of killer moves, but rather, the King, the one constant who simply needs to be there to win.
The tragic thing is, Xavi will most likely never win the Ballon d'Or. Whilst still in the running for this year's award, important figures like Michel Platini are already vocalising their support for Messi (and who is more important in European football bureaucracy than Platini?). Cristiano Ronaldo is likely to be close behind.
Xavi may well come third once again, but it's almost an insult to think that a player of such stature is valued no higher than third best. Not quite as insulting as the Daily Mail's headline of "the best players in the world (and Xavi)" in response to his position in the 2009 award, but none the less unfitting of a player of Xavi's talents and importance.
Perhaps this is the inherent problem with the Ballon D'or. As an individual award, by its very nature it places value on individualism rather than team importance. Previous players to have lost out include Thierry Henry, Raul and, most astonishingly, Paulo Maldini.
The one attempt to try and buck this trend was when Fabio Cannavaro claimed the prize in 2006. Yet this was largely portrayed as a misstep, and business as usual resumed soon thereafter, with a striker come attacking midfielder winning ever since (Kaka, Cristiano Ronaldo, and Messi twice, respectively).
As long as the award continues to opt for the obvious choice and individualism, players like Xavi will continue to be ignored. Considering his consistent level of performance for not one but two of the best Barça sides of all time as well as, undoubtedly, the greatest Spain team that has ever existed, this is an absolute travesty.
If the judges had any sense this year they would hand him the prize on a silver platter. Yet they won't, and most probably never will. Time is running out on Xavi's career, and last year would have been the perfect time to rightfully complete his trophy cabinet with the award.
This year may well be the last chance he has to do so, but placing faith in the Ballon d'Or is a tricky game, so I don't suggest we hold out hope. It seems that despite Barcelona and Spain proving that the important factor in sustained success is the team, not the player, the Ballon d'Or still hasn't caught on.
Does Xavi truly deserve to win the award this year? Are his stats really as good as before or am I being selective in my use of facts? The answer to the first question is yes, clearly, and to the second, in a word, no. He averaged 110 passes per game with 94% accuracy. Absolutely astonishing, and yet exactly what we expect.
Follow @icentrocampista