THE TACTICS CHALKBOARD – Real Betis 0-0 Malaga
Updated: 8 November, 2011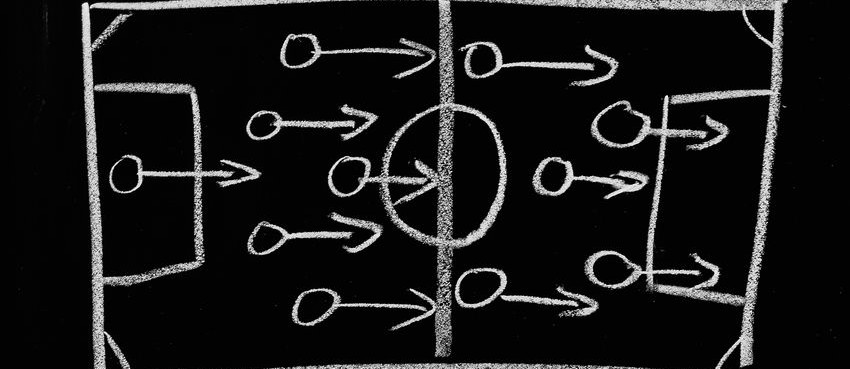 By Jack Presswell
This Andalucian derby finished 0-0 in what was a largely uneventful fixture between two out of form sides at the Benito Villamarin.
For the home side Real Betis, the draw was the sixth of a seven game winless run in which they have failed to score.
Big-spenders Malaga however remain in Europa League contention, despite having only scored 12 goals in 11 games this season.
On the face of it, this was a game between two sides with struggling attacks.
Whilst both teams created chances or got the ball forward to promising areas they were let down by poor finishing or poor deliveries.
Pepe Mel sent out a his side in a classic 4-3-3 formation. Not a 4-5-1 hybrid with attacking wingers but a team with three forwards in Ruben Castro, Pozuelo and Jorge Molina. Roque Santa Cruz was absent.
This was combined with a narrow midfield three of captain Iriney, Jose Canas and Beñat.
For the most part, Beñat lined up ahead of Iriney and Canas, who were the more workmanlike of the midfielders. Aside from when right back Isidoro ventured forward, the two lines of three proved problematic at times for Betis as they lacked width.
Malaga, also without their high-profile striker Ruud van Nistelrooy, had Rondon at the head of 4-2-3-1 line-up which saw Isco, Joaquin and Santi Cazorla playing behind him while Jeremy Toulalan and Duda held the centre of midfield.
In the early stages Betis looked brighter, but their lack of width soon became a hindrance. With Cazorla, Isco and Joaquin working the flanks along with occasional support from full backs Monreal and Jesus Gamez, Betis' full backs were overworked as their front three failed to track back.
This allowed Malaga to work good situations from wide and get crosses in to Rondon. However, as previously mentioned many of these crosses lacked quality and Betis were rarely troubled in the first half.
Going forward, the narrow front three worked to good effect at times for Real Betis.
Especially after half an hour or so when Beñat began operating further up the field. He was able to get the ball and look for the clever runs Ruben Castro and Jorge Molina were making into the box.
Again there was a lack of quality on the final pass, as the front three never really stretched the experienced pair of Martin Demichelis and Joris Mathijsen
Instead, Betis may have been better served operating with wide midfielders and combining the runs with crosses making the defenders turn towards their own goal. This happened once in the first half where Isidoro whipped in a delightful cross which Demichelis almost turned into his own net.
Having the width isn't just for the crosses. The Malaga back four were able to make the intricacy Betis were looking for, difficult by crowding the box as they had nothing from out wide to occupy them. With a wide forward the play would have been stretched and defenders would have been drawn out.
This is seen in one of Real Betis' substitutions in the second half. Surprisingly it was Benat who came off as he was providing the link between midfield and attack. Ezequiel replaced him and played a lot wider opening the game up.
The second half was a different story for Betis. As mentioned they added width, but they were generally just livelier and more positive.
Isidoro joined the attack more, Canas started getting his head up and looking forward and they actually pressed Malaga.
There was an incident where three Betis attacks broke down in quick succession but every time they won the ball back without it leaving the Malaga half. It ended with a wayward Willy Caballero throw being intercepted before Pozuelo put his shot just wide.
Perhaps this was to be expected of Pepe Mel's team. Mel is under pressure for the first time in his tenure at the Seville club, but his team had a go in a much more open second half.
Malaga on the other hand, were just disappointing, especially in the second half. Their best chance came just before the hour where Rondon somehow failed to convert Monreal's wonderful cross from two yards out.
Inexplicably after this, Malaga stopped crossing the ball. Even though it was their main threat for the first sixty minutes. Instead Joaquin and Cazorla focused too much on coming inside and the service to Rondon soon dried up.
Whilst in midfield, once Betis were more cohesive going forward Duda and Toulalan were overrun at times.
All in all, it was a fixture between two tentative sides. Until the final quarter of the match it didn't really feel like a derby fixture as neither team really pressed their opponent hard. Also, there were no tackles flying in and surprising no yellow cards until the 71st minute.
This was a game between two sides trying to regain form, based on the 90 minutes they both have work to do.
Real Betis did look brighter in the second half without ever really threatening whereas Malaga didn't play as well as the individuals they have, should merit.
That's the point. They may have high-quality wingers in Joaquin and Santi Cazorla but they didn't operate well as an attacking unit. It's the common problem of adding loads of new talented individuals who don't gel quickly.
The reason they are in sixth place does stem from a solid defence shielded by experienced midfielders. However, they should improve going forward in time.
Ultimately, despite the fact Malaga were poor and second best at times in this game against a team they would really have fancied beating, there's no need for Manuel Pellegrini to worry just yet.
_____________________
Follow @icentrocampista