FINANCIAL FAIR PLAY? – The looming threat to La Liga
Updated: 27 December, 2011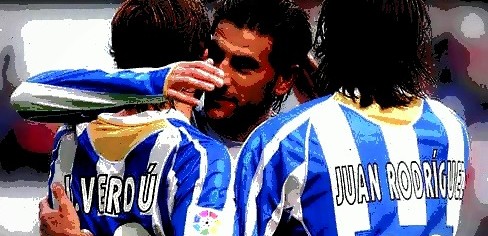 As 2011 enters its final week, elcentrocampista.com will take a look back at some of the most popular stories of the year. In todays feature, Jamie Halden looks at the financial situation surrounding La Liga, including the threats posed by over-spending.
In the dominant age of the Barclays Premier League of the early to mid 2000's it seemed foolish to consider that Spain's La Liga could mount a strong enough challenge to compete with English teams on the European stage.
The Spanish domestic scene had long been dominated by the powerhouses of Real Madrid and Barcelona, as the two bitter rivals traded blows at the top of the table year-in, year-out.
But as the remarkable achievements of the Valencia and Deportivo sides of the early 21st Century showed, it was possible to challenge the hegmony enjoyed by the two, and indeed show it was feasible that someone outside Catalonia and Madrid could fill trophy cabinets to the extent that those sides in particular did.
But what are the consequences and legacy of such challenges to the power of Real Madrid and Barcelona? Financial ruin and instability for years to follow, Valencia are a perfect example who have been unable to reproduce the success Benitez had during his tenure, finding themselves in serious debt servicing problems forcing sales of prized assets like David Villa, David Silva and Juan Mata.
The current financial situation is much better at the club however, with their strategy working in the medium term, aiming to have a sufficient 10 year plan in place by the end of this year which is less reliant on the Champions League income (which is the main source of income for them right now) and move towards stability and producing gems like they have done in Juan Mata and David Villa who were brought to the club for relatively nominal fees.
That strategy is quite a financially brave strategy in Spain as the cultural trend of La Liga is leaning ever more to the ways of the Barclays Premier League where clubs spend more than they earn and end up in severe non structured debt through poor management at the top level leaving them vulnerable to administration and relegation.
Deportivo are proof to this.
The trend set by Hercules and Mallorca in the past two seasons should serve as a stark warning to mid-lower teams in La Liga who must now realise that spending what you do not have in the summer just threatens your ability to service expenses and costs such as wages, operating costs and renting of facilities throughout the season.
The extreme examples of clubs being financially mismanaged in recent seasons has already led to Deportivo and Hercules go down and Mallorca and Racing's future is in severe doubt, surely this should serve as a warning not a precedent that is to be followed?
Of the teams promoted to La Liga this season, Real Betis, Rayo Vallencano and Granada were all in administration. Real Mallorca went into administration last season and were banned from playing in the Europa League.
Real Zaragoza applied for voluntary administration in the summer, whilst Racing Santander are struggling to pay off their debts. Spanish regional banks have been in trouble and the country's construction bubble has burst leaving unsold and half completed apartments and many construction workers adding to already high structural employment.
Spain could be hit hard by any contagion effect from a Greek default and already indebted football clubs could be flattened by the financial tsunami.
According to article 93 of law 35, originally introduced by the previous Partido Popular government in 2004, foreign executives earning more than €600,000 (£540,000) a year are taxed at 23%, rather than 43%.
In theory, the aim was to encourage talent to come to Spain: in practice, following a modification in 2005, it gave Spanish football clubs, already boosted by the collapse of the pound, a huge advantage. Of every 60 people who qualify for the lower rate of tax, 43 are footballers. Luckily the absurdity of the law has recently been altered by the government meaning even foreign football players in Spain are taxed 43%.
But when the league is headed by two clubs who hold the spending power of Real Madrid and Barcelona who have the capability to splash the income of most Spanish clubs in a single transfer surely the reality is that clubs will never hold any chance at winning the league?
In 2008/09 season the €455m net La Liga transfer spend disguises a troubling reality. Last year, despite winning the treble, Barcelona made only €8.8m and have a debt of €350m.
Real Madrid signed €258m worth of players but only after their president, Florentino Pérez, turned to two friends who are both presidents of banks and who loaned Madrid €151.5m.
Which I often refer to as the true fault with Spanish football, the club presidents mismanagement and personal connections with banks leads clubs down the path of borrowing…But when that presidents time comes and a new president is elected the clubs debts,bonds or loans are all still held by the same bank executive that the old President struck a deal with and who may want to up the interest/call in the loan.
It is such a short sighted short term strategy taken by alot of Spanish clubs because the power hungry Directors and Presidents are all too happy to sit in their ivory towers and building the team behind the scenes but when things go wrong they divert the heat onto the manager and nine times out of ten they sack the coach.
Utter madness that you consider clubs to have 2-3 year financial plans, the club will never be stable and hold sustainable growth as long as Presidential terms and elections exist in Spanish culture.
The argument is that their debts are serviceable. In fact, Pérez insists that high expenditure is necessary to generate money and Madrid have become the first club to take income beyond €400m.
But doubts remain; costs outstrip income, shirt sales are lower than those of Liverpool and Chelsea; Bernabéu attendances are down 7%; and the debt stands at €683m. Publicly, Pérez insists: "Real Madrid must always remain a club owned by its members".
__________________________________
Make sure you read Part Two of  'FINANCIAL FAIR PLAY? – The looming threat to La Liga' later today.
Follow @icentrocampista