GRAHAM HUNTER TALKS FOOTBALL – PART II: Pep, Fergie, and the revolution
Updated: 26 December, 2011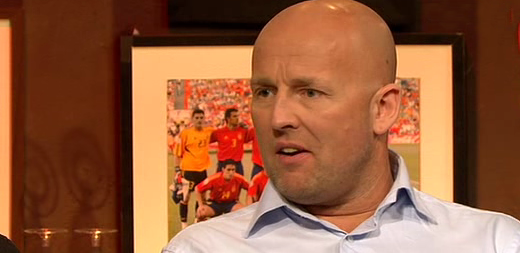 In part one of our chat with Graham Hunter, we were treated to a detailed account of Graham's career, how he fell in love with Spanish football, and two brilliant accounts with Johan Cruyff.
Now, it's time to turn our attention to the team that occupy Graham's city of residence in Spain. FC Barcelona are, without a doubt, the greatest team in the world, and as you might expect from the title of Graham's book, Barça : The Making of the Greatest Team in the World, the Scottish wordsmith has plenty to say about them.
Before we dive in to all things FC Barcelona however, let's take a moment to consider the other teams Graham has worked with, and how they made him feel at home upon settling in at Spain.
Graham, you've gained unprecedented access to Barcelona for a non Catalan journalist (indeed, Graham has twice interviewed Pep Guardiola in the manager's office during Guardiola's reign as Barcelona coach). It seems this is usually reserved for the likes of Sport and EMD, and even then those guys aren't getting individual interviews these days. Can you highlight a reason for this? It seems the players trust you and the club trusts your journalism too. 
I think much of the credit goes to the players and staff at Barcelona, Valencia, Sevilla, Villarreal and to some extent Madrid where I'm best accepted and have built relationships.
There is still a culture in Spain where if you are a decent person who does a good, honest job and shows some personality and respect then you'll be welcomed and trusted. I have only ever tried to do my job straight and honestly.
I have a sense of humour that some of the players seem to quite enjoy, they know that the can trust me and I've kept one or two secrets that they wouldn't want me to share. One or two of them think I know my football adequately and that helps. You have to dominate the language, too.
Further from that point, in terms of Barcelona in particular, do you find being a Scot helps the Catalans relate to you. A type of northern affinity if you will, or is that an outside issue?
Hmm. I find Spain, as a nation, pretty welcoming and they don't mind the odd cheeky, eccentric Scot, no.
Let's turn our attention to Pep Guardiola. You've worked in Barcelona during arguably the most succesful moment in the club's history (though I imagine Johan Cruyff might have something to say about that).
In regards to Pep Guardiola, when did you realise "this guy's the real deal"? What I'm trying to get at here is that whilst it's easy for us all to look back in hindsight and say everyone knew, in reality his Barcelona career as a manager of the first team didn't exactly start off with a bang. Did you know it was just a temporary blip, or were alarm bells going off in your head?
Well, that's complicated.
I didn't expect PG to be able to deal with the entrenched mega personalities at the Camp Nou – Deco, Ronaldinho, Etoo. But on the day he was confirmed as coach he announced that they were all out. Just like that. That was the moment when I thought that it was now only going to be about how well he could harness the other personalities because his football vision and football brain were never in doubt.
If you are then referring to losing to Numancia on the first day before drawing with Racing at the Camp Nou then I won't try and kid you that I had a 'vision' of this is all going to become amazing, don't worry I've 'seen' something marvellous in the two strange games.
But at Numancia what I did notice was that the team performed utterly differently from the previous two years. Fit and aggressive.
Then, given my almost total belief in Cruyff's vision I was swayed when he wrote "I don't know what kind of game you thought you saw against Racing but I saw the best football for years". I trusted that. It was a time when Iniesta, quietly, went to Pep's office and swore to him that all the players understood what he wanted, were behind him and would keep giving him what he asked for. Next game out they gave Sporting a hiding. And something remarkable began.
It's probably worth mentioning that these weren't his first games as a manager of Barcelona in some capacity. He done well to get the B team promoted and started an upsurge in their fortunes that Luis Enrique eventually continued. 
Did you take much note of Pep during those days? Were the signs there already? He got them promoted so he must have been doing something right, but I'm more looking along the lines of his relationship with the players.
One of the things I always hammer home about Guardiola is his natural ability with young players in particular, in picking out their talents even when it might not be obvious to anyone else. He done it with Busquets, Pedro and now with Cuenca. Was that evident even back then?
What became evident, relatively quickly, was that Txiki Begiristain was keen on Guardiola's work, just as much as the B team results, his work.
Guardiola was full of ideas, discipline, order, solutions, tactical innovations. It helped Guardiola that things were so bad at first team level and I don't just mean on the pitch. He stood out as organised, thorough, demanding, hungry etc. What we were all aware of was that, by mid season, Rijkaard was out at the end of the campaign.
What was evident back then was the style. The team arriving on time, following rules, eating together most days, watching inspirational videos before big games. It's all a good guide to what followed with the senior team.
We've waxed lyrical about what a great manager he is, so let's compare him to the greats. Do you think there's something these type of managers have in common?

I'm thinking along the lines of Fergie and Pep. Both seem to have that absolute winning mentality as well as the utmost faith in their players. Do you see some kind of similarity between the two? They're from very different generations, backgrounds and cultures, but there's something there I can't quite put my finger on that perhaps you can.
Lee, I won't claim to have all the answers. But I'll give you what I've learned.
The first thing, talent taken as a prerequisite, is hard work. Both Fergie and Pep work extraordinarily hard. The drive needs to come from within. Whether that is the need to succeed, the need to compete with others or, in each case, the need to prove to themselves over and over again that they can excel.
One other thing that both men have is an ability to command respect, attention, belief. The manner of doing that might vary from time to time but it is important. Pep is portrayed as angelic, pure and gentlemanly. None of those are false, merely what he, and we in the media, put out as the image. However he can be immensely demanding, irascible and disciplinarian.
Fergie is stereotyped as a bully and a shouter. Anyone who has ever met him will tell you he's very much more complex than that. Bright, inquisitive, paternalistic and with a very wide ranging mind.
I think that Fergie knows, and Pep is learning, that the truth is if you are born with a good bit of talent, you build a decent squad and you work very very hard then the competition around you will help you by screwing up one way or the other too.
I once asked Pep about comparisons between him and Fergie and their ethos about how football should be played and he wasn't having it. One he shrank away from comparisons with a guy who has ruled at United for a few generations, respect forbade that.
But even in trying to compare football styles he ducked away from that. It's all about winning he told me.
I'll add one thing, too. Whatever the personalities appear like the real long term winners like these two share two thing – complete self belief (even during moments of defeat and self examination) and an absolute adherence to the fact that they are the boss and anyone who doesn't respect that needs to be eliminated.
Before we tie things up, and because we've stumbled upon it by accident, let's talk about your team. Spanish football fans can rest easily in knowing that you're very much a neutral, you're Aberdeen through and through, and Fergie plays a big part in that for you, though you were there before he was.
Regarding the Dandies [a term of endearment for Aberdeen, for those of you not in the know – Lee], I was taken to my first games in the 1960's, the reserve side played in all Chelsea blue and it seemed paradise to me. Wasn't allowed to go to the 1970 Cup final but welcomed the team home to the crowded streets of the city after beating Celtic.
If you take it forward I was a fanatical fan throughout all my formative years, irrrespective of Fergie arriving. Right from Turnbull through Jimmy B, Ally (whose son I went to school with) Billy, who was a family friend, and then Fergie arrived.
Then, if you can imagine, just as I have to make decisions about what I want to do with my life he turns us into an aggressive, ambitious, hungry club.
I took it as a life motif, adopted those characteristics and followed the path I'm on now.
You're still very passionate about them, and are perhaps part of a forgotten breed of Aberdeen supporter that sticks with them through thick and thin (I'm referring here to the disappointing amount of people turning up at games these days for a club with such a great history). Do you still manage to get across to Pittodrie for games from time to time?
Since moving to Spain ten years ago I've been to a fair few games, yes. Whenever I visit my parents I try to go, I've taken my daughters to Pittodrie, and I went to the away matches at Atletico, Bohemians, and Bayern Munich.
For more of Graham's privileged and unique insight on Barcelona, Guardiola and Spanish football, remember to pick up Barça: The Making of the Greatest Team in the World. The book is published by Back Page Press, and is out in January in both E-book and hard copy forms. You can pre-order direct from Back Page Press, or via Amazon. You can follow Graham on Twitter @bumpergraham
Stay tuned to elcentrocampista.com over the next week for the second part of our interview with Graham, where he reveals the secret to his success in Spain, his initial thoughts on Guardiola's first days in charge at the Camp Nou, and how Pep's spell at the Barça B team won him admirers and eventually the big job.
Follow @icentrocampista