SHOULD HE STAY OR SHOULD HE GO? – Guardiola continues to delay contract renewal
Updated: 22 February, 2012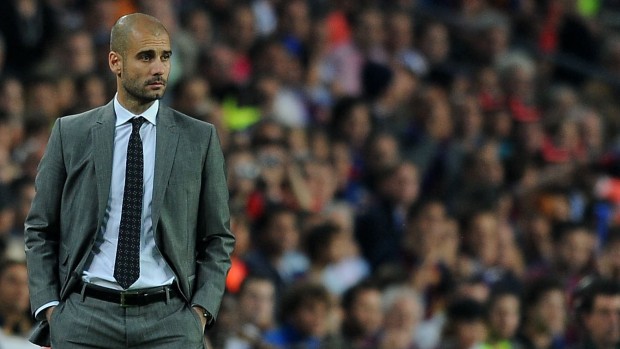 Pep Guardiola is not a man to rush things, even if the thing in question is something as dear as his position as Barcelona manager. Since taking over at the Camp Nou, Pep has insisted on only signing one year contract extensions at a time, and the Catalan's words of "if I could, I'd renew for six months each time" are no exaggeration.
You would think that, in light of Guardiola's consistency in this area, Barcelona supporters would be unfazed by Pep's apparent reluctance to put pen to paper in a rush. This time however, the worry lies in the detail.
Guardiola has always said that his refusal to sign a long term deal is to avoid complacency, both on behalf of his players and himself, and to ensure that standards do not slip as a result. The problem is, Barcelona's standards have slipped, albeit intermittently.
Pessimism and doubt, as I've mentioned previously, seem ingrained in the Catalan psyche. With their team likely to relinquish the league for the first time since Pep's arrival, and performance levels dropping with alarming frequency, it is perhaps natural that culés are beginning to wonder if this might just be it for the man they worship so dearly.
Doubt seems to be spreading amongst the players, too. As the season draws shorter new stories of Barcelona stars urging Pep to renew are emerging with increasing frequency. Today it was Dani Alves' turn to eulogise Pep.
The Brasilian told the media that "with Guardiola we're happier, he has restored the smile to this club. Without him, we're nothing", then somewhat dramatically, insisted that "without Guardiola, this team will fall".
Alves then went even further, suggesting that "there should be a monument" to Pep, and that "if Pep's not here tomorrow, we have to thank him". He topped it off, rather amusingly, by reminding us that "Guardiola used to have quite a lot of hair, and we've removed it!".
It hasn't stopped with the players either. Even Bernd Schuster felt the need to chime in. The former Barça (and Madrid) man assured Sport that "Guardiola's doing well and he'll continue, because I can't imagine nor see a Barcelona without Guardiola".
Schuster's words will do little to reassure Barcelona supporters. After all, this is the guy that once said "beating Barcelona at the Camp Nou is impossible", and was promptly sacked the next week. If Bernd's foresight was so finely tuned, you'd think he'd have used it back then, too.
The crux of the matter is that for the first time since he arrived as coach, the possibility of Guardiola considering his future elsewhere is genuine. This is reflected in both the actions of the players and those of importance around the club (Schuster is afterall still a Barcelona soci), and the story won't go away until Pep makes his decision public.
The longer that is delayed, the more doubt will spread. That's not to say such doubts are necessarily a bad thing though. Guardiola is an intensely private man and few if any will know his true thoughts on the matter. Let's ponder one situation not being discussed, however.
With Barcelona having relinquished the league, the Champions League is now of utmost priority for the club. Motivation has clearly been a problem domestically, and as a result Guardiola knows he needs to keep his players focused in Europe. The perfect way to do so? Create the illusion that his might just be his last season in charge, therefore encouraging the players to push their limits in order to allow the coach to leave on an historic high.
Manipulative? Perhaps. Brilliant? Definitely. I for one certainly wouldn't put it past Pep.
Follow @icentrocampista