RECONCILIATION – Has Laporta changed tack in Rosell war of words?
Updated: 30 September, 2011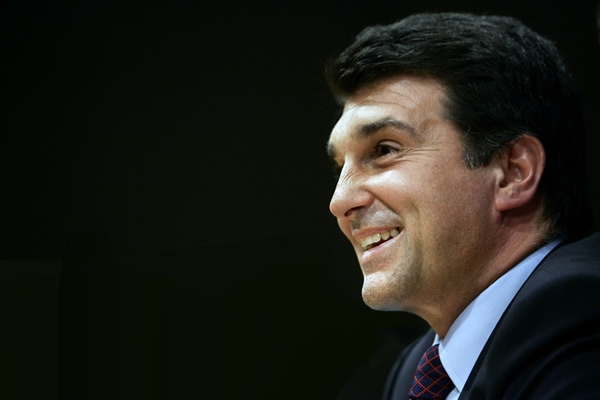 By Lee Roden
As promised, Joan Laporta has continued to speak out about the action being currently taken against him and his former colleagues by the current FC Barcelona board.
Laporta was slightly less antagonistic towards Sandro Rosell this time round however, perhaps marking a shift in stance as encouraged by Pep Guardiola.
Guardiola seems to be attempting to diffuse any bad sentiment between Rosell and Laporta, with his cries of "they're not as different as they may believe" earlier in the week going a long way.
Speaking to El matí de Catalunya Ràdio (The morning with Catalunya Radio) Laporta said: "I want my former colleagues to stop suffering and be free of this situation. I think it would be good for us to work with Rosell, in public or private, whichever is more comfortable, and try to find a solution".
Far from softening his stance completely however, Laporta elaborated that he was "disappointed" the current board has not shown "one bit of thanks" to the people who built "the best Barça ever. Quite the contrary".
On an even more worrying note, he mentioned that his children had now gone to live in London, due to the "atmosphere of hatred" towards himself that they have become victims of.
Laporta also touched once again on the grade jove (a new area of the Camp Nou proportedly designed to increase the atmosphere). Many people, Laporta included, believe that this is actually an area for ultras groups like the Boixos Nois , who Laporta famously banned from the Camp Nou, to return to the stadium.
Laporta previously claimed that this is a thanks for the group aiding Rosell in his election victory. Laporta said the project would open the door to these "criminals".
On the Qatar shirt deal, Laporta said it "hasn't been explained sufficiently", and reiterated that his allegiances lied with UNICEF.
He reminded socis that "the Barça shirt has never been a public advertising space", and lamented the agreement on the Qatar deal reached this week, stating that "the club was healthy" when he left and, as such, the deal was not necessary.
Laporta also extended his thanks to Guardiola once again, saying that he hopes "Pep does not suffer", and he is "infinitely grateful" for his words.
Finally, despite maintaining these criticisms, Laporta insisted he wishes to "reach out a hand" to Rosell in order to try and move forward for the club.
Laporta's stance has moved from tirade to negotiation, and this can be partly attributed to Guardiola.
It must be said that after a shaky start, Guardiola has dealt with this issue well and played the role of mediator to perfection.
Perhaps in the future, Barça supporters will thank Guardiola not only for saving their football, but also for saving the reputation of their club.
We shall see.
Follow @icentrocampista