HERE TO STAY? – New boys Granada CF hope to defy the odds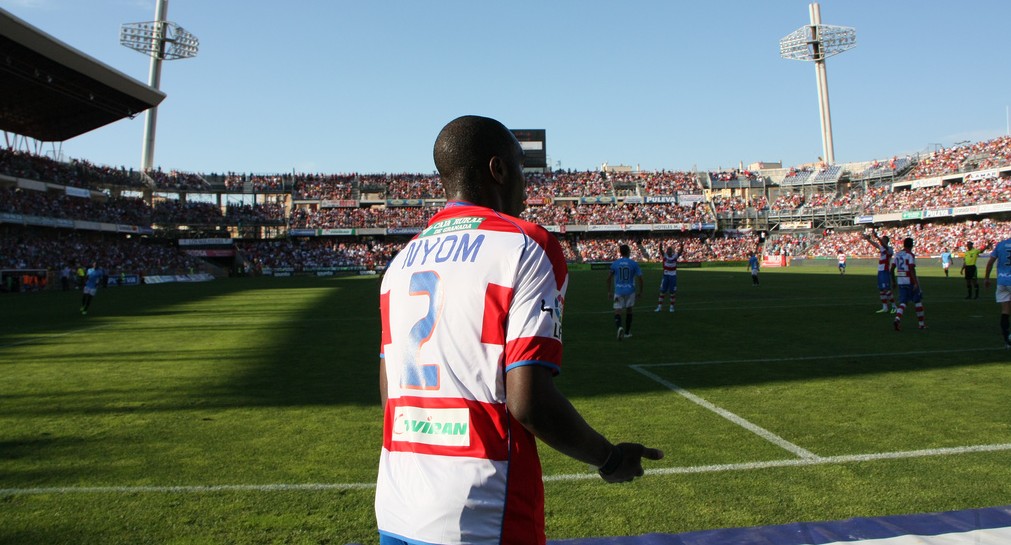 By Heath Chesters
Last season in Liga Adelante after playing five games, Granada CF had won one, drawn one, lost three.
After five games in Liga BBVA, Granada CF have exactly the same record. Won one, drawn one, lost three.
No surprises then that early into the season, just as was the case last season, Granada CF find themselves one of the favourites again for relegation.
Granada CF seemed to struggle with their away form last season though. They managed only three wins on the road, however they did manage to draw ten games.
This amounted to nineteen points. If they can manage the same sort of record away this season, along with some steady home form, they may just have enough about them to survive.
Just as it was last season, their home form in Liga BBVA will be crucial. Granada CF were second only to Real Betis when it came to winning points at home.
Whilst it's difficult to see them enjoying some of the emphatic high scoring wins that made Nuevo Los Cármenes a real fortress last season, as their side is starting to gel, it's the defence that looks the most solid part of the team at present.
In the last three games, record signing Pape Diakhate seems to have quickly formed a good central defensive pairing with Diego Mainz, whilst Allan Nyom and Guilherme Siqueira both seem to be gaining in confidence at this level.
It's ahead of the defence that the side still needs to find its unity. Manager Fabri Gonzalez has favoured a 4-3-3 formation to start matches so far.
A flat back four, a defensive midfielder behind the two central midfielders, with a single striker and two wingers in the forward positions.
Whilst the deeper midfield has no doubt helped defensively in the last three games, it's creatively the team has really struggled to find its feet, with only two goals scored in the opening five games.
Whilst the combination of Siqueira and Benítez always looks dangerous down the left flank, it's elsewhere that Granada seem to be struggling creatively.
Franco Jara is clearly a talented player, but hasn't looked at all comfortable playing on the right wing. His preferred roles are either as a deep second striker, or an inside forward, cutting inside centrally from the left flank.
Therefore it's no coincidence that his best performances so far, have come when the manager has made tactical changes during matches, allowing him to play in roles he's more comfortable with.
In the striker department, whilst Ike Uche seems a good player and has actually scored one of the two Granada goals, he's another that's looked out of place with Fabri's tactical choices.
He's simply not the target man that Alex Geijo played so effectively as last season for Granada. For me, Uche has looked better when playing alongside another striker, that being either playing off target man Geijo, or ahead of Jara's ability to pick defensive locks when he's used as a second striker.
Ultimately, Granada manager Fabri favours a more direct, counter-attacking approach. With Alex Geijo returning to full fitness, this should work more effectively if Benítez can keep firing crosses to him from the left, with the accuracy that proved so devastatingly effective last season.
Whilst Geijo may not score as many as last season against the stronger defences he'll face this season, it's his ability to hold up the ball and provide for those around him that will be just as vital this season.
Granada can't afford to be a one-trick pony though. Whilst Fabri's counter-attacking system was lethal last season, he now needs to also get the best out of Jara and Martins, who along with Benítez, have given strong evidence they can be highly effective… when they're used in roles they're more accustomed to.
There's a squad at Granada that I really do believe is good enough to survive at this level. They're beginning to gel and become a more cohesive unit, but for me, much will depend on the tactical flexibility and rotation policy of the manager.
If Fabri Gonzalez can get the best out of this squad, then they should get enough points to survive.
Just like last season, this next month may give a better indication of how the season may progress. Last season Granada went unbeaten. This season they'll face very stiff opposition.
October sees them face Valencia (away), Atlético Madrid (home), Sporting Gijón (away), Barcelona (home), Sevilla (away). Four teams who'll be looking at Champions League qualification and one who'll be a direct rival in the fight to avoid relegation.
One match that's arguably a six-pointer and four matches we can use as a barometer of the progress of Granada CF.
Although I'm a fan and want to see the club survive at this level, I'm also realistic. It's going to be a long, hard season.
Last season I was scoffed at when I predicted at about this time in the season, Granada would gain promotion via the play-offs. Obviously I was delighted and relieved when they did!
Before this season started, looking at the players they were bringing in, I predicted they would survive this season.
I still feel the same way, though this side of Christmas, I suspect they'll be continually hovering around the bottom five. Anywhere seventeenth or above will do come the end of the season though!
Follow @icentrocampista