CAPITAL CONTROVERSIES – Life is never dull with Mourinho in Madrid.
Updated: 30 September, 2011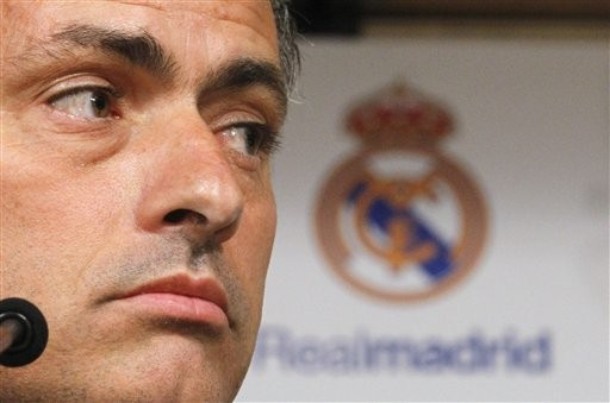 By Jamie Milligan
In theory they are the perfect fit; the world's most famous football manager and the world's most famous football club.
In reality Jose Mourinho's tenure at Real Madrid has been plagued with conspiracies, complications and controversies.From eye gauging to wild conspiracy theories to accusations of racism, Mourinho's first year at the Bernabeu has been dramatic if nothing else.
Whilst there is no doubt that he knew what sort of character he was bringing to Madrid, it is highly doubtful that Florentino Perez envisioned just so many off the field incidents occurring during Mourinho's first campaign in charge.
Cocky, arrogant, volatile, this is Mourinho. They are personality traits that have won him friends and enemies wherever he has coached, but it would appear now, possibly for the first time, that he has divided both his own club and its supporters.At both Porto and Chelsea he was adored for delivering unheralded success, at Inter Milan, too, he was loved by the masses, but at Real Madrid things seem to be a little bit more complicated.
Mourinho has made it his business to create a siege mentality, a real us against them approach since he arrived at the Bernabeu. It was hoped that in doing so he could get inside the heads off Pep Guardiola and his all conquering Barcelona side.
This approach has seen Mourinho publically criticise referees and accuse opposition managers and even UEFA of being anti Madrid and pro Barcelona.
Some Madridstas have lapped it up, but others haven't been so positive.
For men like Iker Casillas, Sergio Ramos, Xabi Alonso and former Sporting Director Jorge Valdano, Mourinho's approach seems unsportsmanlike, if not slightly abhorrent.
To them, Real Madrid, with its proud history and culture should be above such petty behaviour and should be looking to beat sides on the pitch, not off it.
The fans, too, have had their say. This week's Real Madrid supporter's general assembly showed that Mourinho has split the Madrid masses.
Whilst there was plenty of support for Mourinho, he was criticised by several supporters.
Club member Rafael Vareos was one of these critics.
He said that: "If you have a tiger as your mascot you have to keep him tied up to stop him eating your neighbour's daughter."
This was perhaps a bizarre, elaborate way of saying that with Mourinho in charge, Real Madrid will always have to be aware of his unpredictable behaviour.
Juan Miguel Nogues, another club member, went even further, and claimed that: "Mourinho is not a Madridsta he is a Mourinihista. Mourinho's is not the image of the Madrid family. It is not the one club should be projecting."
These criticisms were largely drowned out by praise and tributes to "the greatest manager in the world" but, it does show that not all are happy with the way in which Mourinho has set about bringing an end to Barcelona's dominance.
For the critics, and I have to say that I am one, Real Madrid, with a world class football manager, should be a hell of a lot better than thinly veiled insults and wild conspiracy theories.
Jose Mourinho could yet turn out to be the greatest manager Real Madrid has ever had, but the critics are becoming louder and should be not deliver either the Champions Legaue, or La Liga this year, it is likely that seniors Vareos, Nogues and Valdano will get their wish.
Follow @icentrocampista