A FIGHT FOR SURVIVAL – The early candidates for the relegation battle
Updated: 29 September, 2011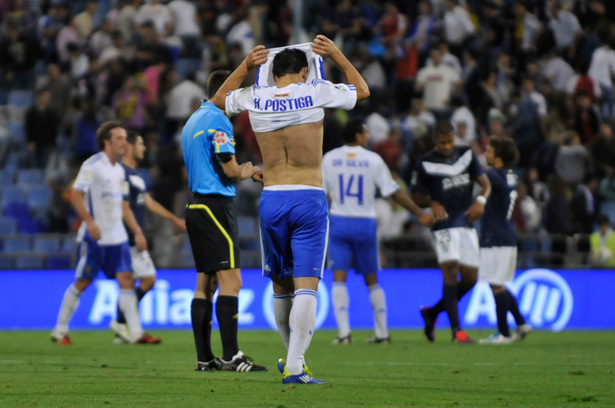 By Richard Thorburn
Such is the dominance of Real Madrid and Barcelona over Spanish football, it is often the case that the 'less glamorous' teams get ignored or bypassed by the press with their existance only confirmed when they face one of the spanish giants.
On the rare occasions that they do manage to provide meaningful resistance they may even get column inches that stretch into the Monday after the game. But then that's it, back to 'filler' stories they go.
While it is completely understandably for media organisations to focus on the teams that are competing at the top of the table for honours they are also missing a glorious opportunity to report on a drama filled battle to stay feasting at Spain's top table. Whereas only two can feasible battle for La Liga glory, for the majority of the rest – first stop is securing their place for next season.
Five games into the season and the table is already starting to take shape and while it would be foolish to banish anyone to the relegation trap door just yet, it would be equally foolish not to look at how teams have shaped up so far.
Currently sitting in the first 'ejector seat' to the Segunda division is Sporting Gijon.
With only a solidarity point from their opening five games it is fair to say that Manuel Precaido's men haven't enjoyed the best of starts to this seasons La Liga campaign and with only two goals scored and nine concede it could be a long season ahead for the team from northern Spain.
Last season's tenth placed finished is starting to look a long way away for the side who will be remembered for famously ending Jose Mourinho's 9 year, 150 game unbeaten run last year when they triumphed against all odds at the Bernabeu, a day in which I am sure Gijon's Wikipedia page took more hits than even before.
While last weeks draw at home against Racing Santander heralded that only point thus far, it also showed what Gijon must improve on in order to beat the drop.
In what was a fairly drab affair, the quality that is needed at this level never threatened to show its head.
There was no doubting the effort and commitment from the host's but it's in games against teams of similar ability that Gijon must record the three points. While perhaps shading the game, they certainly didn't do enough to win it.
This weekend they play host to Barcelona.
Sitting one place above them is Athletic Bilbao with fears mounting that their admirable but perhaps somewhat naive stance on only fielding players with a Basque background is finally catching up on them.
The eight time league winners haven't won a game so far this season but president Fernando Garcia Macau insists that maintaining the clubs tradition and community value is the main target. Last year he announced that "we'd rather go down than change our habits; I know the supporters feel the same."
If Athletic don't improve – and quickly that relegation may be nearer than many think. hether or not they could survive the financial impact of that remains to be unseen.
There is little doubting the quality that the team does possess – and with the likes of Munian and Llorente providing the fire power up front they definitely have a chance. After last seasons 6th place finish though, many were expecting Bilbao to be competing at the other end of the table.
Earlier I mentioned a 'drab' affair between Gijon and Santander which could already be the seasons earliest 'six pointer'. Racing Santander currently occupy the final relegation spot and after three draws from their opening five fixtures, will be hoping that they can transform a point into three in their coming matches.
A credible draw against Real Madrid should provide some comfort that they can compete this season but it is now time for Santander to use that result as a springboard and begin to assert some authority against teams that they should be beating.
Nil-nil draws seem to be the theme for Racing thus far and goals seem to be a problem, the Santander faithful only having three to cheer this season.
While they are the bottom three as it stands, there will be a whole host of clubs looking over their shoulder. Granada, Getafe, Zaragoza, Vallecano, Osasuna, Mallorca to name a few will all be scrambling to get the desired number of points required to stay up.
This years relegation battle is one that will go down to the wire – once again. Drama, twists and edge of the seat moments are all guaranteed. So instead of looking at a televised La Liga game and think 'why are they showing those two nothing clubs' – tune in.
You might just surprise yourself.
Follow @icentrocampista