BARÇA GO TOP – But at what cost?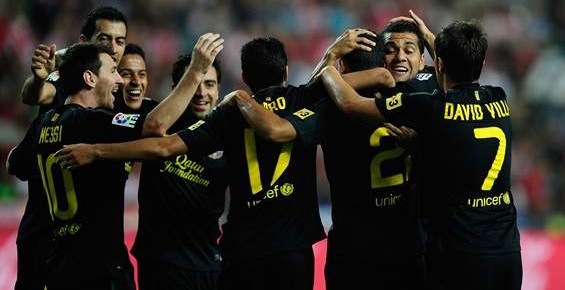 By Lee Roden
Barça leave el Molinón tonight with three vital points, and ascend to the top of La Liga heading in to the international break.
With Eric Abidal limping off in the second half however, and Guardiola's squad already stretched, what price have Barça paid for their lofty position?
Fortunately for the blaugrana, not a high one. Abidal has a strain, but according to Guardiola in his press conference, is only likely to miss four or five days training, after which he can resume normal work.
Guardiola says the club will inform the France national team staff about Abidal and advise them to be cautious, but other wise he should be fine. This is good news for both Barcelona (due to their current injury concerns) and more importantly, Abidal, who will no doubt wish to play as much as possible after his horrendous ordeal last year. It's no surprise the Frenchman won't be out long, as we've come to expect that he's made of steel.
Looking further at their current injury situation, the international break couldn't have come at a better time for Barça. With Fabregas pulling up with an injury in training, the signs were bad. News that he is only likely to miss three weeks however – two of which will be occupied by the international break – make the injury less worrying.
Any suspicions that Fabregas would become a fringe player at Barça have proved unfounded, and he has occupied a vital role in both the squad and the starting eleven as of late. Guardiola will be glad to see him return soon, and hope his medical staff can work the same magic used on Messi on the new number four, and avoid more recurring injuries to the most infamous hamstring in football!
What the last few weeks have proven is that Barça absolutely needed the additions to their squad made this year. Try to imagine if last year's squad had been hit with this years injuries to both central midfielders and two attacking midfielders, and the thought is pretty scary.
Fortunately, this year, due to some smart signings as well as the process of adapting other players in new positions, Guardiola can just about cope with his losses. Indeed, just about is the important part here. Barça fought hard in Asturias on Sunday, and only just overcame the obstacle put in front of them. Had more key players been missing, then perhaps this would not have been the case.
Despite the victory, the squad is clearly reaching break point, and Guardiola will be hoping the international break is sufficient both in providing rest for those currently injured, and indeed, providing the right balance between time on the pitch to gain match fitness and avoiding the risk of re-injury for the likes of Puyol and Pique.
On a personal note, as a loyal Scotland supporter, I certainly wouldn't mind if Vicente Del Bosque chose to rest those two! Neither would Pep, for different reasons of course (though he may have a kilt somewhere in that extensive wardrobe).
Follow @icentrocampista