BEST FOOT FORWARD – Why Barça need to strengthen their line
Updated: 28 October, 2011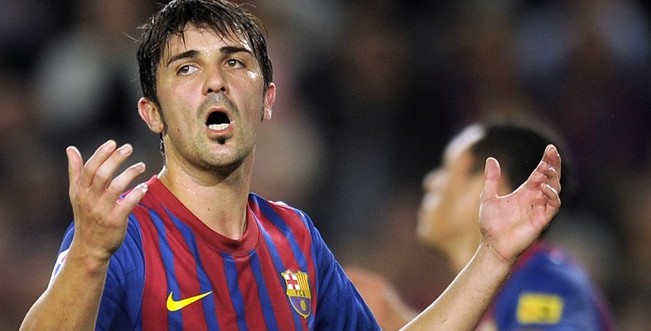 By Jamie Milligan
A wise man once said: "It's not about how much of the ball you have it's about what you do with it."
That old adage has never been more fitting than in the current case of FC Barcelona.
It's common knowledge-and if you're visiting this site then I'll presume you are aware- that Barcelona are the ultimate possession masters.
No team in history has dominated the ball as much as the Catalans. Pep Guardiola's side regularly record stats of 60 and 70% possession.
Usually this results in Barça running up cricket scores against long suffering opposition.
Recently however, La Blaugrana have toiled to capitalise on their territorial supremacy.
Actually, Barça have been uncharacteristically inefficient with the ball and that has led to some below par performances, particularly on the road.
Two successive closely- fought 1-0 away wins over Racing and Granada, and a goalless draw against Sevilla has led to some people asking questions of the European champions' fitness and squad depth.
It is fair to say that the likes of Pedro and David Villa have looked badly off the pace in recent weeks, whilst injuries to Iniesta, Pique, Puyol and Sanchez have hit Barcelona hard.
They do have sufficient cover in most areas, but it is the opinion of many that they could do with investing in another forward to shake up a misfiring forward line.
We all know how prolific Lionel Messi is andVilla and Pedro are also more than proven goal scorers – both will likely finish this season with 15-20 goals each, but it's long been my opinion that Barcelona are still short in that position.
They do have Alexis Sanchez who can play as part of forward line, but the little Chilean has only averaged a goal in every four and half matches throughout his career.
Yes, other players like Fabregas and Iniesta can chip in with goals, but shouldn't the best side in the world have more than three consistent and reliable forwards?
It's a resounding yes for me and I feel Barça's recent performances prove my point.
With the amount of possession that Barcelona have been having, they should be scoring a heck of a lot more goals.
Against Granada on Tuesday,  they had 72% of the ball and won 1-0, with the only goal coming from a set piece.
Last week against Sevilla they again dominated, but this time drew a blank. Even when they came up against Victoria Plzen, in a match they won 2-0,
Barça failed to fully convert their dominance into goals.
Even earlier in the season Milan came to the Camp Nou and somehow claimed a 2-2 draw despite chasing shadows for 90 minutes.
Barça are failing to kill teams off and that is a key reason in why this has been the worst season statistically of the Pep Guardiola reign.
Whilst I am sure there are other reasons, I feel Pep must go out in January and add a forward to his squad.
The gamble on Zlatan Ibrahimovic failed, but perhaps someone like, dare I say it Carlos Tevez would be a more suitable purchase.
Tevez with his all action displays seems like a perfect fit for the Barca philosophy of highly mobile strikers.
Barcelona are still winning matches, but they can ill afford to continue to be so wasteful in front of goal.
For this reason I feel that Guardiola should splash out in January and bring in an established centre forward to take the pressure of the shoulders of Leonel Messi.
I feel that could make all the difference between Barcelona being challengers and winners.
Follow @icentrocampista