El Madrigal – Home of Villarreal CF
Updated: 27 October, 2011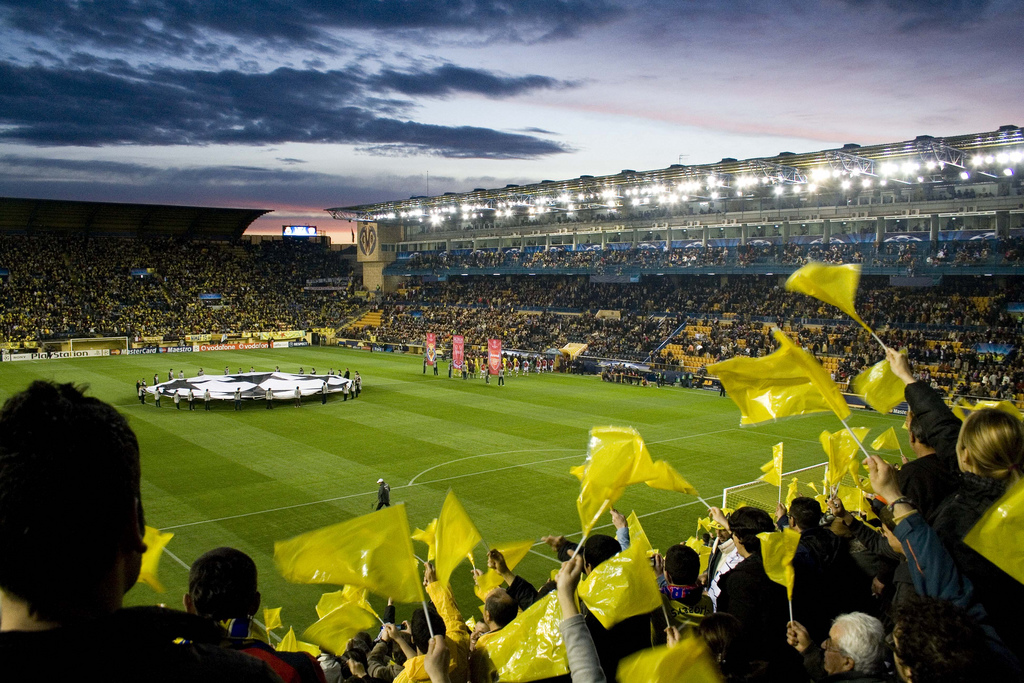 By Chris Clements (estadiosdefutbolenespana)
On the coastal plain close to Castellón de la Plana in northern Valencia and around five miles inland from the Mediterranean Sea, lies a stadium so conspicuously larger than any of its surroundings it resembles a grounded oil tanker, dwarfing all around.
This is El Madrigal a 25,000 seat arena in a town of 50,000 inhabitants.  It is home to Villarreal Club de Fútbol, the small town team made big thanks to the money of ceramic tile magnet Fernando Roig.
To get an understanding of what Villarreal CF was like before Roig appeared on the scene, you don't have to go back that far. All that you see at El Madrigal has been built since 1998.
Go back another ten years and El Madrigal was a presentable but small stadium, perfectly acceptable for a club that had spent the vast majority of its history in the Tercera and regional leagues.
Formed in March 1923 and resident at El Madrigal from June of that year, Villarreal did not have the honour of inaugurating the local ground, that fell to local big-wigs CD Castellón and another team from Castellón, Cervantes.
To be frank, it wasn't much to look at, being essentially a fenced-off field with shallow terraces.
El Madrigal was first extended during the summer of 1952, when the pitch was enlarged and more substantial terracing was added.
The 1960's saw a small covered stand erected on the north side of the ground and a southern stand was added in 1972, when Villarreal reached La Segunda for two seasons.
Thanks to funds from the Municipality, floodlights were added and these were switched on for the first time for a match against SE Eivissa on 16 September 1973. In 1988 the small north stand was demolished and a more substantial structure took its place.
This full length cantilevered stand was officially opened on 8 March 1988 with a friendly against Atlético Madrid.
The club held its own in La Segunda during the 1990's, never really troubled by relegation, but not figuring in the promotion shake-up either. Then in 1997 Roig arrived and turned the club and the stadium on its head.
He completely restructured the set-up with a player-loan agreement with Valencia CF, the building of a Ciudad Deportivo a kilometre to the west of the stadium, new youth teams and substantial transfer budget.
El Madrigal changed as well with the south stand extended and a slim cover added, east and west ends developed and most significantly a new stand was built on the north side. Unusually, the main stand does not contain changing rooms.
Until this point they had been housed in separate buildings. Firstly in the south east corner, then from 1936 to the north east, then finally in 1998 under the west stand with the entrance in the south west corner.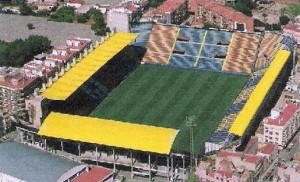 The impact on the pitch was immediate and after finishing the 1997-98 season in fourth place, they entertained SD Compostela in a promotion/relegation play-off.
After a 0-0 draw at El Madrigal, Villareal returned from Galicia with a 1-1 draw and victory on away goals. La Primera had been reached seven seasons after leaving the Tercera.
But if you live by the sword you can also get quite an unpleasant cut from it as well. 12 months later Villarreal found themselves back in the promotion/relegation play-offs, this time after finishing eighteenth in La Primera and Sevilla CF made short work of them winning 3-0 on aggregate.
Many thought that would be the last that La Primera would see of The Yellow Submarine but Roig had different ideas.
A third place finish in La Segunda in 1999-00 saw the club return to La Primera after a one year absence. Keen however to broaden their experience, Villarreal entered and won the Intertoto Cup in 2003 and 2004.
That last victory in the Intertoto Cup was under the guidance on new manager Manuel Pellegrini and under his tutelage, the club was about to top all that had gone before. A third place finish in 2004-05 earned the club a place in the Champions League and, but for a penalty miss by Riquelme in the final minute of the semi-final, the fairy tale could have been completed.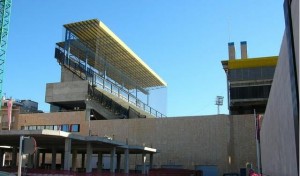 Top flight stability and entry into the Champions League has seen further  development at El Madrigal, with the pitch being lowered a couple of meters to add a few extra  rows of seating, dressing rooms renovated and new media facilities installed.
The most striking addition however is at the east end of the stadium. Just when you thought that El Madrigal couldn't get any bigger, the club added a covered amphitheatre to the top of the east terrace.
It is in this stand that travelling supporters are housed during European matches and Category A matches in La Primera.
Villarreal haven't finished outside the top ten in the last eight seasons and finished runners-up in La Primera in 2007-08, a remarkable achievement by a remarkable club.
Whilst there are plenty of examples of clubs who have lived the dream then fallen on hard times, The Yellow Submarine shows little sign of running aground just yet. All of which pays testimony to the generosity and dedication of Fernando Roig. That and the price of ceramic tiles!
__________________________________
To read more on the footballing stadiums of Spain, visit Chris's excellent site Estadios de fútbol en España
Follow @icentrocampista