HAS KAKA PLAYED HIS LAST GAME FOR REAL MADRID?
Updated: 30 November, 2011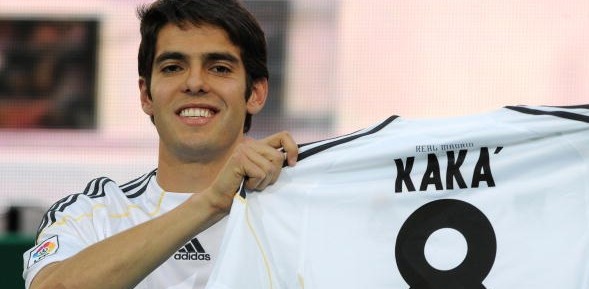 It is almost three years now since Manchester City stunned the footballing world with a staggering 100 million pound offer for Brazilian superstar Kaka.
Opting to stay at AC Milan under famous accusations made by then City chief executive Gary Cook that the Italian club 'bottled it', Kaka decided against jumping aboard the Manchester City train, and pledged his allegiance to AC Milan for the long term.
Just a mere six months later however, and the bright lights of Madrid proved too much of an attraction and, after an exchange of 68 million Euros, Real Madrid finally prised Kaka away from Italy.
It was a transfer seen by many as the perfect combination.
After all the talk and speculation, the world's best footballer had finally joined the team renowned for their insatiable and relentless collection of galaticos.
There was little doubt that the 2007 FIFA World Player of the Year and the Ballon d'Or winner certainly fitted that bill.
With excitement in the Spanish capital reaching fever pitch, over 50,000 fans turned up to watch the Brazilian be unrevealed to the Bernabeu crowd.
All of them, to a man, truly believed that this was the final piece in the expensively assembled team who were to battle rivals Barcelona for honours on both domestic and European fronts.
Fast forward back to modern day however, and it is fair to say that the 'dream move' has turned into a 'nightmare' for all concerned.
If recent reports are to believed, Real Madrid are finally losing patience with their man and are open to offers from clubs who are willing to take a chance that they can be the ones to revive the Brazilian's career.
Injury-plagued since complex surgery on his left knee in 2009, Kaka has never really been fit enough to play an influential role in Madrid, with niggling injury after niggling injury frustrating player and fans alike.
Records paint a gloomy picture, showing that Kaka has played fewer than fifty games in three years for Real Madrid.
Real Madrid officials have been vague on when the player will be back in action following another recent injury, leading many to claim Kaka may even have played his last game for the club
Their impressive start to the season has also raised question marks as to what role Kaka would play even if he were to finally regain full match fitness.
This is not a situation the player is accustomed to.
Everything may have revolved around Kaka in the past, especially at AC Milan, but now he could well find himself collecting splinters on the Bernabeau bench.
With wages believed to be well in excess of £100,000 a week and with financial fair play legislation ominously looming, Real Madrid may be best to cut their losses.
Suffering their worst start to a season since Abramovich took charge in 2003, Chelsea have been mooted as potential suitors should Kaka leave Spain.
Roman Abramovich has long had a fascination with the Brazilian and could be persuaded to shell out the £30 million it would take to get his signature.
It would certainly be a gamble by the Russian if he opts to show faith in the now 29-year-old, but with Chelsea's season faltering – it is a gamble that could prove to be a masterstroke.
Whether he can rekindle his sensational form that he showed in Milan must be looked upon with great doubt, but it could be that even a three quarter fit Kaka could prove instrumental for the West London outfit.
Other reported options for the Brazilian have included a 'David Beckham-esque' mega deal to move across the Atlantic to America, or even a return to his native homeland with former club Sao Paulo sure to be monitoring the situation.
But with Kaka not yet entering his thirties, surely talks of these deals are premature.
Injuries or not, Kaka is still a highly talented player and one whom must be regarded as such.
If you are to believe the reports, he may not be fit for purpose for Real Madrid, but this should be no embarrassment and most certainly not a signal to give up the ambition to 're-sparkle'.
Who then is going to take that Kaka gamble?
_______________________________
Are you looking for football betting tips for today? Visit the One Booker website where they have all of the latest expert betting tips, scores and news available online.
Follow @icentrocampista