POINTLESS POSSESSION – ATHLETIC CLUB'S STATS JUST DON'T ADD UP
Updated: 15 December, 2011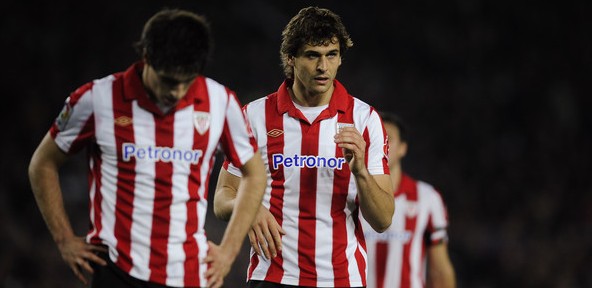 According to the old saying, possession is nine-tenths of the law. If you have hold of something and guard it properly, it is very difficult for anyone to take it away from you.
This is never more so than in football – just ask any team that plays against reigning European champions Barcelona. There is more to it than that however – possession of the ball, without scoring goals is almost as pointless as going sunbathing with your coat on.
Like having an amazing car but no driving license or a big screen TV on a day without football, just plain worthless. A look at the stats of Athletic Club this season seem to perfectly sum this situation up.
Statistically speaking, Athletic have been one of the most interesting teams to watch in the 2011/12 La Liga and started the season with five winless games, before turning it around to go eight matches undefeated.
Currently however, they have not won for three games.
To say Marcelo Bielsa's side have been all over the place this season would be an understatement – probably no surprise considering Bielsa is nicknamed el loco. Athletic have earned some great victories against sides like Atlético and Sevilla but have also managed poor results such as the home defeats to Granada and Real Betis.
Analyzing their La Liga run, one stat that stands out above all is the amount of ball possession they have enjoyed without actually getting a positive result.
During the defeat to Granada they managed to have 68% possession of the football; in their next two matches where they earned disappointing draws against Mallorca and Racing, they achieved 60% and 65% respectively.
In those 270 minutes Athletic scored only two goals and shot on target just 10 times.
These numbers are particularly disappointing in comparison to their season average, where Athletic average ball possession is only 57% but they shot on target 4,73 times and scored 1,40 goals per game.
It's not just these three games that they had a rather useless ball possession percentage either, in their other three La Liga defeats, the Bilbao side average 58% of ball possession, including 63% against Betis.
While in their four victories, their average ball possession has been lower at 56,5% – including only 48% in the Basque derby against Real Sociedad.
Athletic's highest possession percentages this season have come against Granada (68%), Sporting (66%), Racing (65%), Osasuna (63%) and Betis (63%). Of these five games, they were only victorious against Osasuna.
Those games are just an example of how Bielsa's side have the peculiarity of decreasing possession as the positive results increase. In other words, the average percentage of ball possession in games where Athletic have suffered a defeat is bigger (60,5%) that went they have drawn (57,7%) and even when they have won (56,5%).
This can be attribute to Bielsa's preferred fast style of play that doesn't rely on a ball retention system but rather a fast pace performance that relies on accuracy.
Accuracy is something that has been lacking in Athletic last three games however – they have shot on target just 10 time out of 42 total shots at goal, an accuracy percentage of only 24% and far behind from their season average of 40%.
Despite the fact that the teams with bigger amount of ball possession tend to be at the top of the table in most championships, Athletic are a good example of how sometimes, possession isn't all it's cracked up to be if you lack the ability to capitalise on it.
__________________________
Follow me on twitter at @javierjotah
Follow @icentrocampista