CATALAN CONFUSION – What now for Oriol Romeu?
Updated: 13 December, 2011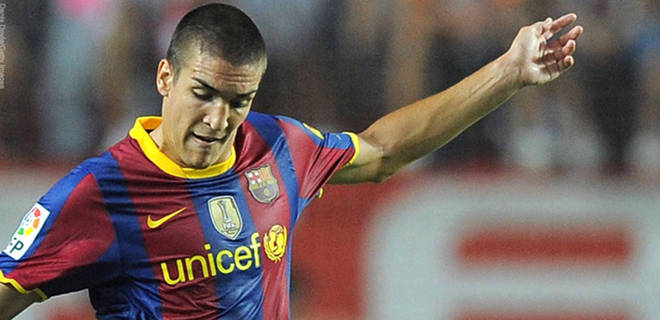 Five months ago, Oriol Romeu was nothing but a slim prospect.
Even amongst the FC Barcelona support, only the most dedicated of followers would have already been aware of the talented midfielder. For the most part, he was anonymous amongst a sea of bigger names in Catalunya.
Within his then team, Barça B, he was beneath the likes of Jonathan Soriano or Martin Montoya in the list of players expected to break through into stardom this year. This can in part be attributed to his injury laden season, but in truth, few prophesised such a rapid rise for the young Catalan.
Except those who mattered. Andoni Zubizarreta and Pep Guardiola clearly saw a need to write a clause into Romeu's transfer to Chelsea. This clause is still causing debate, and has been brought into question once again this week. From what we can gather from the original press coverage upon the initial announcement of his transfer, Barcelona have the option to buy Romeu back from Chelsea for a fixed fee in the near future.
The exact nature of this contract has been plunged into new depths of mystery, courtesy of André Villas-Boas. The Chelsea coach is this week quoted as saying that "the option [in the transfer] states that Barcelona can only buy back if Chelsea agree to sell."
After Romeu's series of impressive performances for the London outfit, Villas-Boas is attempting to downplay suggestions that he is merely on an extended vacation, and will return to Barcelona if (and presumably when) they come calling.
It didn't take the Catalan media long to respond in return. Sport have today ran with the headline "The future of Oriol Romeu is in the hands of Barça", completely contradicting AVB's words.
Sport attempted to shed more light on Romeu's situation by breaking down the details of the deal. They insist that the transfer set up between Barcelona and Chelsea assures that Barcelona can buy him back in June 2012 for ten million euros. Alternatively, the Catalans can wait until June 2013 and purchase his services for 15 million euros.
Whilst I am the first to admit that Sport have been known to be liberal with their use of facts in the past, the details they published are much more in line with the original breakdown being touted in August, long before Romeu had found a place in the Chelsea team, and long before he became important to the Chelsea/AVB project.
If we cast a sceptical eye over the words of André Villas-Boas, it could be deduced that the coach is doing what any good manager would do if they found a diamond in the rough, and attempting to deflect any potential doubts amongst an already doubt-laden support over Romeu's future.
One key factor that is being overlooked by both parties, and one that should never be underestimated, is the will of the player. After the faith shown towards Romeu by AVB, the youth must surely be pleased with his trajectory at Chelsea so far.
Looking back a year, the picture would have been very different. With all due respect to a division I love, playing what are essentially training matches for a team that has no option to gain promotion from the second tier of Spanish football is completely different to getting regular Champions League action.
That being said, the fact that Barcelona allowed him to leave in the first place, whilst still making sure that they have the first say on whether he returns or not, also shows a degree of trust invested in him by his home club. His desire to play tougher and more frequent football was respected, but the club still let him know he was a part of their plans in the future.
We can only speculate, but if Pep Guardiola has already had a word with the youngster, telling him to run free but to be ready when called upon, who could blame him if he was tempted to return to the best team in the world?
In all likelihood the situation in the Barcelona team will play a major role in his decision. It's not impossible that in two years time, Xavi will no longer be playing and Iniesta will be winding down his career. Moreover, in the specific position Romeu typically occupies, Guardiola may have taken the gamble of moving Busquets further up field occasionally in order to unlock his passing potential, an ability for which he is rarely credited, but none the less has in abundance.
If, in such a situation, a space opened up for regular playing time as a midfield pivot, the prospect of returning home would be much more desirable for Romeu, and hand him a difficult decision.
The alternative is also a possibility however. In two years time, Guardiola may no longer be at Barcelona, the team could (though unlikely) have fallen from grace, and the options could still remain few for Romeu in terms of playing at the top level in Spain regularly.
What is certain is that Romeu is continuing to improve by the game, and his name is growing in stature. If he does one day decide to return to Barcelona, Chelsea would be foolish to try and prevent him, despite his potential worth as an asset to the London outfit.
One should never underestimate the will of a player, just ask Cesc Fabregas. The door is still open, but it will be up to Oriol Romeu to walk back through it.
Follow @icentrocampista